Featured image  – credit: 'From the Archive':  display of materials from the Fruitmarket archive, curated by intern, Sara Pocher, 2022
We are delighted to return to the Fruitmarket after our recent alumna blog post from Dr Ruth Bretherick, Research and Public Engagement Curator on "A week in the life of a contemporary art gallery curator" which was showcased during our June series of PhD Horizons blogs.
In today's blog, we hear from one of Ruth's recent interns, Sara Pocher, University of Edinburgh, MSc in History of Art, Theory and Display student, 2021-2022. Sara shares how her transferable skills helped her shine during this exciting internship and reflects on the career lessons she has learned.
Over to Sara…
Hi Sara, can you tell us a bit about yourself?
A few weeks into my master's degree, I realised that one year was a shorter timespan than what I had originally envisioned, especially considering the abundance of opportunities available to postgraduate students. Alongside my taught modules and the wide variety of seminars and events organised by the College of Arts, my course offered the option to undertake an internship in a cultural institution, which immediately sparked my interest. Having changed my academic focus after completing my undergraduate degree in Chinese studies at Cambridge University, I was keen to step into a practical role and gain relevant work experience to help me better understand what career options could be viable for me after graduation.
How did you find out about the internship at the Fruitmarket?
The internship took place during the second half of the academic year, but the application process was carried out in semester one; my cohorts and I received a list of organisations with one or more intern positions available, from which we could choose a maximum of three to apply to. We then sent our selected organisations our tailored CVs and cover letters, much like in the context of an actual job application; if our profile impressed, we would be invited to an interview, after which the institution would decide who would obtain the internship. I was lucky enough to eventually be offered a place at the Fruitmarket, a contemporary art gallery in Edinburgh.
What prompted you to apply for the internship?
What first drew me to the Fruitmarket was my personal appreciation for the institution. I had visited the gallery several times after moving to Edinburgh and I had been positively struck by the welcoming atmosphere permeating the exhibition spaces. The internship was intended to support the work of Research and Public Engagement Curator, Dr Ruth Bretherick, whose work with the Fruitmarket's archive had contributed to generate increased interest in the gallery's exhibition history; as well as in the archive itself as a repository of memories and meaning. Fruitmarket now aimed to document the archive more systematically and make it more readily accessible to the public. The internship role was a good match for my personal interests and skills.
What were you hoping to gain from your internship?
I was interested to see how the more theoretical aspects of art criticism and research could be used to promote public engagement with a cultural institution. Additionally, I wanted to improve my ability to interpret and discuss art in an accessible, audience-oriented focus, rather than using the formal language and style typical of academic writings.
What was your working pattern?
The internship was designed to be undertaken in person over the course of 20 days from January to April, with the possibility to work remotely, if needed. Every Wednesday, (bar the occasional Covid-induced absence), my co-intern Aisling (University of Edinburgh, MSc, Modern and Contemporary Art: History, Curating, Criticism, 2021-2022), and I walked into the Fruitmarket and settled into the archive, a small room on the gallery's upper floor. We sorted through the Fruitmarket's history, unearthing piles of photographs, stacks of invitations to exhibition previews, and documents pertaining to the gallery management. We digitised photos and documents, carried out email exchanges with other archives, galleries and institutions, added any interesting discovery on the archive's database, and eventually produced our own descriptions of our chosen exhibitions.
Tell us about your main duties.
My main responsibility was to improve archival records and produce updated interpretations of a few chosen exhibitions by researching the Fruitmarket's archive and other institutional archives that might contain relevant information. After studying the gallery's exhibition history, I decided to focus on three exhibitions of contemporary East Asian art (one of Korean art, one of Japanese photography and one of Chinese painting) held in the 1990s.
Towards the end of the internship, Aisling and I were also kindly offered the opportunity to curate a small display of our research findings that is currently being showcased in the Fruitmarket's café. Seeing my name up on the gallery wall was definitely one of the highlights of the internship, but there is so much more that I will be taking with me from this experience.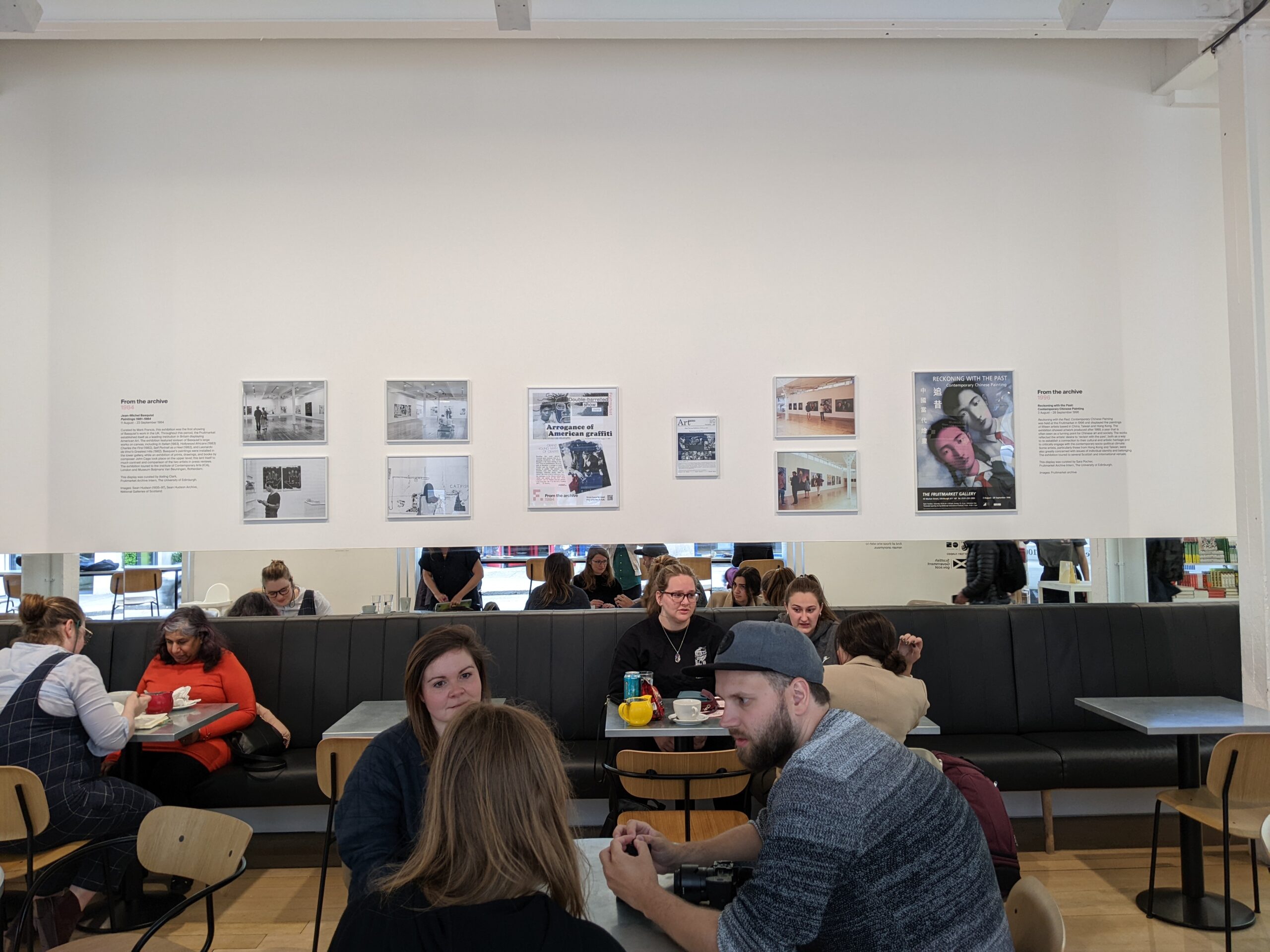 Looking back, what are your reflections on your internship experience?
Alongside refining my research and writing skills, the internship has allowed me to familiarise myself with the working mechanisms of an art gallery, and to make meaningful connections with a series of professionals whose feedback and advice has proved to be extremely helpful, both in an academic and professional sense.
My decision to focus on three exhibitions of contemporary East Asian art was greatly influenced by my background in Chinese studies, and the knowledge I had built during my undergraduate degree proved to be very helpful during my research, allowing me to produce a more poignant analysis.
The biggest takeaway, though, is probably the realisation that research does not have to be confined behind university walls and can become an excellent opportunity to encourage people to engage with art and cultural institutions; something that I will definitely try to explore in future professional capacities.
What are your top tips for students considering a similar internship?
To other masters students interested in applying for an internship, I would suggest researching the institution thoroughly to familiarise yourself with their programme and mission, as well as with the specific demands of the role. Most importantly, be genuine. Institutions value authenticity and the unique characteristics you can bring to the job: from my experience Fruitmarket definitely does!
Parting advice…
Lastly, make the most of the opportunity to ask all sorts of questions pertaining to specific jobs, spaces or activities connected to the place you're interning at. This is a great chance to get a behind-the-scenes look at what working in a cultural institution looks like, so talk to people, make connections and don't be afraid to ask for help or advice!
Thanks Sara for this fantastic insight.
It's great to note that Sara tailored her CV and cover letter when making her application. Remember, you have access to excellent resources to support you with applications on the Careers Service website.
Share