We hope you've been enjoying our focus on PhD Horizons over the last few weeks, and today we continue with another great read from Ruth Bretherick, who graduated with a PhD in History of Art in 2017. Ruth describes her work as the Research and Public Engagement Curator at the Fruitmarket in Edinburgh, and shares her reflections on how she's using her PhD skills and experience.
Ruth, tell us about a week in your life as a curator at the Fruitmarket…
You join me at the Fruitmarket in Edinburgh at the end of the first week of May 2022. We are a contemporary art gallery, and I am the Research and Public Engagement Curator here. In a nutshell, my job includes interpretation, events, archiving, working with Universities and looking after our small collection of permanent artworks. Someone who works at the Tate once told me that they have four departments to do my job!
We have been taking down our Howardena Pindell show this week, saying goodbye to the rigorous and beautiful work that has informed our thinking, conversations and events over the last few months. I still have much thinking to do about the legacy of this show, and I am looking forward to doing this alongside the collaborators I worked with on events programming for it. I started the week writing condition reports, checking the work is in the same state that it arrived in back in November. Thankfully it is! I always enjoy this last chance to look closely at the work, to wave farewell to its details.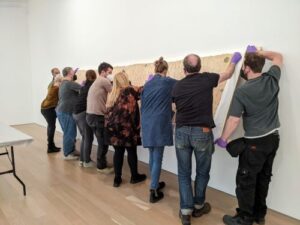 Our next exhibition is by Daniel Silver, with clay sculptures that explore the human head and figure. This week I have been writing the introductory wall text for the exhibition, editing it and shaping it with our Director and with Daniel. With my colleagues in Engagement, we also had a Zoom call with Daniel as part of our planning of a project called Heads Up that will run alongside the exhibition. This project will invite its participants to make heads in clay, and include hundreds of participants. A lot of planning required.
The middle of the week saw a meeting with Studio Caspar, who are working with us on re-thinking the way we gather data from our audience, framing it around audience experience rather than identity. It's a really exciting project and I'm sure will inform the way we work for years to come.
I have also talked to my colleagues about two small archive exhibitions we will put up soon curated by Masters students at the University of Edinburgh, who have interned with us over the last few months. These displays will highlight two exhibitions from our history, a Jean-Michel Basquiat show that took place here in the 1980s, and an exhibition of contemporary Chinese painting that took place in the 1990s. I am really pleased that the outcome of these internships will be so visible in the gallery and will give a little glimpse into the gallery's past. Having undertaken internships myself in the past, I am aware of how vital they can be in providing the hands-on experience academia cannot always offer, and am therefore mindful of how to shape internships accordingly.
Another exciting conversation that has moved on this week is with Martin Creed, who had an exhibition at the Fruitmarket back in 2010. We have been working with him on reinstating his choral work that used to be in our lift before we closed for redevelopment. Since we now have a new lift, which runs faster, we are remaking this work, commissioning a choir to record the up and down scale that will accompany visitors on their journey in the lift.
The week has ended with the launch of Mieke Bal's new book Image-Thinking: Artmaking as Cultural Analysis, published by Edinburgh University Press, with film screenings and a panel discussion. Events attendance has been very unpredictable since the pandemic, and this is one of the challenges we – and the arts sector more broadly – have faced recently. But this event was full to the brim – it was so exciting to see people engaging with artwork and each other with such enthusiasm.
As with many jobs, there is no typical week, but this week has spanned the breadth of my job, from the practical hands-on work of engaging with and commissioning artwork, to the cerebral work of thinking about what that artwork means, both through writing and conversation.
Parting advice…
My PhD set me up well for much of the thinking and writing required by my job, but the more hands-on aspects, I learned partly through voluntary and freelance work I did alongside my PhD – in education and events organisation – as well as learning on the job, through my fantastic colleagues. If you want to move from academia to museum or gallery work, as I did, think about how to bolster your practical experience before you apply for jobs.
For those completing their PhDs now, as we emerge from the pandemic, although the sector has been profoundly shaken by this time, take solace in the fact that opportunities are arising. Individuals are not only assessing their own lives and wanting a change, and therefore leaving vacancies open, but organisations are looking very closely at the make-up of their staff teams, and assessing where skills, expertise and experience are missing and creating opportunities accordingly.
Thanks Ruth.
As well as a PhD History of Art, Ruth gained an MSc Modern Art: History, Curating, Criticism in 2011. You can find out more about Ruth's career journey, by reading her Edinburgh College of Art (ECA) Alumni Profile.
Find out more about careers in museums and galleries on our website.
Catch up with other inspiring PhD Horizons blog posts we've already published by using the PhD Horizons tag. 
There's still time to book a space for this afternoon's session on "PhD Horizons – What's next?"; view our PhD Horizons webpage to find out more and book your place.
(Image credit of headshot: Ruth Bretherick)
Share