This week's series of #ECOWeek19 blog posts continue with an excellent guest post from University of Edinburgh, fourth year student, Jess Cowie who is a volunteer with Food Sharing Edinburgh.
Food Sharing Edinburgh is a volunteer-run project that aims to stop food being wasted by businesses across the city. Volunteers collect unsold food from shops, cafes, restaurants, and bakeries, and distribute it throughout the city to charities.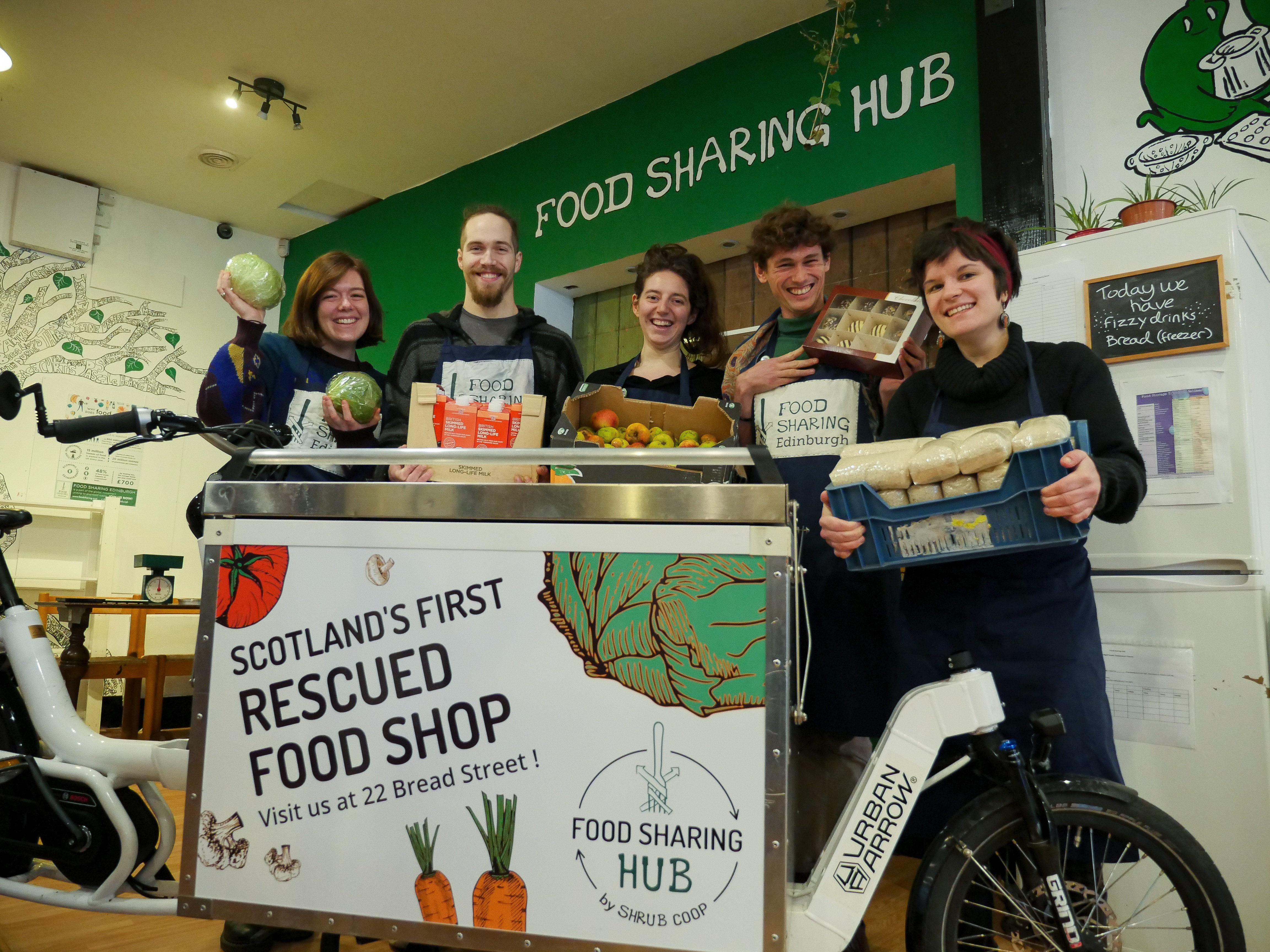 I have been involved in various areas of the SHRUB Coop since 2015. I initially got involved with Food Sharing Edinburgh after realising I could get bread and vegetables for free; not a very noble beginning! However, I quickly realised that it was a lot more important and valuable than that! Since then, I've branched into different roles through SHRUB: from communications to delivering cooking and 'Love Your Clothes' workshops, and helping to design and decorate the new premises.
Food wastage is a critical issue in 2019, but, like innumerable Brussels Sprouts, it's often brushed under the table. Even environmentally-conscious consumers tend to focus on reducing the packaging waste that accompanies food, overlooking the unsavoury story of food lifecycles from farm to fermentation.
What many people are unaware of is that almost one third of all food produced globally is thrown away each year. Most of this is unnecessary waste. In central Edinburgh alone, more than 27 tonnes of edible food are thrown out every week – that's equivalent to 54,000 meals. With 1 in 5 people living below the poverty line in the UK, this is a massive waste of resources and a situation that reinforces social inequality.
So, what can be done about it? Aside from cutting down on personal and household food waste, consider volunteering with community groups dedicated to reducing food waste on a larger scale.
Food Sharing Edinburgh was started by students in 2013 and now works with 30 businesses and dozens of volunteers to distribute surplus food to places and people who can use it. On 24th January 2019, Food Sharing Edinburgh launched Scotland's first rescued food shop from their base at 22 Bread Street (open Thursday to Saturday, 12-4pm). The Food Sharing Hub sells fresh, surplus food from supermarkets that would otherwise have been thrown away, with a budget-friendly 'pay as you feel' price tag.
Volunteers are always needed for collections, help in the Hub and the connected Swapshop. As a volunteer, you get free membership of the SHRUB Coop and the Food Sharing Hub, and you can help us meet our goal of a Zero Waste Edinburgh. Volunteers can also opt to run sustainable cooking workshops in student halls (training from a chef provided) and get involved with organising sustainability events and workshops.
Everything I've been involved in has been a brilliant way to meet new people, develop my own awareness of sustainability, and to gain useful skills and experience for future work. It's a great community and a genuine opportunity to make a difference in Edinburgh.
Would YOU also like to give food a second chance?
If so, for more information on volunteering, check out our available roles at shrubcoop.org/volunteer or email us at hello@shrubcoop.org. You can also join our Facebook Group at: https://www.facebook.com/groups/374514412682092/ to stay up-to-date with news and opportunities. Check out Zero Waste Edinburgh for more advice on cutting down on food waste and for tips on sustainable living.
( Image Credit: SHRUB Coop)
( Image Credit: SHRUB Coop)
Share