Suicide is a major public health concern, globally responsible for 700,000 deaths per year. Here in the UK, each of the four nations has created policies to try and prevent deaths by suicide, and suicide has become a regular topic in each of the parliament's political debates.  
In our research project we are interested in thinking about how both suicide and suicide prevention can be seen as political. To explore this topic we have analysed eight suicide prevention policies, all political debates and a selection of charity campaigns on suicide prevention 2009-2019 and have identified a range of topics and themes.  
The workshops
Having completed this analysis we are now keen to find out what the public think of the suicide prevention plans and practices in the UK. Thinking about how to share our findings has been complicated. Both policies and political debates are more than a little dry. Not only this, but the topic of suicide and suicide prevention can be hard to think about and talk about, both due to suicide stigma in society and because it can bring back painful memories for those affected by suicide. Taking all this into account, we have been keen to design ways of engaging with our research findings that are sensitive and thoughtful, whilst also being accessible and engaging.  
My first workshop series is specifically for LGBTQ+ people, because although we know that globally LGBTQ+ people are more likely than cisgender, heterosexual people to think about and attempt suicide, there have been few efforts to engage LGBTQ+ people in suicide prevention plans. Our workshops will offer an opportunity to critically and creatively engage with suicide prevention in the UK, exploring key quotes and summaries through a range of individual and group activities. Some example of activities include: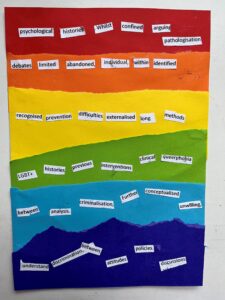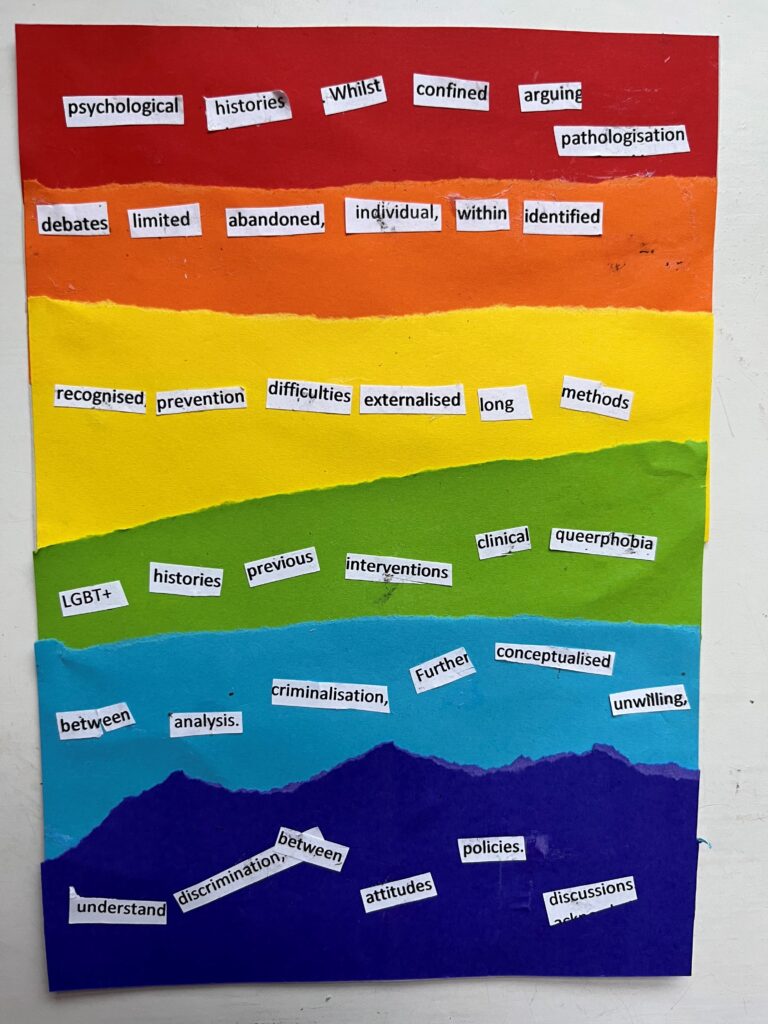 Guided reflective journaling

 

Found and black-out poetry

 

Drawing and collage

 

Creative writing

 
All activities are designed for absolute beginners and aim to provide opportunities to think about suicide prevention in the UK in different and we hope enjoyable ways. We will ask you to share your views through group discussion activities, but you will not need to share what you make in the individual creative activities if you do not want to (although you are welcome to if you wish). There will be options to contribute to both a zine and an exhibition if you would like to, but there is no need to share what you make during the activities with others if you do not wish to do so. 
The workshops will begin with a more general introduction to suicide and suicide prevention in the UK in the first session, but in later workshops you will be asked to pick topics that interest you (from the topics pictured below) to focus on in more detail. 
We are really excited to get started with the workshops and to see what you think of our findings. So if you'd like to come along you can email me to register your interest, ask any questions or just get some more info at hazel.marzetti@ed.ac.uk or text 07810721351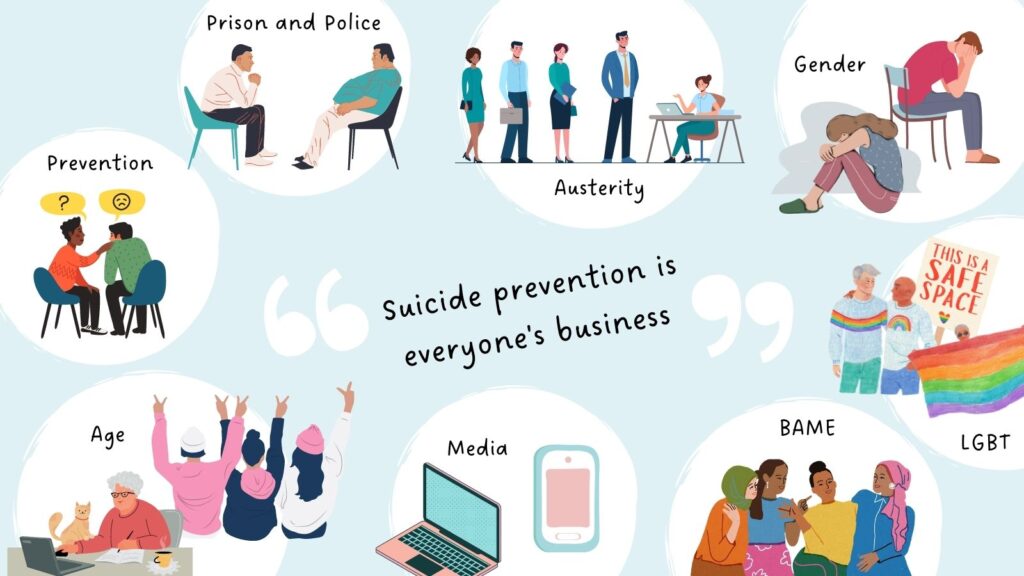 Share