Bi Visibility Day 2020: Solidarity Across The Distance
Bi Visibility Day 2020: Solidarity Across The Distance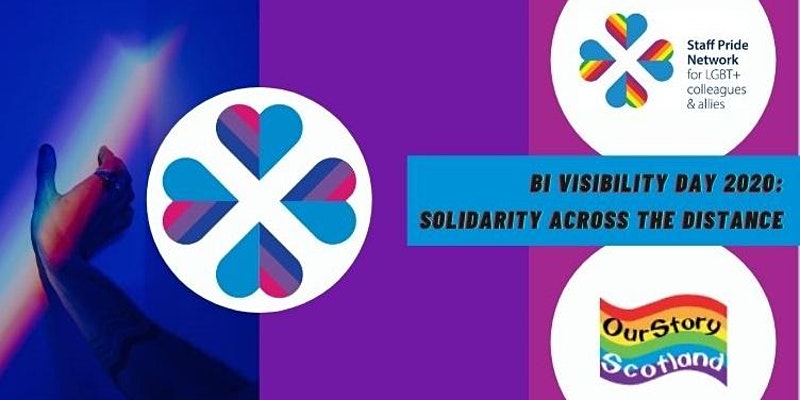 Co-hosted by the University of Edinburgh Staff Pride Network and OurStory Scotland.
We marked Bi Visibility Day on Wednesday 23 September 2020 with an online event where members of the Staff Pride Network and the Pridesoc student network, as well as LGBT+ community members and allies, learned more about the Bi+* experience through shared stories. We particularly welcomed BAME/PoC Bi+ people and Bi+ people with disabilities.
During the event, the co-chairs prompted discussions with a number of active participants, using questions from OurStory Scotland's Queer Distance questionnaire as prompts. All attendees were encouraged to consider the participants' personal responses alongside their own – what were the differences and similarities, and how does the Bi+ experience uniquely affect the context?
Attendees were encouraged to add to the discussions using text chat and raise-hand functions if they wished to do so.
Co-chairs: Cathy Naughton (she/her, Bi+ Rep, UoE Staff Pride Network) and Lindsay Horsham (she/her, Volunteer Researcher, OurStory Scotland).
*The term 'Bi+' in this context relates to an umbrella definition of bisexuality that includes people who are attracted to more than one gender, and may self-identify as bisexual, pansexual, omnisexual, bi-romantic, questioning or bi-curious, to name but a few identities. We recognise that identities are unique and sometimes cannot be easily defined with labels. The Bi+ community is inclusive of trans and non-binary people. (UNISON, 2020)
Share