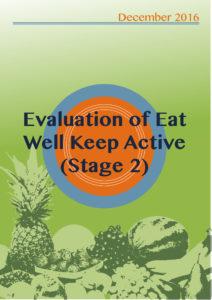 This evaluation was carried out as part of a larger outcomes evaluation of the Eat Well – Keep Active course run by CHANGES.
Stage 2 followed on from Stage 1 (Robertson 2013) and was a prospective evaluation of people taking part in two consecutive Courses in November 2013 and June 2014.
Using the results and insights gained from Stage 1, the aim of Stage 2 was to determine better whether the Course outcomes (see Appendix 1) were met and to estimate the size of effects which might be attributable to the course. It used a cross-sectional approach to measure short and longer terms effects. The objectives were to: determine
the size of effects seen in Stage 1
determine whether these effects were maintained over the longer term
determine which effects are maintained over the longer term and which are not.
We would like to thank all the Eat Well – Keep Active Course attendees who completed our questionnaires. We would also like to thank Health Scotland for funding this evaluation and Heather Cameron at CHANGES Community Health Project, Musselburgh for her unfailing enthusiasm, support and encouragement.
Share