Welcome to our SCPHRP monthly update – January 2017
New appointments
Dr Yvonne Laird has joined us to work on projects related to our adolescence work stream.  She has recently finished her PhD looking at the effect of social support on physical activity in adolescent girls and is coming to us from PAHRC (Physical Activity for Health Research Centre) here at Edinburgh.
Read more..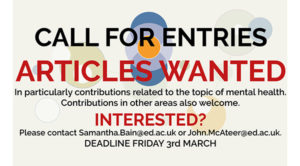 CALL FOR ENTRIES. We are currently planning our Spring magazine, and would again like to invite contributions from researchers, policy makers and practitioners.  We would particularly welcome contributions related to the topic of mental health, but we would welcome contributions in other areas also.  If you are interested in writing something for us, please contact Samantha.Bain@ed.ac.uk or John.McAteer@ed.ac.uk. DEADLINE FRIDAY 3 MARCH

Opportunity:  SCPHRP Visiting Expert
We are currently accepting applications from local stakeholders in the Third Sector and community groups, professional public health positions, and public sector health policy fields, for the non-remunerated position of SCPHRP Visiting Expert.   This is a part-time position (perhaps one-half to one-day monthly), the function of which is to work with SCPHRP staff and Fellows on applied research, and/or knowledge-exchange project(s) of mutual interest, bringing diverse "real-world" expertise relevant to our mandate.  The post-holder will gain experience working at the interface between policy, research and practice, and will contribute to a project in their field of interest.  For further information on the role and application process, please visit: SCPHRP Visiting Expert
SCPHRP Development Awards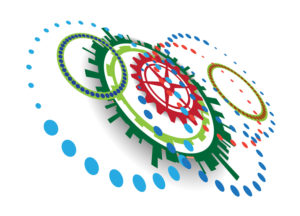 We are currently accepting applications to our funding scheme for third sector and policy/practice Working Group members. This is part of our ongoing commitment to enhance the capacity of the Scottish public health workforce to contribute to, and utilise research, via appropriate career development opportunities. Applicants can seek funding for a number of career development activities, including:
Attendance at a relevant conference, including registration, travel and accommodation costs.
Attendance at a relevant seminar/workshop, including registration, travel and accommodation costs.
Further education opportunities, including relevant modules/courses.
Travel to meet with a key figure in a related field, where such a meeting is likely to benefit your work.
Applications will be accepted throughout the year, until all available monies (£5,000 per working group) have been allocated. To register as a member of any of the working groups, please visit: http://www.scphrp.ac.uk/join-a-working-group/ and contact the relevant Working Group Fellow for further information.
Research report Tackling the School Run.
It sets out the importance of combining the provision of safe infrastructure with activities that support cycling and walking in increasing levels of active travel to school. It is a piece of research conducted for Transport Scotland with Sustrans R&MU working as part of a wider consortium. Our particular contribution was to analyse the Hands-Up Scotland survey data in the context of where interventions have been delivered. There is a really important message about joined-up delivery being worth 'more than the sum of the parts' at the heart of this – I hope that you can make use of that evidence.
You can find more information on my blog post here:
http://www.sustrans.org.uk/blog/are-we-getting-school-run-right-children-and-young-people
Statistics of Brexit.
The annual conference of the Radical Statistics Group and this year is on the topic of the Statistics of Brexit. http://www.radstats.org.uk/conference/Edinburgh2017/
SCPHRP's vision is to develop Scotland as a leader in public-health intervention research for equitable health improvement through catalysing strong researcher/research-user collaborations that ensure timely, robust, policy relevant research that is created with – and used by – key decision-makers.
If you would like to join our mailing list – go to
www.scphrp.ac.uk
Share