Read all about our recent developments at the Scottish Collaboration for Public Health Research & Policy (SCPHRP).

---


THE DIVIDE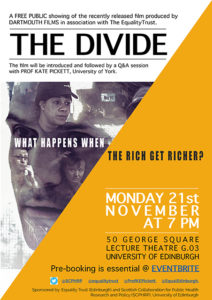 The new Edinburgh Equality Trust group, and SCPHRP at the Usher Institute are delighted to invite you to a showing of the new film "The Divide" about the ideas in the best-selling book "The Spirit Level). We will hold the showing at the main lecture hall in 50 George Square, University of Edinburgh, at 7 pm on Monday November 21st. Prof Kate Pickett of the University of York will give a short talk after the film, and answer any questions.
For more information and to register please go to EventBrite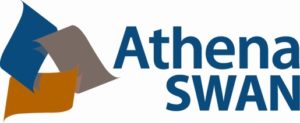 ATHENA SWAN. SCPHRPs very own Renee Ingram has been appointed the Athena Swan Ambassador for the Central Area. For more information about Athena Swan please go to Athena Swan/about

To register as a member onto the member only area ( which we will ask PAG members to do to so we can place material there for the meeting 16th Nov; it is an area only available to the team and PAG members), please go to http://emergeproject.org/create-your-account/.
CALL FOR ENTRIES: We're currently planning our Autumn/Winter 2016 magazine. If you have any articles you'd like to send us for the mag, please contact Sam Bain at samantha.bain@ed.ac.uk
Doi L, Williams AJ, Frank J. (2016) How has child growth around adiposity rebound altered in Scotland since 1990 and what are the risk factors for weight gain using the Growing Up in Scotland birth cohort 1? BMC Public Health 16:1081. DOI 10.1186/s12889-016-3752-z https://bmcpublichealth.biomedcentral.com/articles/10.1186/s12889-016-3752-z
THEORY BASED EVALUATION OF LONG TERM CONDITIONS AND MACMILLAN BENEFIT ADVICE SERVICE in Queen Elizabeth University Hospital, Glasgow. Researchers: Dr Ruth Jepson, Dr Kyle Lambe, Dr Tony Robertson, Dr Andrew James Williams. Integration of health and social care is one of Scotland's major programmes of reform. At its heart it is about ensuring that those who use public services get the right care and support whatever their needs, at any point in their care journey…Read on.
Lee AS, McInnes RJ, Hughes AR, Guthrie W, and Jepson R. The Effect of the More Active MuMs in Stirling Trial on Body Composition and Psychological Well-Being among Postnatal Women (2016). Journal of Pregnancy. http://www.hindawi.com/journals/jp/2016/4183648/
Evaluation of Universal Infant Free School Meals in Scotland. This report is the second monitoring report of changes in school-meal uptake. Key Findings:
In 2016
· free-school-meal uptake amongst P1-3 pupils increased for the second year
· the proportion of all primary pupils (P1-7) taking a school meal (free or paid) also increased for the second year with 2 out of every 3 primary pupil lunches being school meals.
This suggests that in 2016
· more families benefitted financially from universal infant free school meals
· more primary pupils benefitted nutritionally from having school meals.
However free-school-meal uptake varied across schools and local authorities in 2016. This suggests that the distribution of the financial benefits of the policy is uneven across Scotland. Analysis indicates that the most deprived schools had the highest uptake of free school meals. This would suggest that the families who stand to benefit the most continue to benefit the most financially from the free school meals. The full report and more information on the evaluation can be found at: healthscotland.com/freeschoolmeals
---
SCPHRP's vision is to develop Scotland as a leader in public-health intervention research for equitable health improvement through catalysing strong researcher/research-user collaborations that ensure timely, robust, policy relevant research that is created with – and used by – key decision-makers.
If you would like to join our mailing list – go to www.scphrp.ac.uk
Share