Take 5 Minutes to read about recent developments at the Scottish Collaboration for Public Health Research & Policy (SCPHRP).
EVENTS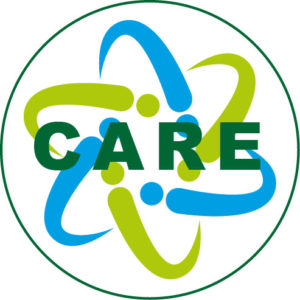 Development of an intervention for parents/carers with teenage children, Thursday 26th May, 9.30am-1.30pm, COSLA Conference Centre
This event – a partnership between SCPHRP and the Robertson Trust – presents a piece of work conducted by Jane Hartley and John McAteer to develop an intervention for parents/carers with teenage children. The five-week intervention has been developed for kinship carers in the first instance, with a view to expanding its use for other groups. The event is primarily for third sector groups, and policy makers/decision makers who may be interested in taking the intervention forward in terms of implementation and evaluation. Please visit our Eventbrite page to register (https://www.eventbrite.co.uk/e/care-an-intervention-for-carersparents-with-teenage-children-tickets-24398316020).
How qualitative (or interpretive or critical) is qualitative synthesis and what we can do about this?
SCPHRP will be hosting a public lecture on 22nd June between 3pm – 5pm (venue in Edinburgh TBC) by George Noblitt who developed the meta synthesis approach for qualitative research in the 1980's. George has been invited to Scotland to input into a NIHR funded project to develop meta-ethnography guidelines (eMERGe). Stirling University are leading the grant and Ruth Jepson from SCPHRP is a co-investigator. More information will be posted shortly.
 NEWS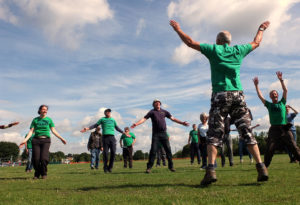 SCPHRP's Daryll Archibald has had an abstract accepted to present the findings of his work investigating the health and well-being benefits of attending a Green Gym programme for older people at the World Congress of Active Ageing in Melbourne, Australia this coming June and has been awarded an Usher Institute of Population Health Sciences and Informatics Travel Grant to attend the conference. Daryll and TCV are currently working on an application to the Big Lottery Fund to increase the scope of the Green Gym project. Well done Daryll! Read more about the Green Gym in the Spring magazine here..

OPPORTUNITIES 

SCPHRP Development Awards
We are currently accepting applications for a new funding scheme for third sector and policy/practice Working Group members. This is part of our on-going commitment to enhance the capacity of the Scottish public health workforce to contribute to, and utilise research, via appropriate career development opportunities. Applicants can seek funding for a number of career development activities, including:
Attendance at a relevant conference, including registration, travel and accommodation costs.
Attendance at a relevant seminar/workshop, including registration, travel and accommodation costs.
Further education opportunities, including relevant modules/courses.
Travel to meet with a key figure in a related field, where such a meeting is likely to benefit your work.
Applications will be accepted throughout the year, until all available monies (£5,000 per working group) have been allocated. To register as a member of any of the working groups, please visit: http://www.scphrp.ac.uk/join-a-working-group/ and contact the relevant Working Group Fellow for further information.
Mark Hazelwood from the Scottish Partnership for Palliative Care was succesful in applying for a SCPHRP development grant to attend the forthcoming meeting of the International Working Group on Death, Dying and Bereavement (IWG), in Dunblane, 6-11th November. Congratulations Mark.
PAPERS & PUBLICATIONS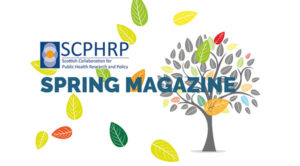 Our Spring magazine is now on the website here.. Read about COLLABORATING WITH ACADEMICS: An Evidence for Success supplementary guide from Patty Lozano-Casal, Evaluation Support Scotland on Page 9, EVERYDAY LIFE AND OLDER PEOPLE'S WELL-BEING in local town centres in Edinburgh from Luca Brunelli on Page 12 and much more. If you would like to contribute to future magazines, please get in touch with Sam Bain at Samantha.bain@ed.ac.uk. 
Frank, J. (2016). World view: Origins of the obesity pandemic can be analysed. Nature, 532, p149. 
Evans, J.M., Ryde, G., Jepson, R., Gray, C., Shepherd, A., Mackison, D., Ireland, A.V., McMurdo, M.E., Williams, B. (2016). Accessing and engaging women from socio-economically disadvantaged areas: a participatory approach to the design of a public health intervention for delivery in a Bingo club, BMC Public Health, 16. Full article accessible here: http://bmcpublichealth.biomedcentral.com/articles/10.1186/s12889-016-3013-1
Best, C., Haseen, F., van der Sluijs, W., Ozakinci, G., Currie, D., Eadie, D., Stead, M., Mackintosh, A.M., Pearce, J., Tisch, C., MacGregor, A., Amos, A., Frank, J., Haw, S. (2016). Relationship between e-cigarette point of sale recall and e-cigarette use in secondary school children: a cross-sectional study, 16. Full article accessible here: http://bmcpublichealth.biomedcentral.com/articles/10.1186/s12889-016-2968-2
SCPHRP's vision is to develop Scotland as a leader in public-health intervention research for equitable health improvement through catalysing strong researcher/research-user collaborations that ensure timely, robust, policy relevant research that is created with
– and used by – key decision-makers.
If you would like to join our mailing list – go to www.scphrp.ac.uk
Share