Take Five Minutes to read about recent developments at the Scottish Collaboration for Public Health Research & Policy (SCPHRP):
News & Events
If you would like to make suggestions regarding a SCPHRP event – including potential collaborations or speakers, would like to share articles and papers, or publicise your own event please feel free to contact a SCPHRP Fellow or Renee Ingram (renee.ingram@ed.ac.uk).
Event: 01 Sept 2014 –22nd PHIRN Health Challenge Wales Seminar – 'Tackling Workplace Sedentary Behaviour'. Register here.
Event: 03 Sept 2014 – Creating Better Health & Wellbeing: Community organisations and researchers learning together. Places are limited. Register here.

This one-day networking and learning event organised by members of the Adult Life/Working Age Working Group at the Scottish Collaboration for Public Health Research & Policy (SCPHRP) aims to help bring academic researchers and community projects together to discuss methods and experiences of improving health and wellbeing and reducing health inequalities in Scotland.

Expressions of Interest: 05 Sept 2014 – International Society of behaviour Change (ISBNPA): Advancing Behaviour Change. (Event: 03-06 June 2015). Apply to present at a workshop here.
Event: 16 Sept 2014 – FEVA Forum Exchange – 'Green Health in Later Life'. Run by 'The Conservation Volunteers'; this sharing good practice event will highlight the opportunities and benefits of outdoor activity for older people, including those suffering from dementia. Register here.
SCPHRP Event: 22 October 2014 – Protecting Young People in Transition. 10am-3pm. Venue to be confirmed.

 Adolescence is characterised by a number of transitional periods, e.g. the move from school or college.  This event organised by members of the SCPHRP Adolescence and Young Adulthood Working Group and featuring speakers from research, policy and practice aims to explore the impact of such periods upon health outcomes in adolescence and later life.

Event: 04 Nov 2014 – Are you in a healthy place right now? Neighbourhood food environments, diet and health. Research and policy meeting.This meeting, organised by the UKCRC Centre for Diet and Activity Research (CEDAR), will feature presentations by leading researchers and policymakers in this field, and will provide plenty of time for discussion and interaction. Read more.
SCPHRP Working Group Event: 13 Nov 2014 –Hold the Date. An event exclusive to members of the SCPHRP Working Groups designed to bring all four Working Groups back together to celebrate a successful first year. Read about the Working Groups here.
Fringe Festival – Death on the Fringe. A series of shows at the Edinburgh Festival Fringe that look at death and dying from different perspectives – some serious, some comical – but all making you think about what it means to live well and die well. It is part of the ongoing charity-led campaign, Good Life, Good Death, Good Grief. See show listings here.
SCPHRP Magazine – The SCPHRP Summer 2014 magazine is now available online. You can also request a physical copy. Featured articles include: The STAND Awards; 'Reducing health inequalities in the early years — what should Scotland do next?'; An interview with Susan Lowes from Voluntary Health Scotland; and The Well!Bingo project.
Call for Contributions: We are starting to collect articles for our summer magazine. If you have any 'relevant to SCPHRP' articles you would like to submit i.e. researched work, projects or project updates, published papers, please contact Sam Bain. Size wise…it can be between 100 to 300 words with any links, logos, images would be great (please make sure there is authorisation to use any images and logos in print and on the web). DEADLINE for any submissions is Monday 22 Septemeber.
You can view all past SCPHRP magazines on our website www.scphrp.ac.uk
Papers and Publications
Estrade M, Dick S, Crawford F, Jepson R, Ellaway A, McNeill G. A qualitative study of independent fast food vendors near secondary schools in disadvantaged Scottish neighbourhoods. BMC Public Health 2014, 14:793 (PDF £0)
Robertson C, Archibald D, Avenell A, Douglas F, Hoddinott P, van Teijlingen E, et al. Systematic reviews of and integrated report on the quantitative, qualitative and economic evidence base for the management of obesity in men. Health Technol Assess 2014;18(35). (PDF £0)
Report: Linking and Using Health & Social Data in Scotland: Charting a Way Forward. 22 May 2014. (PDF £0)
Useful Links
Filmed Events:
Social Connections and Health Across the Lifecourse: Do high maternal social assets – social support from close ties – attenuate some of the negative effects on children of living in persistent low income?– a talk by Dr Morag Treanor, Lecturer in Quantitative Social Policy, School of Social & Political Science, University of Edinburgh. Watch here.
Synthesising Qualitative Research – Advanced Training. Ruth Jepson recently ran a two day event on synthesising qualitative research for the Scottish Graduate School of Social Science. Watch here.
SCPHRP meets…Prof. Martin McKee, London School of Hygiene & Tropical Medicine. We sat down with Professor Martin McKee during a recent visit to Scotland to find out his views on the challenges and opportunities facing public health today. Watch here.
SCPHRP films most of the events we host. You can watch past events on our YouTube Channel.Visit the YouTube Channel.
Top Three Tweets from @scphrp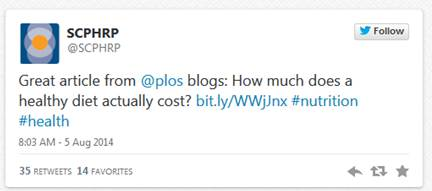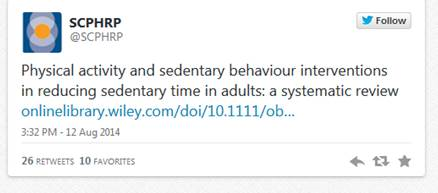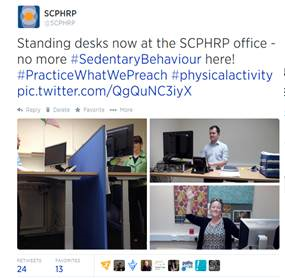 SCPHRP's vision is to develop Scotland as a leader in public-health intervention research for equitable health improvement through catalysing strong researcher/research-user collaborations that ensure timely, robust, policy relevant research that is created with – and used by – key decision-makers.
Subscribe to the SCPHRP mailing list.
Share