MUD JEANS
MUD Jeans is a company that embrace innovative solutions to circularity by applying the principles of circular economy. They are the world's first circular denim brand.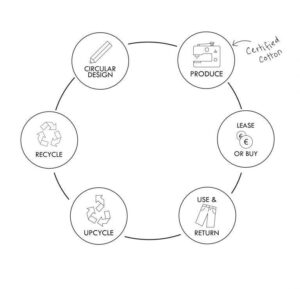 To produce one pair of MUD Jeans they use 581 litres of water, compared to an industry standard of 7,000 litres. So, their jeans save 6,419 litres of water. This is made possible by the water recycling plants and innovative washing techniques at their factories.
Besides that, people can choose to buy or lease their jeans by paying fees monthly. This is a great method to avoid the 'valuable waste' like I mentioned in the last post, since some people bought their jeans and just wear it for a season.
Detachable Buttons
This innovation inspired me about my redesign work, we know old clothes can be turned into new clothes through recycling, sorting and technical processing. However, the decorations often found on clothing, such as buttons, rivets, and leather, are not easily decomposed. Therefore, the decorations on the clothes can be designed to be detachable, so that these decorations can be recycled instead of constantly producing new ones.
So I was thinking how about making the decorations on cloth detachable? This is also inspired by the quote in Cradle to Cradle Chapter 4 – 'One of our ideas for a new design would combine a durable bottom layer with a detachable top.'  It is unrealistic to let the non-degradable decorations no longer appear on the clothes in a short period of time,  it may take a long way to achieve. But so far, if we can improve the utilization rate of technological materials, thereby reducing the productivity, is this also a response to the circular economy?
Where will they go?
So,  when the department receives the old clothes, it first screens them. The qualified and intact clothes will be given to people in poor areas, while the clothes that need to be reused will be removed from the decorations and sent to the textile factory.