This week, I have been thinking about what my environmental design manifesto would be.
Based on the inspiration of Ecological Design by Ryan and Cowan, and Vibrant Matters by Jane Bennett, I have produced my own manifesto for ecological design.
Principle 1
Before design, calculate its long-term ecological impact —— imagine the consequences of the design and what position it will place humans in the future.
Principle 2
Design decisions need to be applicable to both humans and nature —— humans interact with the environment and only symbiosis can achieve a win-win situation.
Principle 3
Organisms can become part of the urban ecosystem —— use the properties of organisms themselves to allow organisms and microorganisms to participate in the design.
Principle 4
Develop the green economy —— under the premise of ensuring the quality of natural resources and the services they provide.
Principle 5
Pay more attention to how to end the product, rather than how to manufacture, produce, and sell the product.
The most important 5th principle – applies not only to designers, but also to ordinary people. When we are buying and discarding products, we need to think more about where the product will go. When we are discarding, imagine whether this garbage will eventually appear in another garbage mountain beside a certain coastline.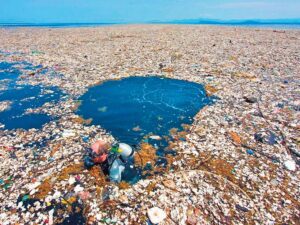 Source: Great Pacific garbage patch https://chiletoday.cl/floating-garbage-patches-grow-in-the-pacific-ocean/