The Danish clothing company Vigga is challenging the traditional business model of the clothing industry.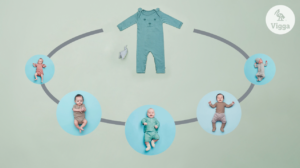 Vigga's customers pay a monthly fee for the subscription service. The service entails that customers receive the first package of clothing shortly before their baby is due. Once the baby grows out of the clothes, a new package arrives with clothing in a larger size. The customer returns the smaller sized clothing to Vigga, where it will be washed using an environmentally friendly process and put through a rigorous quality control before being shipped out to another customer.
It pays to produce quality, when your customers are sharing. The idea of producing high quality clothing to extend the lifetime of the products is not new. However the utilization of a subscription based business model to reduce the costs for the consumers as well as the environmental impact is an interesting combination, which can be replicated across many other industries.
The Sharing Economy has been well developed in recent years, if everyone lives according to their own interests, resources will soon be exhausted due to material desires. This is very useful, especially considering that a large percentage of people are shopping for the service itself rather than the product they purchased.
If I bought a car and it is used for 8% of the time, so the 92% of the time the car is idle. This idle is "waste", but this "waste" is valuable. Therefore, the "waste" of "sharing" is an effective strategy for exerting its value.
Improving resource utilization, is also an effective response to environmental protection.