Life has become centred around our flat and we have found a way to make it feel less like "being stuck" and more like a temporary challenge.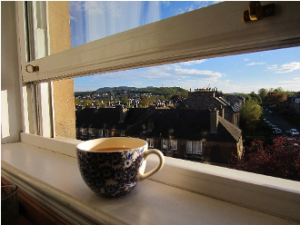 I am lucky because I live with people I consider close friends. We all enjoy similar things and we have enough space in our flat to have some "alone time" when needed. Usually, we get up at the same time (around 7:30) and get together multiple times throughout the day to update each other on the news, funny videos and important thoughts. It is not uncommon for us to have a philosophical discussion while cooking gnocchi for lunch.
However, it isn't easy. It isn't easy that I won't be able to celebrate my brother's wedding with my family this year. It isn't easy that I will miss going home for Easter, an important holiday where I am from. It isn't easy to wait and wonder how long all of this will go on. I have productive days and I have days when I am restless, worried and distracted. My research project is at a halt, but I am trying to focus on future studies. Reading, writing and planning. The chairs in our flat have become my greatest enemies. Having a chronic back condition and no office chair or standing desk means that I have to change position multiple times a day, sometimes I end up lying on the floor, balancing the laptop on my knees. At the end of the day, I finally go for my governmentally approved walk, which relieves the pain in my back, while I avoid the few people on the street as I go along and wonder how weird it will be to actually come close to strangers again once this is all over. Right now, I can't even image shaking anyone's hand.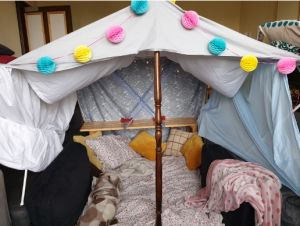 The best thing that happened in lockdown so far was building a fort. We used several drying racks, blankets and pillows to build it in our living room. It was the weekend we were meant to go to Mull, a holiday after my flatmate handed in his PhD thesis (now online). Planning ways to make us feel better, to distract ourselves and to keep us going have become the new normal. I try to have a routine, but I discovered that the routine changes with every week we are in this situation. It makes it feel less like one continuous stretch of time and more like individual weeks. Taking it day by day, week by week.
The other day we watched a commercial, showing how all of us are connected through video, calls and messages and I had goosebumps thinking about how strong this feeling of connectedness is. But it also showed how difficult the current isolation is. My flatmate has a motto for our lockdown, which she calls:
"What would we do, if we were kids?!".
This helps us come up with creative ideas, like building a fort, and for a few hours, sometimes a whole day, I forget why we are doing this. I am not sure how my and everyone's life will change in response to these experiences, but I do know that it will change, at least for a while. We are all researchers after all, so maybe we can see all of this from a different perspective. But we are all human too, missing our families, friends, hobbies and the lightness of being. So, I am happy to share this—the good and the bad. Because it both goes together, even in a situation like this.
---

Share