From March this year, the joyful clamour of celebration for mental health awareness and wellbeing should have been ringing out across Edinburgh.
PosiFest 2020, a new festival created by a group of University of Edinburgh postgraduates, was set to fill central Edinburgh venues with positivity. Instead, these venues—the Pear Tree Garden, Counting House and 32—laid silenced by the global pandemic. Remarkably, PosiFest emerged as one of the only events—out of thousands of festivals and large conferences—to commence despite the wave of COVID-19 cancellations.
This is the story of a festival that would not be silenced.
The decision to cancel the event, like countless others made by organisers all over the world, was a painful one. "When our team heard of the rising concern, we called an emergency meeting," says Shalhavit-Simcha, the director of PosiFest. In this meeting, Shalhavit-Simcha notes "…a cloud of disempowerment filled the room… after these endless hours of work, volunteering, recruiting and promoting, not to mention the incredible line-up of performers, speakers and comedians who were coming together to share with us their take on mental health to benefit the community."
PosiFest came into being to provide an arena to celebrate resilience; this celebration was needed during the current time of crisis more than ever. PosiFest was primarily founded in order to give to the community, share advice and resources, and create a platform to discuss mental health awareness and wellbeing. The realisation came that PosiFest was needed now more than ever.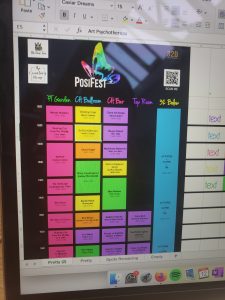 The challenges the team faced were many. Finally, after several weeks of plan-changing hard work, the big day arrived: March 28th, the
launch of PosiFest. Both terrified and excited, the team launched PosiFest virtually, for one full day, entirely online. Interactive participation took place via the video conferencing software, Zoom, which was broadcast on one of the team member's projector screen and thus shared on Facebook Live—accessible to all.
The itinerary was packed. Those fifteen hours of the online festival consisted of mindful musicians, positive DJs, entertaining comedians, body positive yoga, poets and artists on mental health, resilience coaches, and survivor shares. None of us could have expected the incredible draw this would have. The event garnered more than eleven thousand views on the day. People needed PosiFest.
You might think it stops there. Done and dusted, a rip-roaring success. The team pats itself on the back, taps its papers on the conference table, packs up the briefcase and heads for a congratulatory lockdown drink. Instead, PosiPosse (the PosiFest team) realised the important contribution of the festival decided to keep going with it—an option possible considering the shift to being online. PosiFest's online audience and views keeps growing daily—75,000 views in the last month alone. The growth has taken the PosiPosse by surprise. There is now daily content live on Facebook every night at 7pm [British Standard Time], with more performers, presenters and host interviews to keep promoting mental health awareness and wellbeing.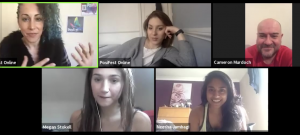 You can find out more on our Facebook page.
And in the face of this tide of positive content, the momentum shows no signs of slowing. For example, in the last week, virtual attendees have been treated to an ever more diverse selection of online treats. These include a filmmaker from Bristol, whose unique conception is an analogy of PosiFest as a Skinner Box (a behavioural psychology experiment): the belief being that when you are not hungry you won't seek change, but when you are, you find a solution. Another member of the team from Belarus is translating selected broadcasts into Russian to reach communities in Russia and Belarus. From Bristol to Belarus – PosiFest has become truly global.
The PosiPosse hard work is being noticed and recognised.
The positive response both internally and externally has been almost daily. These have come from PosiFest viewers, its community and from the academic/professional world. Its growth has been brilliantly overwhelming and validating the need for our continued engagement. The feedback we have received has ranged from viewers sending us emoji's to detailed personal messages of how we have enhanced their daily lives. In one case, a viewer was contemplating suicide, later informing us that, that days live post, had made them go out for a walk and re-evaluate their feelings and possibilities, after which they realised that they did have a future and needed professional support. This affirmation confirms one of our collective dreams, that PosiFest is changing the world, one person at a time.
Externally, PosiFest is privileged to officially be one of four stakeholders to represent Edinburgh for the challenge of the future of culture, alongside Edinburgh Festivals, the Talbot Rice Gallery at the University, and the Fringe Festival. The PosiPosse team is participating in the "UNA.TEN Transform Emergency Now! 10 days for change: A cross-European student hackathon ideating the next steps for the world during and after the COVID-19 crisis."
"We feel we have created something valuable and made it a success against the odds" beams Shalhavit-Simcha. "It is incredible to witness how much growth each of us has been gaining from this experience. Especially now in isolation, knowing that we are not only helping ourselves but also connecting with and supporting kindred spirits and other people around the world".
What started as a small group and following, is now taking the world by storm! The PosiFest Team is growing as it attracts more students, artists, creators, and professionals from a diverse set of backgrounds and locations, whilst redefining the traditional definition of what a festival can be. If you are willing to share some of your insights on wellbeing, it can be both personal and/or research-based, the PosiPosse team invites you to an interview or suggest posts.
---
Discover more at www.posifest.uk or contact us at posifest@gmail.com or join our online Facebook community @posifest and witness/be part of the empowering mental health awareness and well-being movement that is being created.
---
Meet the PosiFest Team:
Share