It has been a while since my last blog post on 'Demystifying the Viva', so I am glad that I finally got the chance to write down this interview with Dr. Temitayo Odewusi, former PhD student in Nursing Studies.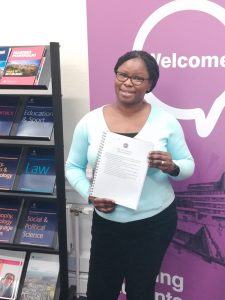 If you haven't yet read my previous blog posts on Viva experiences, here is what you need to know: even though a PhD is more than a thesis and a Viva, we as PhD students have to be prepared to explain and 'defend' our projects at the end of our PhD journey. Knowing (or not knowing) what awaits us can create a lot of anxiety and confusion. For this reason, I decided to write this blog series, which is based on interviews with former PhD students and staff members of the School of Health in Social Science to learn more about their experiences and thoughts on submitting a PhD thesis and preparing for a Viva.
The last year has not been easy for anyone and many research students had to pause their projects or re-design their methodologies. Being and staying connected with other PhD students throughout this year has been so important to alleviate loneliness, uncertainty and the pressure of having to move on. For me, the best thing about doing a PhD has been to meet so many amazing people in the office, during lunch breaks and social activities. One of these people is Temitayo. When I entered the PhD office for the first time, I did not know what to expect. What does a PhD student do every day? Where does research start? All I wanted at this time was somebody to guide me through the process. And then, in the part of the office that is supposed to be the "silent space", I found people from all over the world that shared their stories with me, gave me advice when I needed it, celebrated achievements together and comforted each other when going through a difficult time.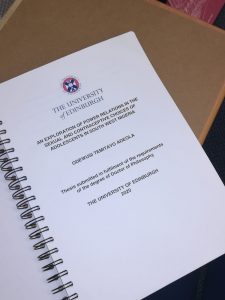 "Just having someone there beside you, to calm you down and to tell you that it is normal to feel like this. It was really comforting and reassuring to me."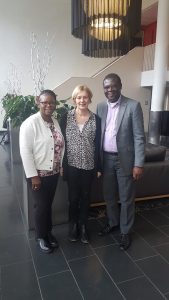 The above quote from Temitayo stayed with me after our interview. How are we going to make sure that we are still there for each other, even in times of social distancing and lockdown restrictions? One answer might be this blog post. To read about other PhD students' struggles, achievements and experiences might help us to feel less alone with our own PhD journey. Temitayo is one of my PhD role models, who not only did a full-time PhD, but also raised two children and worked weekends in a Nursing Home. Her PhD project is an "Exploration of power relations in the sexual and contraceptive choices of adolescents in South West Nigeria". She finished her PhD in 2020 and has just resumed work as a nursing lecturer at Queen Margaret University.
DISCLAIMER: The following information is based on a non-representative, sole individual's viva experience. The student interviewed sat their VIVA some time ago; thus, processes have changed slightly since the following bullet points and interview transcripts were created. There is information on the Learn* channel and on the College web pages on VIVA information and, for example, how and where to get theses printed. The University of Edinburgh's School of Health in Social Sciences encourages students to take a look at the aforementioned resources, which may already be captured within the bullet points listed below.
If you are in a hurry, this is what you need to know:
When Writing Your Thesis
Structuring your thesis comes down to a combination of your own decisions and your supervisors' recommendations

Your thesis is a story you tell, so make sure that it flows logically.

If you are conducting qualitative research, have a look at the following resources:

Silverman (2017): Doing Qualitative Research
Ritchie et al. (2013): Qualitative Research Practice: A Guide for Social Science Students and Researchers
Braun and Clarke (2013): Successful Qualitative Research: A Practical Guide for Beginners

If English isn't your first language, consider hiring a proof-reader to read through your thesis

Consult with your supervisors about this, maybe they know someone they can recommend
Be sure to allow for some extra time for the proof-reader to read your thesis before your final submission
Before Submitting Your Thesis
Make sure to look up all the relevant information on LEARN, however also don't hesitate to ask for help!

The last few weeks before submitting your thesis might be very stressful; talk to other students who had been through the process recently, they might know some of the practicalities of submitting a thesis that are not explicitly mentioned on LEARN (e.g. where to submit the thesis, where to print and bind a thesis)

If you would like to suggest someone as your external examiner, let your supervisors know, but you can also ask them to advise you
Before the Viva
The important thing is that you worked on your thesis from the beginning to the end

Think about what prompted you to make specific decisions (e.g. why did you decide to do what you did?)
Think about your thesis as a step-by-step decision-making process

Think about how your findings fit in with existing studies
Ask your supervisors and other students to organize a mock Viva with you

But make it very clear that you might not be able to change anything about your thesis anymore, so the feedback and questions should be constructive
The PGR reps are currently planning to organize mock Vivas for those in the later stages of their PhD; please get in touch with them if you would like to be part of this initiative!

*You can access the Learn channel in MyEd, or login at www.learn.ed.ac.uk.
Here is the full interview:
I: How long would you say did it take you to write your thesis?
T: […] It is really difficult to say how long, because… I used to think, that the last year – you use that for writing – but I saw that I actually started writing right from when I started the PhD. It is because, all the things I put together in writing, they were actually the write-up that I used from the beginning. Even though the last year was more of analysis and writing, […] it was more of putting the write-ups together and making sure that they fit in with the data analysis.
I: And how did you structure your thesis? Did you follow any guidelines or was it a decision you made together with your supervisors?
T: It is a combination of everything! When I started, I was a novice qualitative researcher, and I didn't really have a clue about how to structure my thesis. And my supervisors kept telling me: "You have to make the decisions on how to structure your work". So, they actually prompted and supported. So, you know, when I structured it this way, they said: "Well, do you think that this really portrays your thought… this might not really fit". And then, I remember when I wrote my first finding chapter, it took three months before I could structure something meaningful… […] I kept writing and writing and at some point, I broke down and [asked myself]: "What is really wrong? Is something wrong with me?" [laughs] And they [my supervisors] told me: "There is a story to tell. It has to be something that makes sense and then it can just flow logically, it just has to flow!" By the time I was able to come up with the structure, everything made sense to me. So, it was more of my decision, but with the guidance of my supervisors; and of course, I read Braun and Clarke, I used Silverman and Jane Ritchie et al. These were the three books I used, I read them religiously! […] the principles I read in those books helped me to structure my thesis.
I: And when you were writing, did you use a particular reference tool or a software to help you with the references?
T: Yes and no [laughs]. I initially started with Mendeley… I did not really get it as a I was confused with everything I did. Then I used Endnote, but towards the end I saw Endnote missed out some of my references, so I ended up doing it manually. And with that I was so sure, because I had to do it page by page to be sure everything was included in my thesis. So, it was a combination of Endnote and manual.
I: I've heard that from a lot of students [laughs]. So, from everything I've heard so far, there is no such thing as a 'perfect thesis'. But, how do you feel about your thesis now? Or right before you submitted it?
T: Yeah… before I submitted it, I felt something wasn't right, that it wasn't complete. I kept writing and writing and my supervisors were like "You need to stop writing, at this point you have to put a stop to it", but I felt "I have not done these bits enough, I need to do more", you know, until I made up my mind and thought "No! I just have to submit!", and I did! Now, after my Viva and the little corrections that I had, yeah, I really feel satisfied. Before my Viva, I had the opportunity to read and re-read the thesis which was something dreadful [laughs]. I didn't feel like touching it again! The moment I opened the first page, I could see typographical errors… [laughs]. By the time I'd read it again, I gave it back to the proof-reader and asked him to read it again. […] He read it for me and when I submitted, I was really happy with what I did, you know. I was proud of myself.
I: So, would you recommend a proof-reader to other people whose first language isn't English?
T: I think the decision to use a proof-reader is with the supervisors. Your supervisors [will] recommend it, if your work needs to be proof-read. Yeah, and it was good. He explained everything to me, […] and he perfectly understood what I was saying.
I: So, was there anything that you did not know about the process of submitting your thesis, that you would recommend other students to prepare for?
T: Yeah… Towards the last weeks of submissions, there were many things that were not explained on LEARN, but maybe because of the pressure to submit, I didn't really understand what I read [laughs]. I didn't really understand the process. And I asked one of the other students who had finished and realized it was the same thing with them, not only with me. There is so much pressure to finish up… What I saw there, there were guidelines on the fonts, font size, the spacing and every other thing that relates to that. But you also have to look for a place to print your thesis, you need some copies to submit, depending on the number of examiners that you have. I was clueless about it. Someone who had just finished explained to me: "This is what you have to do, you do this, and you do this". In fact, it was so strange, I didn't know where the College office is. The day I submitted was my first day at the College office [laughs]. So, I didn't even know where to go, it was really strange. […] It is in George Square […], I'd passed by the College Office many times, but I didn't realise [laughs]. All this basic information, they are really important. And I see the need for students at this stage to ask for some kind of support. Apart from having this information online, there is a need to ask other students who had gone through it to be there to support you. […] At this point, my brain was kind of crowded with so many things and the pressure to submit and lots of things. Even if all these guidelines are there on LEARN, human support is also important, because of the stress of finishing, of writing, putting things together and ensuring that you submit, that you don't make mistakes… […] Don't be afraid to ask for help! I remember, someone just walked me down to where I printed and bound my thesis and at that time and moment, it meant a lot to me. Till date, it means a lot to me. Just having someone there beside you, to calm you down and to tell you that it is normal to feel like this. It was really comforting and reassuring to me.
I: And how was your Viva organized and scheduled? Did you have a say regarding time and place?
T: Well, I would say I had. Because when my examiners were chosen, I was asked if I had anybody in mind. I remember, I submitted first week of January and my Viva was the first Friday in March and my supervisors asked me about getting an examiner since September the previous year (2019). And I told them "Don't worry, I had no one in mind, I don't know anyone" and I told them that I trust their judgement. So, they offered me that option. And it took a while until they got my external examiner because there are not so many people sexual health nursing researcher, which is an important area of my study. And when they contacted my external examiner, he agreed and everything was decided by the middle of October 2019. It was just the exact time and the venue I didn't know until February.
I: And you also had your Viva during 'Industrial Action' [strike period], so you couldn't have in the school?
T: Yeah! So, it was scheduled in a hotel [laughs]. I remember, I discussed with some colleagues that I needed to visit the place to have a feel of the room. At least to know, where my fate would be decided [laughs]. I went there like two days before the Viva, I just want to know the venue. I requested from the hotel reception that I would like to enter the room, to just sit there and have a feel of the environment. I looked through the windows to see the scenery outside for 2-3 minutes, then I got up and said: "Now, I am okay." And then I left [laughs]. This really helped me to easily locate the venue on the day of the viva and to feel relaxed. My Principal Supervisor – Dr Fiona Cuthill, attended my viva, I will always remember that. I invited my two supervisors because they were very, very supportive all through the PhD journey. My second supervisor could not attend because she had another assignment in her department. I will never forget my interactions with them. In all the times I spent studying in my whole life, my PhD supervisors were the best supervisors that I ever had. I remembered, I was scared initially, but they were very understanding and supportive. Just before the viva commenced, my supervisor asked me – "Any last-minute questions you would like to ask me?" and I was like "Can we talk about anything other apart from PhD?" [laughs]. Because at that moment I felt my brain was saturated. I just wanted to talk about something else to calm me down. Something to make me relax. So, we just talked about my plans after the Viva. The PhD Viva–after I was called in, I greeted everyone in the room and was told to sit on a chair facing the two examiners. The preliminary information regarding the viva was given, then the two examiners took turns to ask me questions and clarify certain information from my thesis. I had my own copy of the thesis with me. I just continued to talk and talk and talk in response to their questions until it got to a point when the chair said: "I am afraid we have spent one hour [already]" and I was surprised because, really, I was enjoying my Viva. It was as if I was discussing about my thesis with some friends I just met. That was the feeling they made me have. I was very excited about it and I kept talking and talking and… I just realized that I had not opened my thesis! […] They really encouraged me to talk. I remember, the examiner said: "You will never have this opportunity again, to talk extensively about your thesis". […] After a while, they specifically told me to open to a particular page and asked me about a specific diagram or specific parts of the thesis. Before the Viva, I had already seen that I made a mistake in the diagram and they said it wasn't clear, but I knew it was actually a mistake [laughs]. So, I just said: "Okay, thank you". And after a while they said, they had exhausted their questions and asked if there was anything, I wanted to tell them [laughs]. And I had been warned already to be careful of this kind of question especially, so I do not bring up anything new [laughs]. Truly, they asked everything. And I mean, everything. From chapter one to chapter ten. […] It was thorough, but it was relaxing for me. They prepared me by giving the necessary information prior the viva. When I finished, after maybe one hour fifteen minutes, the viva ended and I was asked to step out, with my supervisor. Fiona asked me to go for snacks, but I was really tense and said no. I was anxious about the outcome, so I said: "No, I don't want anything, let's just wait" [laughs]. And within ten minutes, they called me back again. I remember Fiona saying: "That was too fast!". By the time I got back in, they had rearranged the seating. I was actually going to sit again where I sat, but there was no more chair there. They had put my chair beside them, so when I got in I was confused and they were all laughing [laughs] and I was really scared but they told me to relax and I said: "I am!". And then they said: "Congratulations!" and that they were proud of my thesis, proud of the way I defended my thesis and that they had no doubt it was my original work, because of the passion with which I defended my thesis. They said they only had very few corrections, they will give me three months, but I should be able to do the corrections within a day or two. And then I saw that more than half of the corrections, I'd already done before the Viva. So, they said: "Congratulations, Dr Temitayo!". One thing that really touched me was that my examiners took the time to look for how to congratulate me in my original language – Yoruba language [Nigeria]. That really touched me! I remembered that the external examiner struggled to pronounce it, but I didn't get what he said until I saw it in the feedback that was emailed to me. I was touched that they took this extra effort. I really enjoyed it. That day, I was really proud of myself, I really felt I did something worthwhile; I saw myself as being able to contribute something important. I was really motivated and encouraged by the outcome of the Viva and my interactions with my examiners.
I: You should be proud of yourself! And before the Viva, did you look up your external examiners?
T: Oh yes, I did! Because when the decision was made on my examiners, my supervisors told me why they chose those two. I remember a student who had finished before me told me that it is good practice to include your examiners' relevant research in your thesis, which I did. […] Somebody told me, it is good to put it in chapter one and your recommendations, just to make sure. My external examiner wrote so many related papers, so I had more than enough to include in my thesis, not just because he was my examiner. […]
I: And how else did you prepare for the Viva?
T: […] I remember, I looked at many books [laughs]. But what put me off those books was the limited time I had to prepare for my Viva. […] My supervisors actually offered to have a mock Viva with me. The nursing students also organised one. Those were the two I had. And while talking to other students who had already finished, nobody recommended any book to me. I asked my supervisors for any book recommendations, but they said there are no two Viva experiences that are the same, each one is unique. They told me that they are examiners as well and they rarely used the same set of questions for all their candidates. They just told me to know my work. The important thing is that you did it – from the beginning to the end. You know what prompted you to make specific decisions. They told me that is all the examiners want to know: Why did you do it? Just try to defend every step, everything you did. […] And then we had the mock Viva and it was very tough [laughs]. Even though I was able to answer their questions, I always asked if my answers were what they expected [laughs]. So, they said I need to be more confident! I was really scared of those questions they asked me, because they were very thorough! That prepared me, because those questions I dreaded. And they told me to go through those questions again and to record my answers, to play it to myself again. And then they said to ask a colleague to ask the same questions again, so I have to respond. […] At the end of my Viva, it came to me that other people might struggle with these questions as well. So, I wrote them all down and sent it to everyone who was interested. If a student is able to answer all these questions, then viva should not be a problem for such student. Even though you will always be nervous but at least you will be able to prepare some answers, to give your best.
I: And were these questions those that came up during your mock Viva?
T: […] I guess I tried to write them down in my own words. And after the Viva, I wrote down some of the questions that I saw the examiners were really interested in. […]
I: Are there any sample questions that you remember? Like anything you would recommend students to prepare for.
T: What I remember is that most of the examiners often start from the easy ones to the difficult ones. Whatever study you did, they want to know why you did it. Why that area of study? That is usually the ice breaker. And they are interested in your philosophical assumptions, epistemology, how that informed your methodology and then your research design. They are also interested in the ethics [of your study], depending on your population. I worked with adolescents and there are a lot of ethical considerations with this group, especially related to their age, parental consent, their vulnerability… And the examiners were really interested in the findings and implications. They asked me how my findings fit in with existing studies. […]
I: Did you take any classes or attend any courses to prepare for the Viva?
T: Not really… Not for my Viva. After my second-year review, I attended an IAD course on presentation where I did learn how to present. That was the only thing that is related that I attended. Because none of the workshops fit into Viva preparation at that stage. […] From your third and fourth year there is nothing really to support students. The focus is often on the first and second year. After that, you are on your own. So, you just have to see what you can find on LEARN, IAD or through interactions with other students who have passed through that stage. It would be great to organise more mock Viva. […] But not too many, I remember I turned down some mock Viva because I didn't want anyone to distraught my train of thought with "You should have done it this way". […] You have to be careful not to start feeling bad about what you already did. But it would be great to organise something at the School-level for students who are about to have their Viva. Inviting lecturers and students who had just passed through that stage. Just like a workshop organised by Dr Somia Imran and I few years ago. […] It helps when it is done at the proper time when needed. […]
I: Is there anything we didn't talk about that would be important to know?
T: […] My research really brought out so many problems with young people, globally. Especially, in South-West Nigeria. When I was collecting my data and transcribing, my mindset started changing. And I started looking beyond having a certificate – getting a PhD. Based on the studies I read, before going to the field, I saw that it is always difficult to get sensitive information like this from young people about issues related to their sexual and reproductive health, especially if they don't trust you. But I got more than enough information. And at that moment I thought, the young people had given me so much, what do I offer them in return? How can I positively influence their lives? I want to contribute helping with negative experiences and that stayed with me all through until I finished writing and submitting my thesis. And that is my passion now! […]
I: Thank you so much for sharing your experiences!
Share