(6th December 2018)
Part of my aim over the coming year is to build into my work the use and results created from using Lidar, taking scans from a specific area
What is Lidar?
Lidar is a 360-degree scanning method that measures distances to a target by sending a pulsed laser light and measuring the reflected pulses with a sensor. The resulting point-cloud map can be used in combination with stills images to create a coloured navigatable space map that can be viewed from any angle.
See the examples below...
LIDAR Landscapes – Isles of Scilly
https://opentopography.org/news/granite-dells-arizona-dataset-now-available
See how Lidar has been used in artworks through The Entropy Project  and Semblance directed by Asad Khan (PhD student at Edinburgh College of Art)
Why use Lidar?
Lidar gives me the opportunity to move around a site which walking does not allow me to do easily or quickly, to see and explore a space from many positions in quick succession. This, therefore, allows me to jump to various positions quickly to see the scene from different viewpoints and perspectives.  If working in a studio context and working from a point-of-reference subject, such as a still life or life model, you could easily walk up to it/them, work around and see the subject from different positions gaining an understanding and insight for the relationship of space and form. Working in the landscape this is not as easily achieved.  I had thought of employing the use of a  drone with a camera attached, but as I have mentioned earlier in my blog, photographs distort space and perspectives and this is where the use of Lidar is of value to me because it creates a detailed and accurate spatial point-cloud map, which I can access and navigate to positions not easily obtained through walking or climbing.
What are the aims for 2019?
My first aim is to gain an insight, as to how to use the technology. This will start with an induction in using the equipment, a Leica BLK360 and then use of the Scanner over a period of time between 18th December 2018 and 7th January 2019. If I feel this is a technology that could be employed in my practice the next stage is to focus on specific location within the UK before employig this methodology to the Alps and to locations I have been walking for many years.
I shall post some of the results from my first Lidar scans here in a Padlet site, as I explore this technology.
What are the challenges?
These are mainly practical in nature, accessing the site and the technology has to be used in certain temperature ranges,  weather conditions and has a limited range of 60m.
What impact might this have on the work?
The very nature of making these scans takes away from the event itself and therefore means revisiting a site with the relevant equipment. So this aspect takes away from experience and becomes more scientific in nature.
The challenge and interest here for the artwork is to combine the detailed information gathered (just as I am already doing with photographs) whilst working more intuitively and responding to memory aids.
Echoes of past works
In the past, I have explored creating maps, sections of landscapes in a series called 'Landmarks' 2009, https://www.oliverreed.me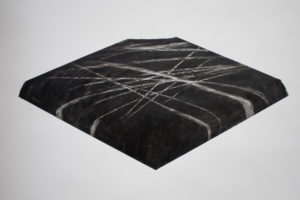 Untitled 2010: Chalk pastel on paper 70x1000cm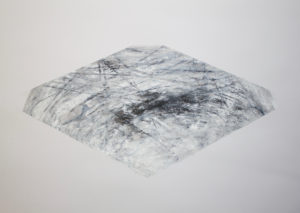 Untitled 2010: Chalk pastel on paper 70x1000cm
This idea of isolating and containing has returned to my thoughts, but I am unsure if this is a particular focus I wish to explore? I which to fuse those specifics, to some degree, with those of the visceral of aexperience.