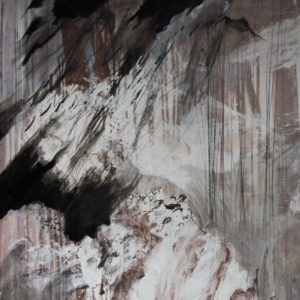 Future Memories, a bit of an oxymoron, but what is the opposite of memory?  The possibility to see into the future, to have foresight? With this in mind, where does the work go next? I have many questions and areas of investigation to explore, both within the studio and the fieldwork research aspect of the work, questions such as:
Stay with the square format or move to circular.
Combining botanical or other details into the more expressive abstracted marks and forms.
Include constellations maps.
Explore the use of LIDAR (see my next post).
Exploring alternative surfaces.
Frottage is something else to explore and utilise within the work.
Working form the moving images incorporating and responding to repeated sequences of video footage rather than still images.
Turn my focus to the Highlands of Scotland and employ the methods I have been working in the French Alps into this landscape and see how the work changes as the geomorphology changes.
However, I am still keen and have a desire to be amongst these higher alpine landscapes, for the vast array of rock formations, glaciers, snow and ice. Yes, some of these features can be found in the highlands of Scotland and closer to home and can often be more atmospheric due to the latitude and climate conditions, but it is the variety of nature, of hanging valleys and the geomorphology that attracts me back to the Alps, as well as the warmer climate, wine, and other cultural differences and nuances.
Chaptering is an approach to explore to help contain working ideas, possibly using single terms and phrases that are linked to walking, climbing, the weather conditions and glaciated formations, terms such as,  whiteout, snowdrift, foothills, plateau, high plateau, pinnacle, gully, hanging valley, cirque or corrie, crevasse, fjord, cairn, false peak, scree field, tundra, ice sheet, glacier, u-shaped valley, snowline, ice wall and moraine along with many other words not listed here.
One branch of contemporary art is focused on creating ephemeral works, which in themselves are therefore based 'in' memory or having a finite longevity. I myself, have made sculptures in the past which have echoed life-cycles, a piece of works have been conceived and made, placed and 'lived' in the landscape before then being destroyed and burnt to create charcoal, which in turn was used to created and develop Memory Drawings of that particular sculptural form.
The artist and sculptor Atsuo- Okamoto created a project whereby he cuts up a granite stone and sends each section to friends around the world, to keep for a period of time (between 1-5 years) before asking for them to be returning to complete the stone form once again, he states, "In that process, the each stone changes subtly by absorbing the color of plants, air and environment. After some period of time, I collect each piece and restore them to the original stone. A stone scattered to the various places of the world and infiltrated by the color and memories of the place and people is restored again. But it isn't an original stone already. It's a volume that contains memories of each of its surroundings and cultures of the world."
World Turtle Project: "Memorial Volume - turtle" 2000-2003. Granite by Atsuo Okamoto. Click here to view the work
Reflecting on my research over the past few years and my investigation into memory and visualization, I feel there is now less solidity to my ideas than at the time of my initial investigations. I am also aware that the more I focus the more I notice changes taking place and that nothing is fixed, grounded or constant as to   how the world reveals itself to us, morphed by our own constructs slightly changing every minute of every day, as our own inner world evolves through the pliability and plasticity of our neurons in the brain. As we visit and revisit an object, subject, event or location, it has changed slightly, it is a reconsolidation of a memory, as you yourself have changed slightly, a different person with a slightly different perspective of yourself and the world you inhabit. Therefore, as we navigate the world we live in, we need to try and grab hold on to some form of our own reality and these aspects are starting to impact and manifest themselves into the work.
During the BBC programme, Imagine… Hockney, The Queen And The Royal Peculiar, 2018. There is a sequence that its shown which dates back to Hockney been interviewed in 2006 talking about the series of works he was working towards which became known as, A Bigger Picture, an exhibition in 2012 at the Royal Academy of Arts, London based on painting around his home in the Yorkshire Wolds. The segment opens with Hockney Plein Air painting and we are introduced to Hockney working on an easel painting in the woods. We learn he has been there some time, but the weather conditions have changed..."I'm still painting the mist...You paint with memory even when your here. No such thing as objectivity. You're painting from memory of yesterday morning. We always see with memory and seeing each person's memory is a bit different... we can't be looking at the same things, can we? We're all on our own."
To finish with, a quote from the book The Little Prince by Antonie de Saint-Exupery (chapter 21), "It is only in the heart that one can see rightly, what is essential is invisible to the eye".