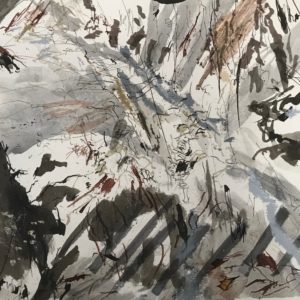 Bate, D. (2010) The Memory of Photography, Photographies, 3:2, 243-257, DOI: 10.1080/17540763.2010.499609
Bunuel, L. 2013 My Last Sigh: The Autobiography of Luis Bunuel, Knopf Doubleday Publishing.
Chillida, E. 2009 Writings Richter Verlag.
Elkins, J. 1999 What Painting Is Routledge.
Dorment. R, MacDonald, M.F. 1994. James McNeill Whistler Tate Publishing
Donkers, L. 2018 Drawing: Knowledge as Process https://www.academia.edu/36408352/Drawing_Knowledge_as_Process.docx
Garry and M. P. Gerrie When Photographs Create False Memories Current Directions in Psychological Science, Vol. 14, No. 6 (Dec., 2005), pp. 321-325
Grunwald, M. 2008 Human Haptic Perception Birkhauser Verlag AG
Harvey, J. Fisher 2011. Stone: A Legacy and Inspiration for Art Black Dog Publishing.
Hull, J. 2009, Touching the Rock SPCK Publishing
Ingold, T. 2013 Making Routledge.
Kerr, F. http://www.abc.net.au/news/2017-09-25/why-do-we-forget-peoples-names/8981020

Lund, K. Landscape Research, 

Landscapes and Narratives: Compositions and the Walking Body

, Vol 37, No.2 225-237, 

April 2012, Routledge.

Newell F.N. 

2004 

Multisensory Object Perception in the Primate Brain,   Chapter 14

Visuo

-haptic Perception of Objects and Scenes pp 251

Noë, A. 2012 Varieties of Presence Harvard University Press.
NcNee, A. 2016 The New Mountaineer in Late Victorian Britain, Materiality, Modernity, and the Haptic Sublime Springer Nature.
MacFarlane. 2008 Mountains of the Mind Granta Books.
Romdenh-Romluc, K. 2011 Merleau-Ponty's Phenomenology of Perception Routledge.
Schama. 1995 Landscape and Memory Harper Press.
Schiller Dr D. 2013. Neuroengineering - The Future is Now www.youtube.com/watch?v=0SahZEDi82c
Schiller and E. A. Phelps Does reconsolidation occur in humans? Front. Behav. Neurosci., 17 May 2011 |https://doi.org/10.3389/fnbeh.2011.00024
Shepherd. 2011. The Living Mountain Canongate Books.
Tilley, C., (2008) "Phenomenological approaches to landscape archaeology" from David, B. and Thomas, J., Handbook of landscape archaeology pp.271-276, Walnut Creek, California: Left Coast Press.