Fritz Kahn and cross-sectional imagining
Fritz Kahn and cross-sectional imagining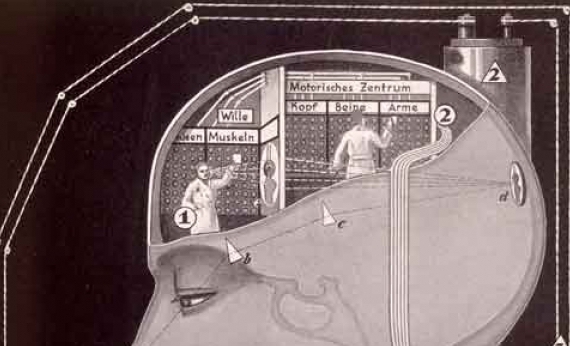 Dr. Fritz Kahn (1888-1968) was a gynaecologist in Berlin as well as a popular science writer who illustrated the form and function of the human body with spectacular, modern man-machine analogies. In the 1920s, his magnum opus, "Das Leben des Menschen" (The Life of Man) – a five-volume series – was renowned as a German accomplishment of global repute. In the 1930s, his books were banned and burned by the Nazis, then edited by Kahn's publisher and reissued as plagiarisms with a superimposed anti-Semitic chapter. [Source]
There are several images from his work in an online exhibition Dream Anatomy, one of the digital projects of the excellent History of Medicine section of the US National Library of Medicine.  Our image and others there are in the public domain. But Henning Lederer's 2009 animation of Der Mensch als Industriepalast (1927) truly brings it to life (CLICK ON IMAGE TO SHOW):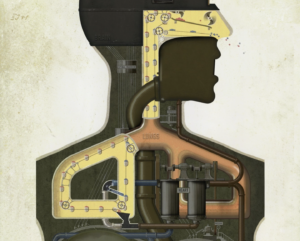 Animation: Der Mensch als Industriepalast [Man as Industrial Palace] from Henning M. Lederer on Vimeo.
Michael Sappol has posted info and further memorable Kahn images at the US National Library of Medicine. More about Kahn himself at fritz-kahn.com
The history of imaginative cross-sectional illustrations extend back possibly further than Hieronymus Bosch (1450-1516), and forward to British children's comic strips, as in the Beano's Numskulls. And we are creating more!
---
The 2015 movie Inside Out (YouTube trailer) has conceptual similarities to the Numskulls, while also being thought-provoking and a good watch (98/89% on Rottentomatoes).
Excellent essay by Rick Poynor (2014) pointing out further modern examples.
---