By Liz Marsh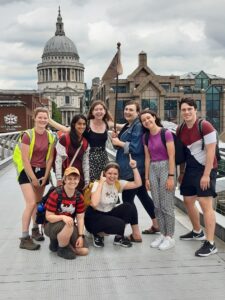 I am a first year PhD student in the School of Divinity. My research is focussed on developing a theological account of hope in the context of the climate crisis. Recently, I have also begun to get involved in climate activism – it's important to me that climate change is not just an issue that I write about, but also something that I take more practical steps to address. For about a year, I have been a member of Young Christian Climate Network, an action-focussed community of young Christians in the UK aged 18-30, seeking ways to live out our faith in pursuit of climate justice.
At the beginning of this year, we were considering ways that we might respond to the upcoming COP26. After much consideration, we decided that, inspired by the ancient Christian tradition of pilgrimage, we would organise a relay that would start at the G7 conference in Cornwall in June and wind its way over 1000 miles up the UK before arriving in Glasgow on the eve of COP26. Unlike a traditional pilgrimage, no one person has walked the whole way: instead, we've been encouraging people to join for shorter stretches in their local areas. Some have joined for a week or so, others for just a day. Though this means that the relay isn't quite such a feat of endurance as some of the other pilgrimages that are taking place, the great benefit is that it has been extremely accessible, and over 1000 people of all ages have taken part so far. Along the way, the Relay has stopped off in major cities that it's passed through for residencies of several days, and my main role with the Relay has been to organise the Edinburgh residency, which will begin on October 20th when the Relay arrives in town and end on October 24th when it departs for the final leg to Glasgow. We've got an exciting programmed of events planned, including church services, a day for young climate activists at St Mary's Episcopal Cathedral, and a screening of Thank You for the Rain, a documentary that tells the story of Kenyan farmer, Kisilu, and the impact of climate change on him, his family, and his village. For more information, go to: yccn.uk/edinburgh.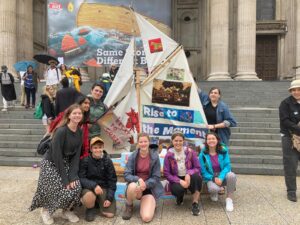 As well as engaging with local churches and communities along the route, there has also been a significant political advocacy aspect to the work that YCCN is doing through the Relay to COP26. The particular focus that we have chosen is climate finance, which refers to financing – on local, national and transnational levels – that supports efforts to mitigate and adapt to the consequences of climate change. From a global perspective, many nations in the global south (many of them the ones most impacted by the effects of climate change) do not have sufficient financial resources to support the infrastructure changes necessary to both reduce emissions and adapt to a rapidly changing environment. The urgent need to reduce significantly global emissions means that climate finance is a crucial aspect of tackling climate change, as well as supporting efforts for climate justice. Knowing that important decisions about climate finance will be made at COP26 next month, YCCN has come up with 'four asks', and have been encouraging people to write to their local MPs/MSPs asking them to pledge their support:
Our four asks are:
Reinstate foreign aid budget to pre-COVID levels
Secure agreement from rich countries to at least double the decade-old promise of $100bn a year for climate finance
Ensure finance for climate-induced loss and damage
Push for debt cancellation so climate-vulnerable nations can better confront the climate crisis and other urgent priorities
There has recently been some very promising engagement from MPs, so we hope that our asks will be heard and that COP26 might produce the kind of significant change that is necessary. For more information on YCCN and the Relay to COP26, visit www.yccn.uk.