By East Craigs and Craigsbank Church ECO Group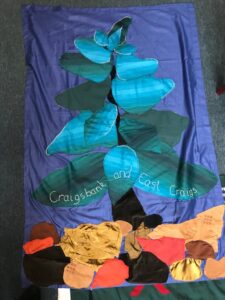 Some of you may, by now, have seen the banner hanging from the iconic pillars of New College on the Mound. The banner is to announce the commencement of COP26 in Glasgow, with its focus on Climate Change, Environmental Sustainability and Justice throughout the world. We, the East Craigs and Craigsbank ECO Group were invited to take part in the project, entitled Art for the Planet, and commissioned by the University of Edinburgh School of Divinity.
The theme was to be 'green', to speak of the natural world, God's gift of Creation and was to be big and bold. We gathered together all our pieces of leftover materials and recyclable bits and pieces. To our delight we had some beautiful pieces of greens and blue which leant themselves perfectly to the creation of a tree. We designed, in pieces of wallpaper, a Scots Pine which we then put together into the image of a pine tree. Some of the material leant itself perfectly to the light and shade on the fronds of the pine. The pine grew up out of the rocks as it would do in its mountain environment. Finally, using silver fly tying thread which had been around for perhaps 50 years, we embroidered the name of our Church on the lower leaves.
We very much enjoyed the experience it being one of the 'Sewing Bee' – working and chatting together convivially. During the process sewing machines were hauled out of cupboards which hadn't been used for many a year, not all standing up to the strain!
We hope that you will enjoy our contribution to the whole, and that it will speak to all who see it of the value of Creation, its importance, beauty and diversity and pray that we will restore a rightful relationship with all living things.
Liz Brash
Anne Currie
Julie Wilkinson
Esther Davidson
East Craigs and Craigsbank ECO Group