Exploring the experiences of ethnically diverse families in one school community
Exploring the experiences of ethnically diverse families in one school community
In this blog post Elisabeth Davies, a primary teacher in Fife and graduate from the MEd Leadership and Learning programme, shares some key findings from her extended year-long enquiry as part of the masters programme.
This project developed on from an earlier self study in which I reflected on the impact of my own mixed ethnicity on my teaching practice. With increasingly diversifying pupil populations in Scotland, I feel it is important to further understand the experiences and potential challenges of learners from backgrounds other than White-Scottish to work towards ensuring an equitable educational experience. As, Sachs (2000) identifies,  the potential for practitioners to actively impact wider social change 'comes from educators understanding their practice, but also from understanding themselves in relation to the society in which they live' (p.93).
Undertaking the MEd in Leadership and Learning was a transformative experience on a professional and personal level. The structure of the course and the supportive nature of the faculty facilitated an environment whereby I felt encouraged to pursue my own lines of enquiry and tailor the modules to my own areas of interest. 3 years of part time study in an area I'm personally invested in was empowering and has altered my practice in the classroom as well as improved my confidence to engage with and most importantly, be critical of, research and policy.
Below is a brief summary overview of the approach to my research and the three key themes which emerged. A copy of my research poster is also provided below:
Case Study Rationale and Design
This study assumed a constructivist epistemology, adopting a case study methodology – specifically taking an exploratory case study approach in a large, semi-rural Fife primary school. It was anticipated that this study would glean "the close up of reality and 'thick description' of participants lived experiences of, thoughts about and feelings for" our school community as learners from minority communities (Cohen, Manion, Morrison 2007:254).  Semi- structured, predominantly informal interviews and group discussions were favoured as a data collection methods. An inductive approach was taken so as to encourage the emergence of themes/patterns from 3 data sets; Staff, Pupils and Families.
Three key themes came to the fore; Misrecognition and stereotyping, the prevalence of the 'Colour-blind' approach and the notion of cultural Cultural Pluralism.
Misrecognition and Stereotypes
Data gathered pointed to a lack of understanding or appreciation of complex identities, evident in what is interpreted as a deficit view by staff of incoming pupils from diverse backgrounds and the stereotyping and generalisations that have taken place in pupil experiences. Learners indicated a lack of breadth covered in the curriculum regarding global culture and it could be argued that stereotyping is not helped by the context's tendency towards tokenistic representations of diversity "…denigrating cultural difference to the study of samosas, saris and steel bands…" (Mullard, Cited Coulby 2006:246). Ladson-Billings (2014) highlights that cultural identity complex and uniqueness to individuals, influenced by multi-cultural upbringings, generational settlement and differing notions of nationality and ascription to multiple cultural movements and strata. With increased globalisation and diversity, individuals cannot be categorised merely by ethnic or cultural identity but need to be considered and understood as individuals who may identify with a complexity of ethnic and or cultural communities.
Normalised Whiteness and Racism
Children indicated feeling embarrassed by their cultural practices. Parents were disheartened that their children were relinquishing their cultural uniqueness in favour of dominant cultural practices. Delpit (1992:245) similarly discusses the prevalence in attitudes of BME learners towards success as "acting white" and highlights the frequency in which "well intentioned teachers, utter, 'I don't see colour, I only see children'" – quintessential 'colour-blind' approach. This perpetuates a belief that there is something wrong with recognising being black or brown, that this should be invisible. This calls for the need to acknowledge culture and ethnicity rather than depoliticizing it.
One parent shared their child now favours English as their dominant language in the home and rarely speaks their second paternal language – assimilating to the normalised narrative. Participants shared scenarios exemplifying the normalisation of whiteness for even children from BME backgrounds whereby they are so accustomed to those in their environment being so mono-ethnic, that they themselves are experiencing a sense of othering when exposed to such diversity.  This is evidence of a normalised whiteness and this begs the concern of what the implications could be for ones own sense of identity.
Cultural Pluralism Vs. Assimilation
Despite the progression farther from assimilationist practices and doctrines whereby "those who were othered were expected to give up their otherness to fit in" (Arshad et al 2017:9), the argument for multiple cultures to co-exist amidst the dominant culture is still being put forward by authors such as Coulby (2006) and Delpit (1992, p.245).  Arshad et al (2017, p.8) details the experiences of a Scottish Algerian pupil who 'avoids being judged as Muslim by not mentioning his faith group' in order to appear as 'normal'. This same scenario occurred within this study in which one participant shared that they do not disclose their faith to their peers.
In response to the lack of knowledge by practitioners highlighted in the data, when discussing a deficit view of immigrant learners, Delpit (1992:242) suggest that "To counter this tendency, educators must have knowledge of children's lives outside of school so as to recognise their strengths". The case study context needs to develop a more in-depth understanding and knowledge of pupils and families in order to support a more culturally pluralistic approach as opposed to propagating assimilationist practices.
References
Arshad, R (2017) 'Diversity and Social Justice – Beyond Motherhood and Apple Pie' Scottish Educational Review, 49 (1), pp.3-13
Cohen, L. Manion, L. Morrison, K. (2007) Research Methods in Education. 6th edn. GB: Routledge
Coulby, D. (2006) Intercultural education: theory and practice, Intercultural Education, 17(3), pp.245-257
Delpit, L. (1992) Education in a Mulicultural Society: Our Future's Greatest Challenge. Journal of Negro Education, 61(3), pp.237-249
Ladson – Billings, G (2014) Culturally Relevant Pedagogy 2.0: a.k.a. The Remix. Harvard Educational Review, 84 (1) pp.74 – 84
Sachs, J. (2000) The Activist Professional Journal of Educational Change, 1 (1), p. 77-94.
Author biography:
Elisabeth Davies
Contact: gallacher03@hotmail.co.uk
I have been a primary classroom teacher for 6 years, undertaking my PGDE inspired by working at one of Scotland's first outdoor nurseries. I have a keen interest in the equity of education for learners from diverse backgrounds as I myself come from a culturally and ethnically varied background. I undertook the MEd in Leadership and Learning part-time over three years, finally graduating in 2019.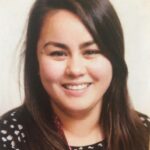 Share