In this guest post, Christina Boswell, Vice Principal Research and Enterprise, introduces a newly developed tool to help researchers map the activities they are engaged with the aim of exposing where activity is clustered. The tool has been designed to help researchers be more strategic and selective in what they take on and supports reflection about career priorities and goals.
Background
When I started my academic research career in the early 2000s, it already felt like quite a pressurised environment. There was the perennial question of how much and where to publish; the challenge of winning research grants; and the increasing emphasis on wider engagement beyond academia. But these days, the research pressures on academics has become even more intense. The bar for publishing in leading journals feels a lot higher, and postdoctoral fellowships and grants in my area have become more competitive. Expectations around impact have expanded.
Added to all this are the various auditing requirements around research ethics, open access, due diligence, and research reporting systems – all important and necessary, but still adding to the to-do list. It's not surprising that academic staff feel overstretched – especially those combining their research with heavy teaching loads and administrative roles.
The Research Careers Tool
With these pressures in mind, we developed a simple tool to try to help researchers select and prioritise their activities. The tool is designed to help researchers focus on those activities that will further their research careers, and avoid becoming overstretched. Rather than expect people to do a bit of everything, the idea is to encourage researchers to focus on a subset of tasks. The package of activities might reflect where their specialisation and skills and interests lie, or what academic trajectory they would like to be on.
We mapped the range of research-related activities that academic researchers undertake in a grid, across three main dimensions: Research, Engagement and Leadership/Collegiality. Researchers can use the grid to fill in those activities they are currently engaged in, with a view to mapping their activity. This can help expose where activity is clustered, aiding reflection about career priorities and goals. Importantly, it can help researchers identify where they are stretched too thinly across activities. And it can also help identify if someone has the right balance of collegiality in their research role – especially important given we know these roles are often taken on by women and those with other protected characteristics, who are often under more pressure from caring responsibilities, and feel less able to say no.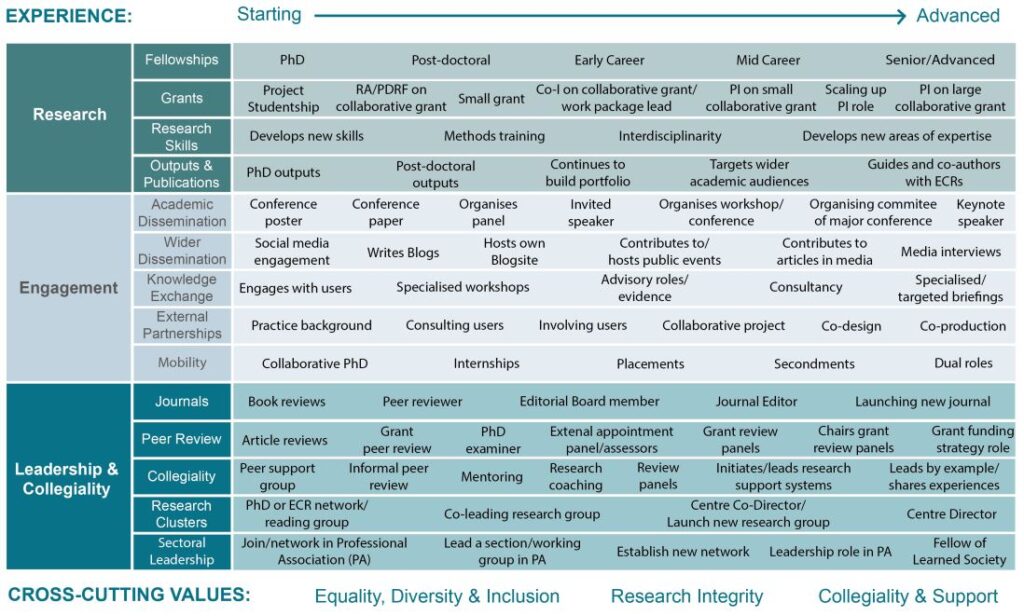 The tool can be used as an aid to reflection as part of a peer group; in conversation with a mentor/mentee; or as part of annual review. It is intended to support researchers in being more strategic in selecting those activities that will best further their career – without becoming overwhelmed by the wide range of things that you could potentially do as a researcher.
You can read more about the Tool and its application, and download a copy from the Research Staff Hub: https://www.ed.ac.uk/researchers/career-development/research-careers-tool