2021 Gifford Lectures Quickly Approaching
2021 Gifford Lectures Quickly Approaching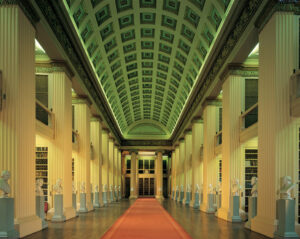 In just over three weeks we will be joined by Senior Professor David Hempton from Harvard University.
The Gifford Lectures and Seminar for 2021 will be held in person in the Playfair Library. Professor Hempton's title for his Lecture Series is 'Networks, Nodes, and Nuclei in the History of Christianity, c. 1500-2020.' Due to the ongoing Covid-19 situation, places will be limited. You can book your free place here:  Eventbrite Booking
Soon after each lecture this blog will publish a summary of its content with a response from a research graduate or postdoctoral fellow based at the University of Edinburgh, followed by the video of the lecture. We will also have two longer responses from faculty members.
The schedule is as follows:
Lecture 1. Towards a theory of Transnational Religious Change
Monday 4 Oct 2021, 5.30-6.30pm
Lecture 2. Religious Networks in the Reformation Era
Tuesday 5 Oct 2021, 5.30-6.30pm
Lecture 3. Religious Networks in the Age of Empire in New Spain and West Africa
Thursday 7 Oct 2021, 5.30-6.30pm
Lecture 4. The Protestant International: Pietism, Premillennialism and Pentecostalism
Monday 11 Oct 2021, 5.30-6.30pm
Lecture 5. Women's Networks: Opportunities and Limitations
Tuesday 12 Oct 2021, 5.30-6.30pm
Lecture 6. "Only Connect" : Networked Christianity in the Digital Age
Thursday 14 Oct 2021, 5.30-6.30pm
The Gifford Seminar will be held online via Microsoft TEAMS at 1pm on the 13/10/2021 (Wednesday). See details here https://blogs.ed.ac.uk/gifford-lectures/2021/10/12/gifford-seminar/
We would also love as many attendees, whether joining in-person or online to join the discussion. You can read about how to join here: How to Engage
Of course you can also join via Twitter anytime with the hashtag #GiffordsEd
This Gifford Lecture Series, focusing on connectivity in Church History will interest students across disciplines, incorporating themes such as Christian Unity, Empire, Mission, Women, World Christianity, Digitality, Social Culture and Politics.
Read more about Senior Professor Hempton here: https://blogs.ed.ac.uk/gifford-lectures/lecturer/