Lecture 3: Lucretia and the Politics of Sexual Violence
Lecture 3: Lucretia and the Politics of Sexual Violence
Earlier this evening Professor Dame Mary Beard gave her third of six Gifford lectures. The video of Beard's lecture is embedded below (followed by a short summary) for those who were unable to attend in person, or for those who'd like to watch it again. An audio only version can also be found at the end of this post. In order to further facilitate discussion Jo Thor will offer her initial reflections on the lecture. Jo is currently a final year PhD candidate at New College, University of Edinburgh. We'd like to reiterate that we warmly welcome anyone wishing to engage with Beard's lectures to contribute their comments and questions below.
In this third lecture Professor Dame Mary Beard focused on the "various forms of sexual violence in the mythical history of ancient Rome" that were an integral part of its development. As she said, "The bottom line here is that early Roman history is bound up with rape, that almost all Roman stories of the foundational moments of their city feature violence against women as the immediate cause." As she further explained,
if you want to understand Roman culture, one of the first things you need to see is not simply that there is such a massive parade of sexual violence, but more than that, that every single major political revolution or turning point in early Roman history was integrally bound up with sexual violence: the foundation of the city, the first Roman marriage, the establishment of the democratic republic, and its re-establishment after the abuses of the commission of ten.
Although she mentioned a number of instances of rape that had significant impact on Roman history, she noted that she would focus the majority of her lecture on "the Rape of Lucretia" (as the lecture title suggests).
In doing so Beard quickly noted that she was not simply interested in these stories of sexual violence for what they can tell us about the Romans, but that she was equally interested "to think [on] how  and why they have been embraced, paraded and debated in Western culture ever since." As examples of this continued interest with Lucretia throughout the centuries she mentioned St Augustine, Boccaccio, Chaucer, Machiavelli, Pushkin, Shakespeare, and more recently the French playwright Jean Giraudoux and the operatic engagement of Benjamin Britten and, further stating that "there's literally hundreds more." On a conceptual level, as Beard went on to explain, the importance of the story of Lucretia (particularly in the west) is illustrated by the fact that  "when we debate rape, when we debate issues of consent – and what counts as consent – we are still debating questions that were raised in the ancient world often by this story." And it is at this point in her lecture that she turned to look at the story of Lucretia in more detail.
She focused on the version of Lucretia's story told by Livy during the reign of the first emperor Augustus at the end of the first century BCE. The story speaks of Roman 'officers' away sieging a nearby city (including Sextus Tarquinius the king's son and Lucretia's husband Tarquinius Collatinus) who, while getting drunk one evening, are debating whose wife is better. In order to settle the dispute they decide to ride back to Rome to see what their wives are doing. When they get home they find that most of the women were enjoying themselves "doing much what the men were," except Lucretia who was busy "spinning and weaving." As such, Lucretia was seen to be the better wife and having won the debate Collatinus invited the men into his home at which point Sextus Tarquinius was overtaken by "the desire to take her sexually by force" because of her perceived beauty and purity. He departed that evening not having acted on those desires only to return a few nights later to force her to sleep with him. Lucretia then sends word to her husband of what happened and insists upon her innocence and "calls on them to avenge what will be her suicide" saying that "'I am not going to provide an example (or justification) for an unchaste woman to go on living.'" Lucretia then follows through with her word by plunging a dagger into herself. Then a friend of her father and husband Marcus Junius Brutus takes that dagger "and vows to depose the monarchy and drive the whole family of the king out of town." Beard went on to point out that this Brutus is a "mythical ancestor" of the Brutus who was the leader of the plot to assassinate Julius Caesar, illustrating the "layered complexity of this myth and history."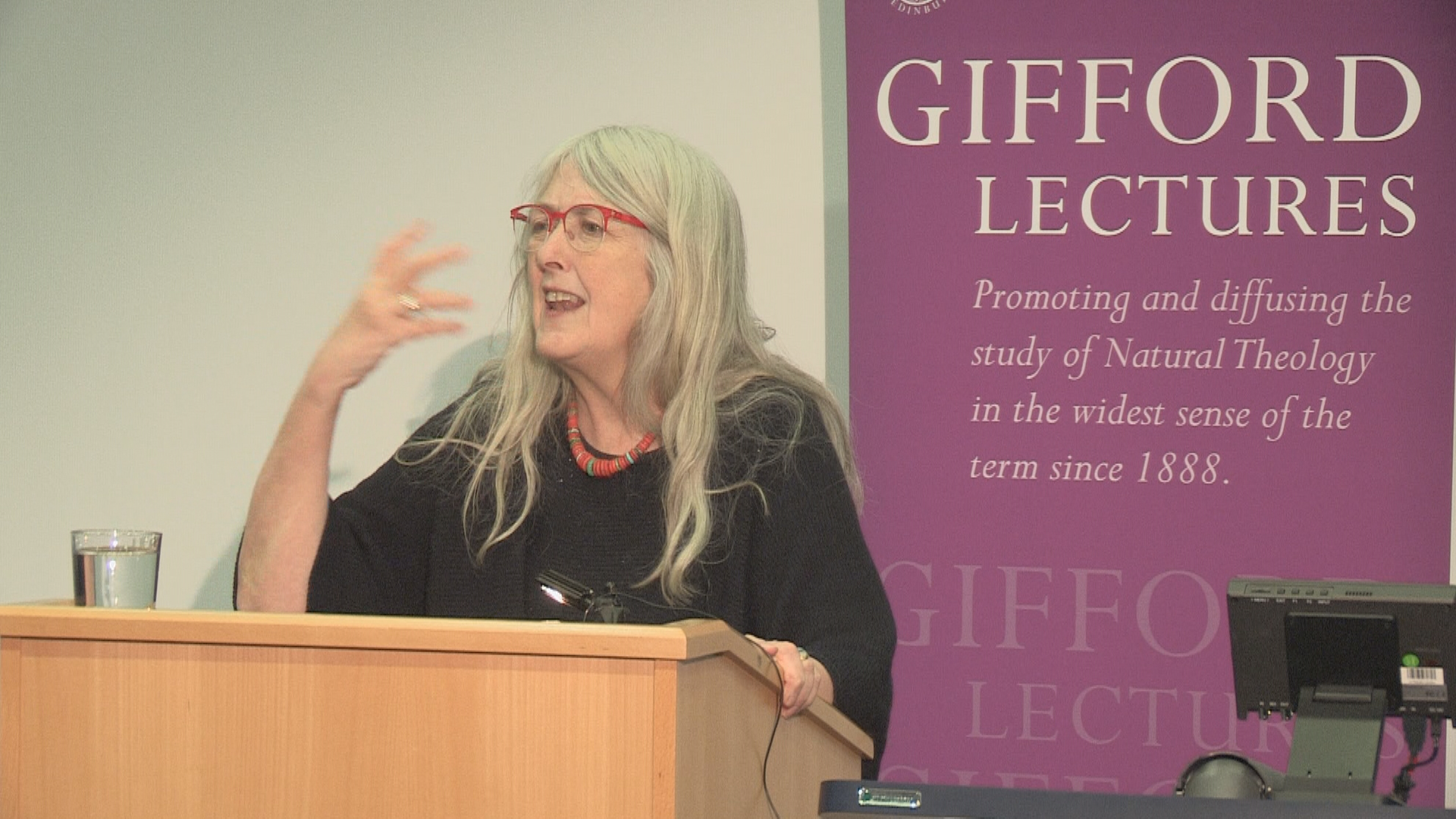 Beard then moved on to mention various versions of this tale and some of the various themes that have been picked out of it, but she focused a majority of this portion of her lecture on issues of guilt and innocence that have arisen out of the story. As she stated, "now, most 21st century commentators would start with the idea that the only question of guilt surrounds Sextus Tarquinius, the rapist." This she said has never been much disputed and as such has not been the most interesting area of focus. The more interesting debates concerning issues of guilt and innocence have been focused on Lucretia herself. If Lucretia was innocent, then why did she kill herself?
Speaking of St Augustine's own wrestling with the story Beard stated that he reached "an impossible conundrum: if she was entirely innocent, why did she commit self-murder (an act that he judged much more harshly than we would)? If she was guilty of adultery, then why has she been so honored as a symbol of chastity?" She noted that nowadays we would likely link Lucretia's suicide with her distress, trauma, and shock, but that this has not been the common view for most of history.
Some argued that Lucretia consented (such as William Vaughan). Others argued that she not only consented but took pleasure in the sexual encounter "and that is why she – and she alone – knew that she had to die." Beard mentioned debates that arose in the 1980s from Titian's painting of Lucretia on this point. As she noted, "one radical art historian read the counter narrative here, suggesting that Titian was showing a willing victim" but that "one equally radical female critic expressed amazement that he could possibly see in this anything other than 'an unambiguous exhibition of force and defenselessness, of intimidation and fear, of violation of the woman's privacy, integrity, selfhood and will?'" In turning to this recent discussion, her main aim was to point out "the longevity of these debates."
Others, as Beard pointed out, focused on what they perceived as Lucretia's concern for her own reputation. As Beard noted, "Augustine's main answer to the question of why she chose to kill herself was because public shame was more important to her than true chastity," and she noted that Livy's telling of the story did hint at this possibility when he wrote of "Lucretia's fear of the dishonor that would fall upon her." Some pushed this line of argument even farther arguing that she was "a victim of the vanity of her own reputation" and/or that the issue of pride was of more importance here than was the issue of her guilt or innocence.
She mentioned that this last line of argument is often seen to be a predominantly Christian line of argumentation (i.e. one concerned with Christian guilt rather than Roman shame), but not entirely so. At this point in the lecture she turned to the poet Ovid. After briefly comparing Ovid's description of the Rape of the Sabine Women to Livy's de-eroticized depiction Beard turned to one line of Ovid's telling of the story of the Rape of Lucretia:
succubuit famae victa puella metu
The line is located in the story "when Sextus Tarquinius has just made the threat that he will dishonor Lucretia by killing her together with the slave." Ovid's line is of particularly interest here because of the many possible nuances of translation. As she noted, "the straightforward way to translate this is 'the girl, conquered by fear of bad reputation, gave in.'" Beard noted that "puella is also the standard Latin word for girlfriend or mistress, so we are already being asked to wonder about how far this is seduction, but there also is an even stronger sense than in Livy that Lucretia's main concern was her reputation." Furthermore since word order in Latin does not determine sense as it does in English and the fact that "famae can mean bad reputation, or good reputation or widespread reputation, even celebrity" we could come up with an equally legitimate translation of this line and read it as "the girl overcome by fear succumbed to/surrendered to celebrity." In the Q&As after the lecture Beard challenged anyone to come up with a better English translation of this line that more adequately retained the ambiguities of the Latin.
As she began to conclude her lecture she more explicitly focused on how the story of Lucretia relates to our own time. As she claimed, "many of the standard templates we have for defining sexual violence, for excusing it, for giving alibis for it, for challenging women's accounts and motivations, are rooted in classical antiquity and in all the debates that classical antiquity has sparked in the literature and painting of the millennia that followed." She concluded that this fact "should prompt us to think how we might challenge some of the ways we have come to 'think Lucretia" in our own day and age.