Lecture Two: Whiteness
Earlier this evening Professor Dame Mary Beard gave her second of six Gifford lectures. The video of Beard's lecture is embedded below (followed by a short summary) for those who were unable to attend in person, or for those who'd like to watch it again. An audio only version can also be found at the end of this post. In order to further facilitate discussion Ines Silva offers her initial reflections on the lecture. Silva is currently a Classics PhD student at the School of History, Classics, and Archaeology at the University of Edinburgh. We'd like to reiterate that we warmly welcome anyone wishing to engage with Beard's lectures to contribute their comments and questions below.
Earlier this evening Professor Dame Mary Beard opened her lecture on "whiteness" by talking about a controversy that erupted a few years ago over an animated cartoon for children produced by the BBC. The center of the controversy revolved around the depiction "of a high-ranking Roman official as not white" that caused some (Paul Joseph Watson in particular) to criticize its historical accuracy and offer their own explanations for why the BBC, in an educational show, would intentionally misrepresent the Roman world in Britain.  Beard acknowledged that the cartoon was not perfect in its representations of Roman Britain, but she argued (along with others) "that this was a perfectly reasonable representation and not surprising in the context of the diversity of Roman Britain." In order to illustrate this point she spent some time speaking about Quintus Lollius Urbicus "who was a governor of the province [in Britain] in the first half of the second century AD" who, as the evidence suggests, came from Algeria having also spent time in Germany, Judea, and Turkey. She quickly acknowledged that this "doesn't tell us anything for sure about the color of his skin," but what this does do is show that the depiction "of a high-ranking Roman official as not white" in Roman Britain is "perfectly possible."
As she began to move on in her lecture Beard mentioned that she started with this example "in order to give a sense of just how edgy, just how incendiary the theme I've chosen for today can be. Or to put it more positively just how much it still matters to some people." She described the theme of "whiteness" to be centered around "the question of what color, or colors, we see the classical world in." She explained that this theme of whiteness is obviously closely tied up with the themes of race and ethnicity (especially when we are focusing various receptions of "classical culture"), but that she has chosen this particular angle of approach in order avoid (in this lecture) having to get involved in the "enormously complex debates around those terms" in order to focus here on taking "the question beyond the human skin, to think about ancient statues, white and colored, about architecture, even togas – as well as about the terms in which the Greeks and Romans themselves described the colors round about them, and why that makes a difference to how we understand the ancient world." That being the case, however, she did mention that she would briefly touch on an issue related to ethnicity and the "relative non-diversity" in the field of Classics toward the end of her lecture.
Beard next spoke of the close connection of modern politics and the issue of "whiteness" in this lecture. As she stated, "some much more direct issues of modern politics will be in play, issues that center around the question of who gets to see themselves reflected in the ancient world." After briefly expressing her curiosity with how and why the Far Right (not merely conservatives) so readily see themselves in the classical world (and the classical world in them) she admitted to feeling "something of a moral dilemma." While Beard obviously deplored "the weaponizing of the ancient world in the cause of white supremacy" she stated that "there is also a fundamental principle that no one owns the Classics" and then went on to state that if Classics are "to continue to be part of widespread public debate and interest, that can't be on condition that  it is only used for causes of which we approve."  Engaging with the facts wherever they might lead is the only right course of action and, as she went on to say, "on which here and elsewhere, the Alt Right and friends are largely wrong."
Beard then moved on to speak more about the history of white projection in the study of Classics and began to look at some of the evidence that challenges this predominate projection of "whiteness." As she noted, "one of the consequences of elite western culture seeing itself in the tradition of the classical Greeks and Romans was that it also projected its own image of itself back onto the Greeks and Romans and as the Cambridge Latin Course shows [with the whitely depicted Metalla and Caecilius] we are still learning to see the Romans in that way." This, Beard stated, gives a false impression that "western 'whiteness'" has "an unbroken history that appears to go back more than 2000 years." This is not the case and it obscures the diversity that made up the Roman world as a whole and Roman Britain in particular. As she mentioned speaking of Roman Britain, "there was almost every shade of skin color here from black and brown to pink and white." She then went on to specifically speak of the example of Barates and his wife Regina and of an encounter with an Ethiopian soldier depicted in the biography of emperor Septimius Severus on Hadrian's Wall. She then spoke more generally about the new methods of analyzing oxygen isotope traces in tooth enamel as well as analyses of skull formation which provide researchers with strong evidence that the populations of Roman Britain were made up of people with diverse and far-ranging backgrounds. As she later went on to mention (despite acknowledging that loose ends still exist), "the overwhelming consensus now among Roman historians and archaeologists is that when you looked round the towns  of Roman Britain" you now recognize that "the myth of a white Roman Britain is exactly that, a myth – and if that's true for Roman Britain, it was even more true for the rest of the empire."
She next spoke of the difficulty of deciphering how diversity was experienced by the Romans themselves. She went on to argue that skin color was not as centrally significant for the Romans as it has been in more modern times. As she stated, "so far as we can tell, skin color was not a major, and certainly not the key coordinate of their prejudice" and that "if a Roman thought 'slave,' he probably thought shaggy ginger haired German as much as anything else. In these terms Roman society offers a very poor model indeed for racist ideologues."
At this point Beard moved on in her lecture to spend some time talking about the issue of "whiteness" as it relates to our engagement with Greco-Roman marble statues. Despite their white appearance to us now Beard stated that "it is established beyond doubt that much ancient sculpture was not white at all" but rather "brightly colored." Furthermore, not all were made from white marble. Many were made from bronze and some were made from other shades of marble or occasionally some sort of black stone. While acknowledging all this (and the challenges that it presents to those who would look to Classical sculptures in order to adopt some sort of ideology of white purity and superiority) Beard also felt the need to acknowledge some qualifications that nuance this line of thinking. She mentioned that she was unsure just how universal the practice of painting white marble sculptures was. Given that it seems unlikely that highly polished sculptures were ever painted as well as "the fact that Roman love poets seem regularly to hail marble as white, and compare their girlfriend's skin to it," this Beard concluded, "should give us a little pause about quite how universal the practice was."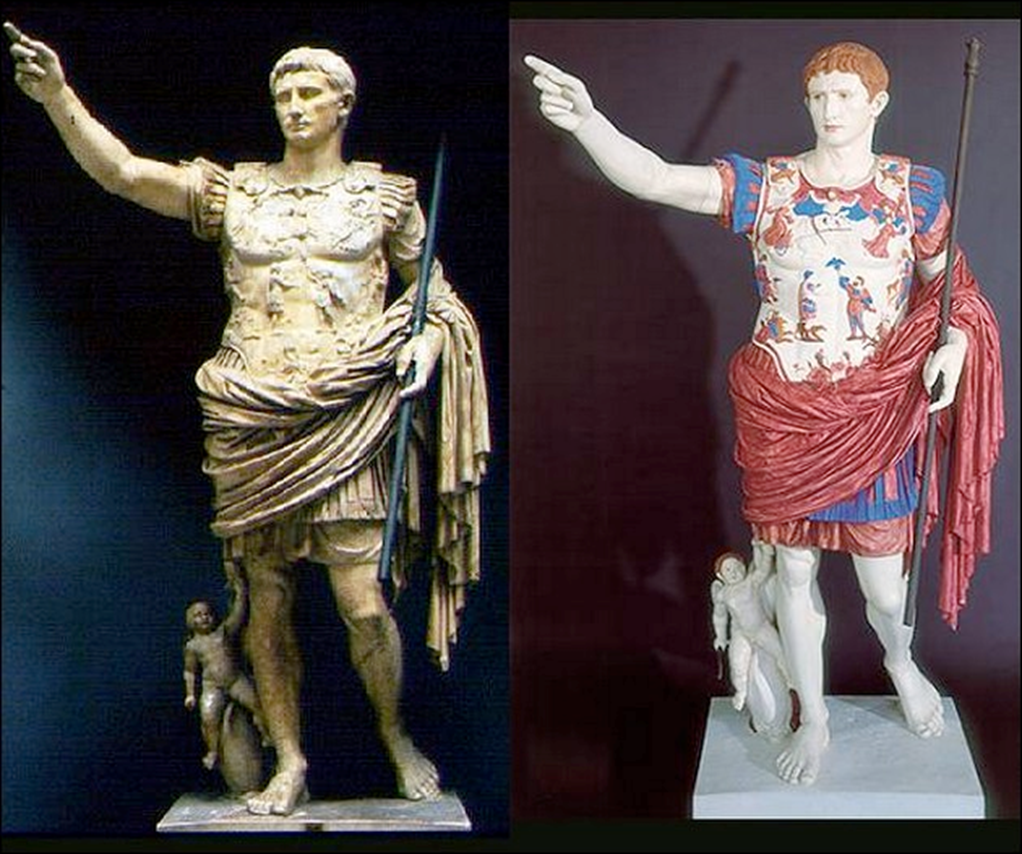 She then admitted, rather cautiously, that she (as she suspected many others), despite the problematic political consequences that can and have ensued, preferred the aesthetic of the white marble statues over their colored restorations. As she stated, "I can accept that this is how the Prima Porta Augustus once looked, but you can't make me like it."  But, as she continued, of even more importance "is how this image of white marble that dominates our vision of the classical sculpture originated." Beard spoke of the standard reference to J.J. Winckelmann (1717-1768) and his "admiration of pure white" but Beard only sees this as a partially helpful answer since it "offers a historical chronology that doesn't add up" since, for one, it does not adequately pay attention to earlier Renaissance examples.
In concluding this section of her lecture Beard mentioned the lack of subtlety that often characterizes these whiteness versus polychromy debates. As she stated, "the Alt Right are misrepresenting the tradition of ancient sculpture itself in asserting its whiteness" and "on the other hand, many of those who rightly point to the racial exclusivity, which the faux-'whiteness' of classical sculpture has recently underpinned –  are, at the very least, themselves guilty of oversimplifying  the history of that, in their search for goodies and baddies." Beard ended this section pointing out that appeals to ancient Greek ceramics might provide stronger arguments for critique than do appeals to polychromatic sculptures .
Beard began to conclude her second lecture on "whiteness" similarly to how she started it: by looking at controversy that arose around another BBC production, namely, Troy: Fall of a City. The controversy revolved around the fact that a black actor was playing Achilles (when Homer describes Achilles as being blond, never mind that Achilles is a fictional character). At this point Beard referenced her colleague Tim Whitmarsh's arguments revolving around the various nuances of meaning that xanthos can have (blond being only one). Beard references the nuances of meaning of this and other color terms her in order to argue that "the more you look at these so-called color terms, the more you find they don't actually fit our definition of color in any simple way, but involve what we would see as quite separate characteristics." Even more to the point of her argument, as she goes on to say, "what these definitional puzzles mean is not just that you can't map one modern color term directly on to an ancient one. But you can't even map the idea of color itself between ancient and modern cultures," and therefore "there is an underlying category mistake in looking for 'whiteness' in the ancient world."
Having made this argument Beard concluded her lecture by reflecting on some of the implications of this for addressing criticisms that 'whiteness' predominates the contemporary field of Classics. While not pretending to offer an exhaustive answer to problems of non-diversity in the field of Classics she did "suggest that some of what we have been discussing this evening is relevant to the problem" and she warned that "the only honest way to diversify the subject is not to buy into identity politics, good or bad," but "is to insist even more firmly that no one owns the Classics, however it's defined: and that no one's identities or color are reflected there." In other words, as she ended her lecture, "Classics is about all of us, and its about none of us; and that is why it has diverse appeal, and why we can learn from it."