Lecture Two: Early Modern Critics of Tyranny and Oppression
Lecture Two: Early Modern Critics of Tyranny and Oppression
Last night Professor Stout delivered the second of his Gifford Lectures. The video of Stout's lecture is embedded below for those who were unable to attend in person, or for those who'd like to listen to it again. An audio only version can also be found at the end of this post. In order to further facilitate discussion my colleague Cameron Clausing will be adding his initial reflections on Professor Stout's second  lecture. Cam is currently a postgraduate student at New College, University of Edinburgh. We'd like to reiterate that we warmly welcome anyone wishing to engage with Stout's lectures to contribute their comments and questions below.
Professor Stout opens his second lecture by defining tyranny and oppression as they relate to the global spread of religion-talk (as it relates to the Latin term religio) and its ties to imperialism. A tyrant is someone who "exercises power over someone for reasons contrary to the common good." Oppression occurs when tyrants "unjustly press a person or a group into servitude." According to Stout, servitude is synonymous with being "subjected to domination" where this is understood as being "at the mercy of another's will, as a slave is vulnerable to a master's arbitrary power." Just as superstition is false religion (and not merely a bad form of religion) a tyrant is a false king not merely a bad one. Like superstition and true religion tyrants (morally vicious) and kings (morally virtuous) are incompatible by definition.
Stout then moved on to talk at length about the early modern Dominican Bartolomé de Las Casas (referencing a few others along the way). He focused on Las Casas' mediating role between the conquistadors and the Indian population amidst the many horrendous events that transpired, which were in part justified by the conquistadors through misunderstood appeals to religion as it was tied up with royal authority. The conquistadors were oppressive and they tyrannically forced the Indian population into servitude. This was incompatible with true religion, despite their delusions of being exemplars of it.
The distinction between "gentle persuasion and living examples," on the one hand, were then contrasted with tyrannical exercises of power, on the other.  Gentle persuasion through living exemplars of true religion is the only fitting means of propagation, since true religion is inherently a moral virtue embedded in just relations. According to this Thomist way of thinking Stout stated that "Spreading the Gospel of the true religion is an act of true religion—an expression of virtuous devotion to God. Motives other than a purified desire to win the free assent of potential converts corrupt the underlying virtue itself."  In other words, we might say that true religion is a holistic and wholly self-involving way of being that cannot be compartmentalized or objectified. It is not a thing that exists apart from virtuous embodiment that could be traded and presented to others in a disengaged or uninvolved way, and it certainly cannot be presented to others through tyrannical and oppressive means. It simply does not exist in that way. In this lecture, Stout went on to further articulate Las Casas' distinction between persuasion and force as they variously relate to Christians and potential converts, where force is never an acceptable means to elicit conversion, despite the fact that, for Las Casas, coercion can justly be used "to establish and maintain a just society, not least by holding Christians, including converts, to their freely undertaken promises." Free persuasion in virtuous relation is the only fitting way to attempt to spread religion, according to Las Casas.
Given this, Stout then went on to talk about "sublime examples of atrocity" by discussing Las Casas' most famous work, A Short Account of the Destruction of the Indies (1552) addressed to King Charles V of Castile, who was also the Holy Roman Emperor at the time. He more than anyone could put a stop to the tyranny and oppression taking place and he, if he was indeed a true King rather than a mere tyrant, needed to be persuaded to act benevolently by being made aware of the grim details of the situation; in an expedient and impactful way. According to Las Casas, by closely conflating the horrendous evils of conquest with the religious act of preaching the Gospel irreligion, rather than true religion, was being spread.
The result was that the Indians were largely deprived of an opportunity to encounter true religion and the true Gospel, even if the semantic proclamation of the Gospel took place, since true religion is necessarily embodied in just relations. Stout then moved on to talk of Las Casas' view of Indian worship. He noted that Las Casas took Indian worship to be superstitious and idolatrous, but insofar as this was a result of not having encountered the Gospel in true religion they were not to be blamed, even though this ignorance is seen to be a genuine deficiency worth attempting to remedy. As Stout went on to say, "What requires correction in the Indian idolater who has not heard the Gospel is primarily ignorance of the Gospel. What requires correction in the Indian idolater who has recoiled from so-called Christians because of their tyrannical behavior is a misimpression of the Gospel caused by the irreligion of baptized Christians." Las Casas, according to Stout, promoted a charitable interpretation of Indian worship and in doing so lobbied for their wellbeing.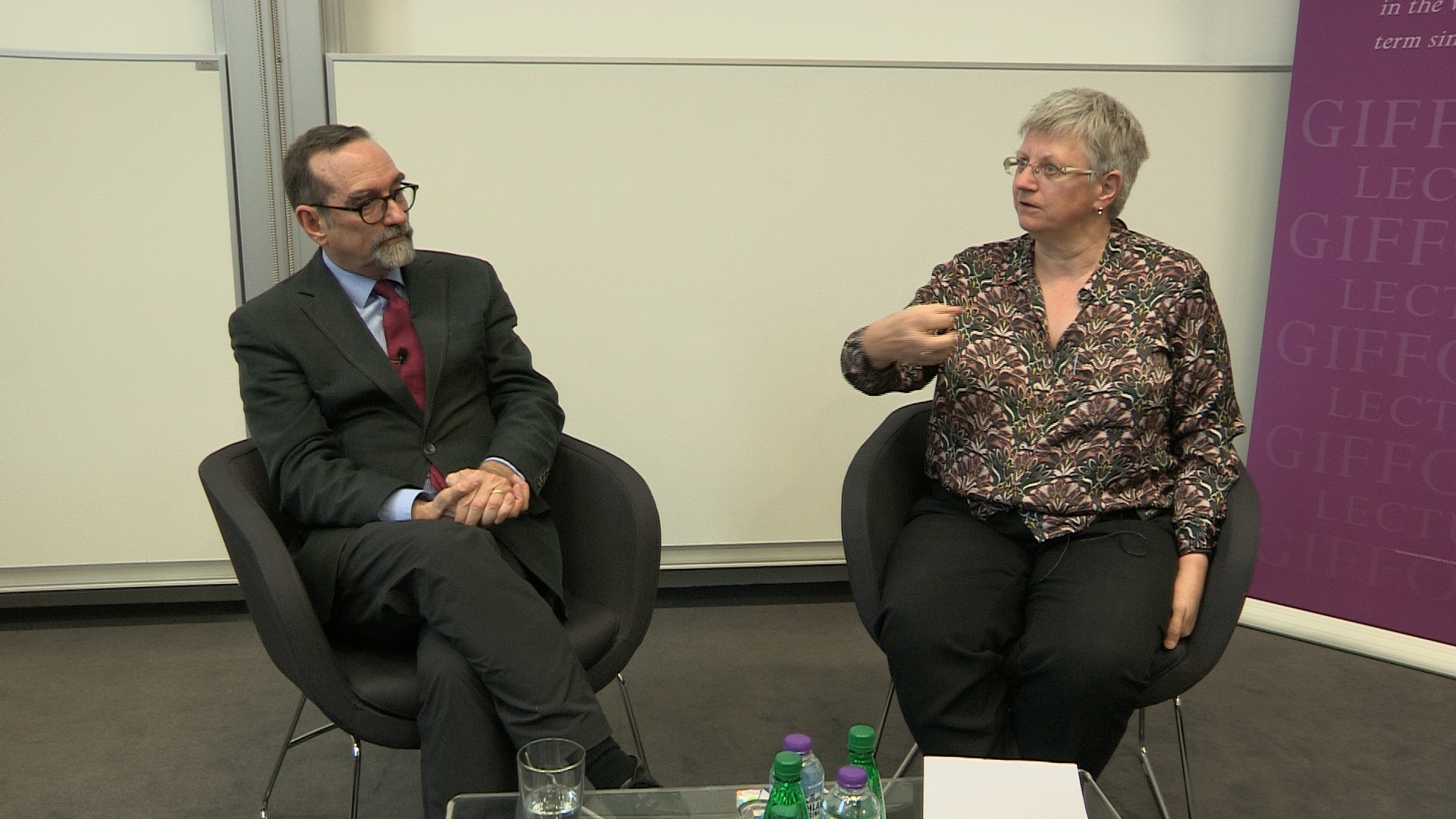 At this point in his lecture Stout spent a good portion of time talking about the virtue of liberty as it relates to servitude and arbitrary power. He went on to discuss both monarchist accounts of liberty (freedom in servitude to a virtuous prince) and republican accounts of liberty (security from servitude, which is "a condition of vulnerability to arbitrary power"). In accordance with the latter understanding of liberty Stout importantly noted, "You can lack liberty—in the sense of being excessively vulnerable to someone else's arbitrary power—even if the person or group holding power over you wishes you well and takes your wellbeing into account when deciding your fate."
He began to end his lecture by tying this discussion in with "paternalist ideologies of domination" and near the end eloquently stated "Vice wears virtue's mask to the conquistador's ball, and bends its knee in the oppressor's court. Religion must renounce oppression as well as tyranny if it is to be the virtue it purports to be. Only when it sets a good example is that virtue manifest in the world."
After listening to the lecture I had the following question: How does proper freedom relate to a recognition of proper dependence? This lecture highlighted the incompatibility of liberty with servitude to arbitrary power. I'm looking forward to seeing how Professor Stout further develops and differentiates this vicious relationship from liberty's virtuous relationship to piety, understood as a proper acknowledgment of one's various asymmetrical relations of dependence.
This lecture opens up many avenues of questioning and conversations worth having. Cameron Clausing will share his initial reflections to get the conversation started.