Which World? Lecture Six
This post offers a shorter summary of Professor Kathryn Tanner's final lecture, after which I have invited three contributors to help us conclude the series: Professor David Fergusson will offer his 'vote of thanks;' Dr. Lydia Schumacher will contribute her statement from the New College Giffords seminar; and a postgraduate student, Rev. Russell Almon, will engage with the content of this final lecture. As always, I would welcome your own comments, either on this particular lecture or on the series as a whole. The lecture video is available at this link.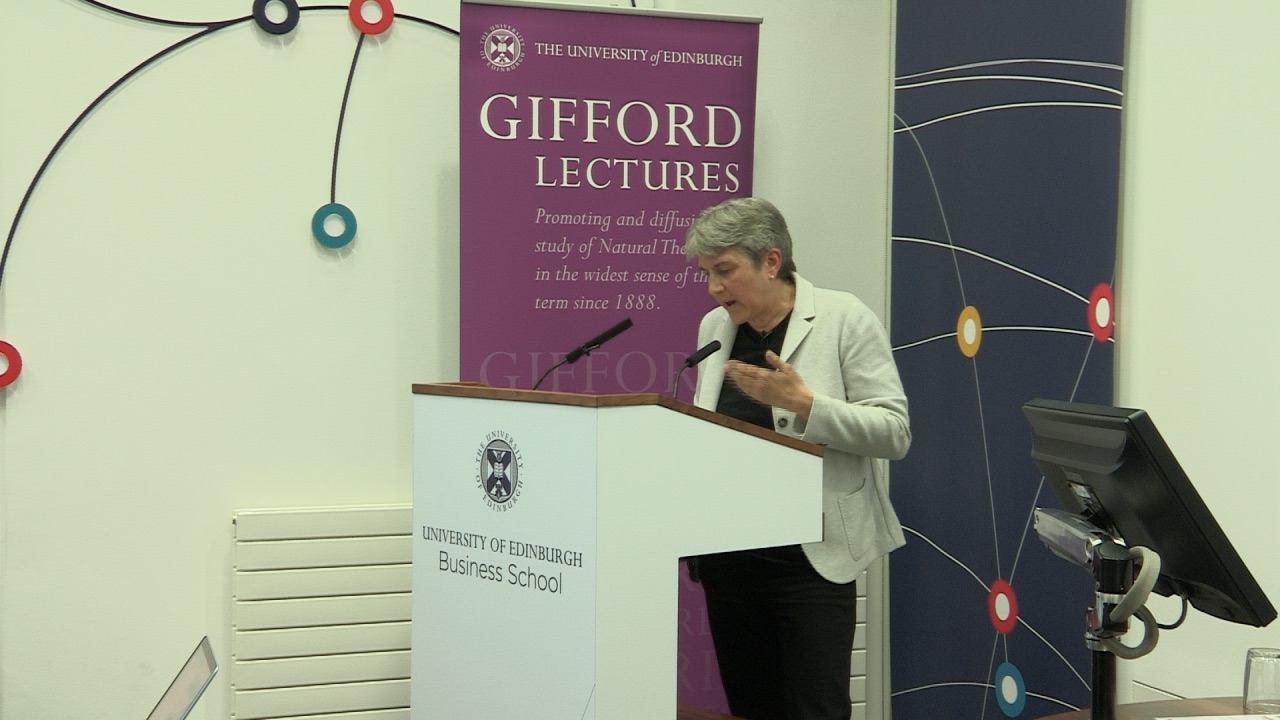 Kathryn Tanner begins her final lecture by reiterating her intent for this series, namely, to dissociate Protestant Christianity from the new work ethic of finance-disciplined capitalism. To this end, she challenges the moralising and individuating effects of the new spirit of capitalism. Tanner cites examples such as performance pay, in which individuals are singled out through competition, and state welfare provision, in which people are appraised on the basis of future benefits they might provide society (rather than as part of a class, say). In these ways, finance capitalism places one in a competitive relationship with others, a dynamic that extends to more and more people with increasingly direct forms of rivalry. Even so, one remains dependent, for the ability to profit depends in 'an unusually intense way on others,' that is, whether they buy or decline to buy (so long as their choice is not ahead of your own!).
Tanner turns to Christianity by stating that, in contrast to the assumption that hard work is the basis for success, 'there is little reason to think that Christianity has any interest in developing a work ethic at all.' In earlier forms of the faith, work to secure material well-being was ordered, in teleological fashion, towards religious ends such as the worship of God. This ranking was not so much disputed by the Reformation as extended: labour and worship could be so ordered in any vocation, rather than in accord with the previous social stratification. Here Tanner reviews Max Weber's project, in which religious beliefs derived from this transition led to a peculiar combination of hard work and disinterest ('worldly asceticism,' in his terms).
From the first lecture, however, Tanner has made clear her intention to 'reverse' Weber's project, providing a Protestant 'anti-work ethic' to counter the new spirit of finance capitalism. To this end, she claims that Christ is key to the reconfiguration of our social world. Christ alone has lived a life of God-devotion, that 'all-or-nothing affair' that cannot be approached by degrees or incremental growth. 'Gone, therefore, is the desire for a comparative advantage over others,' Tanner argues, for what matters is one's value in Christ. Attempts to create or liberate oneself through work, or indeed to find one's fulfilment on the other side of alienation through labour, fall short, for such attempts presuppose, and so merely reinforce, the value of work. That idolatry is called into question by the redemption offered in Christ.
This 'revaluation' of one's work ethic has the capacity to form an alternative world, a new social configuration that is not reliant on the new spirit of capitalism. Tanner observes that the religious project of Christian community does not stand out from the enterprise of finance-disciplined capitalism merely by nature of being a cooperative venture. Rather, Christianity is to be differentiated from the dependencies of capitalism, in which others are seen as competitors and fellow profit-seekers, by its external point of orientation in God. Members are not directly coordinating their efforts, nor are they seeking the same set of material goods. Rather, each person tries to conform his or her life to God's will and so, derivatively, becomes mutually supportive of others. Though Christianity offers a genuine community, insofar as it is sustained in grace and Christ's animating presence, it is always 'mediation by way of a third.' As a result, Tanner claims that this new social world operates not at a remove from the current spirit of finance-disciplined capitalism, but 'cuts across' the old world, 'to disruptive effect.'
Having summarised Professor Tanner's lecture, I now refer you to the contributions that will be posted below over the next few days. In light of the occasions on which they were first delivered, note that the first two posts are addressed to Professor Tanner directly.
First, Professor David Fergusson, Principal of New College and member of the Gifford Lectures Committee, will post his 'vote of thanks.' This was delivered after the final lecture on behalf of the University of Edinburgh and serves to conclude the series.
Second, to locate this lecture series within Kathryn Tanner's broader project and show how other traditions might engage with it, Dr. Lydia Schumacher will post her statement from the New College Seminar held earlier this week. Dr. Schumacher is a Chancellor's Fellow in Historical & Systematic Theology at the School of Divinity.
Continuing our line-up of New College postgraduate contributors, Rev. Russell Almon will next respond to Tanner's articulation of the Christian subject in community. Then, as ever, we look forward to hearing from you!