Another World? Lecture Five
Another World? Lecture Five
This post provides a summary of Kathryn Tanner's fifth Gifford lecture, entitled 'Another World?' Afterwards, my New College colleagues Evan Graber and Clement Wen will be providing their appraisals of Tanner's depiction of the future as seen by both finance-disciplined capitalism and Christianity. As always, we invite your own contributions to our discussion (see my instructions for how to post). The lecture video is also now available at this link. 
In this lecture, Kathryn Tanner will concentrate on how the future is depicted in the contrasting accounts offered by finance-disciplined capitalism and Christianity. She will argue that stock valuations and the related sale of derivatives have the effect of 'collapsing' the future into the present, employing Luhmann's distinction between the 'future present' (the future that will, in fact, come) with the 'present future' (current predictions of how the future will turn out). Tanner will elaborate that such reduction is not only a matter of perspective but actually helps to create such a future by affecting prices and valuations. Any claims to market mastery, however, are challenged by an irreducible unpredictability of the future, as shown in market crashes. Tanner will therefore argue for a Christian view of the future that does not seek to constrain volatility, but that it approaches such uncertainty alongside belief in the disruptive effect of God's transformative grace. In this way, Christianity's view of 'another world' to come challenges predictive enthusiasm while motivating work towards 'realistic proximate futures.'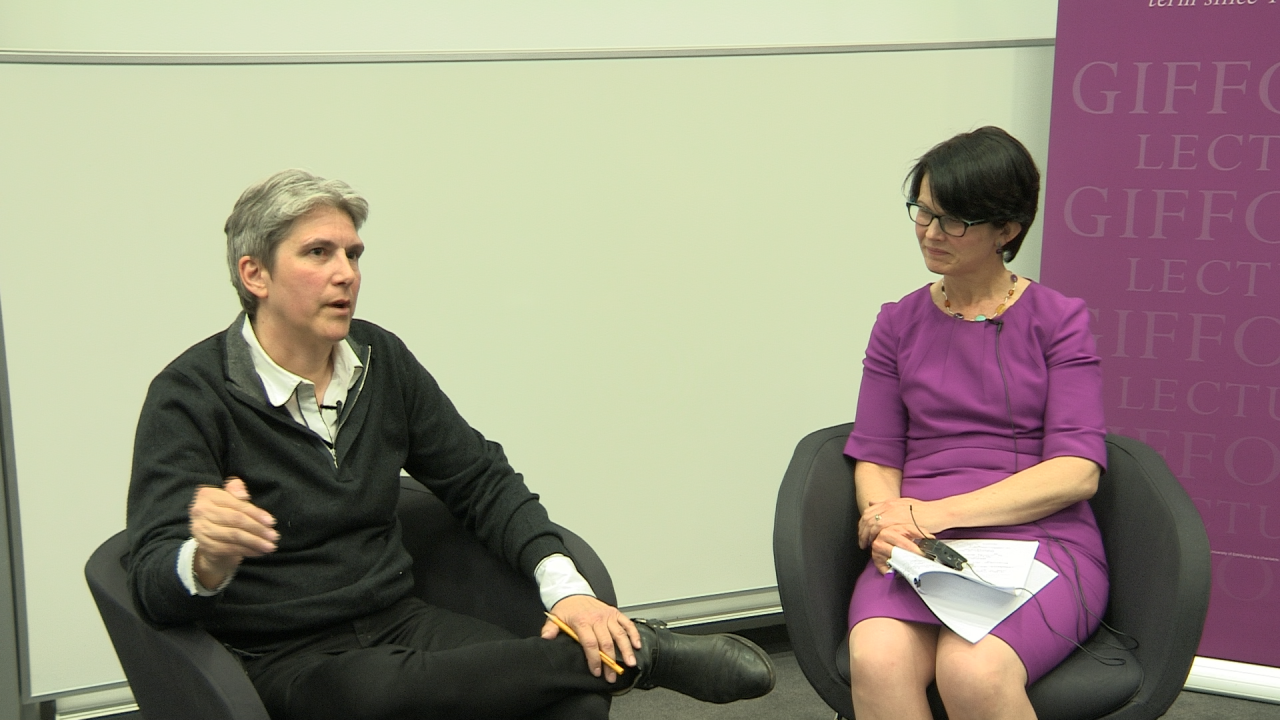 Tanner begins her lecture with the importance of the future for one's accounts in finance capitalism. Given the volatility of the market, extreme swings can wipe out years of accumulated wealth or, alternately, make up for years of small losses. As a result, it is less important to know the present value of a stock as it is to know its future potential. How likely is it, one asks, that 'the future will validate the present prediction?' As the present price is assessed, however, it is changed by the assessment: the likelihood of increase, and decrease, determines what one pays at present.
The question becomes 'how does one price the future reliably?' Even if one cannot know the precise value of a stock in the future, one hopes to at least know the 'range' to which volatility will remain bound. One's imagination of the future therefore becomes limited to a certain section of the market and, of course, the ever-present domination of 'finance.' Tanner quotes Frederick Jameson's quip that it becomes easier to imagine the end of the world than to imagine the end of capitalism.
Tanner next shows how 'pricing the future' is both an act of prediction and of creation. Stock value is affected by how many people think the stock will go up or down in a given time frame. As a result, the 'future present' is not really at issue; we only live within the 'present future' when it comes to stock value (employing Luhmann's terms again). Stock predictions are therefore a self-fulfilling prophecy, for future value simply awaits the cumulative effect of present demands.
For all this efficacy, however, Tanner notes that financial operators are well aware the future will be unpredictable. Past market crashes always seem inevitable to hindsight, but that is exactly what wasn't apparent beforehand. The 'present future' should be similarly unpredictable, therefore, though it rarely is. An unexpected market drop is all the more devastating because people failed to account for it. The need for such accounting creates, through the sale of 'derivatives' (or 'futures,' 'options'), a proliferation of ways to liberate one's purchasing choice.
Tanner describes derivatives as 'designed to trade in unpredictability.' As she summarises, a derivative allows one to contract to pay a pre-determined price on a later date. If there is a difference, one either saves or loses accordingly but at least one protects oneself from the eventuality of paying a price higher than that which is predicted, and contracted, in the 'present future.' Derivatives are therefore a 'hedge against volatility,' an attempt to 'tame' the conditions of the 'future presents' which might be less favourable to the buyer. While such contracts are a type of insurance, they are unlike typical insurance packages in that they do not require a personal stake in the investment (as one would with one's house or car, such that an insurance premium only provides profit from what one does not want to happen). As a result, they can also result in 'pure profit.'
Tanner draws a connection between the mastery sought by derivatives trading and the mastery of future events sought by Stoicism. Derivatives seek to 'close off the future' as a source of disruption to one's life; the unknown future is 'proleptically dealt with' in the present. This is similar to the manner in which Stoicism counsels that one become master of the unexpected event by envisioning the worst case scenario, even the moment of death. Moreover, the manner in which derivatives contracts are taken out 'on' the future allow a refusal to commit to particular options, a refusal that might be compared with the Stoic detachment from anything except virtue.
Ironically, the more people are convinced of derivatives' ability to tame the future, the less prudent they become. Tanner observes that the creative effect of present predictions shows its dark side here, as people not only increasingly risk, but begin to effect, future catastrophe.
Turning to a Christian view of the future, Tanner notes similarities with Stoicism but chooses to accentuate difference. She claims that the future expected by Christians maintains a negatively disruptive element. The transformation wrought by grace involves being torn from those sinful aspects of our selves to which we have become accustomed. This would be less painful if one were less of a sinner, but Tanner believes that, even assuming moral and spiritual advance, grace nevertheless interrupts the 'trajectory,' requiring confession and repentance. In contrast to the attempt to keep options open, perhaps the Stoic willing-with-reservations, there is 'no room to manoeuvre at the end of days.'
The prospect of eternal life shows that the future remains an external gift, which is not to be incrementally approached through human calculation and creative powers. One can be certain of one's resurrection hope while remaining uncertain about how that life will look; Christian theologians remain circumspect about what can be predicted in the world to come. Such reticence is due, in part, to the way Christians keep the surprise of Christ's advent in mind (recall here Tanner's discussion of typological readings of scripture). From their own reading of 'past variations,' Christians should be well aware of how unpredictably surprising the future will look.
As a result, Christian hope for 'another world' does not entail the kind of predictive enthusiasm shown in derivatives trading. Tanner uses Kierkegaard's image of rowers in a skiff, who have their backs turned to the direction of movement. She claims that 'turning one's attention directly to the future to come, in order to assess one's progress or lack of it, is to make that future the subject of calculations of more or less, and therefore to fundamentally misunderstand the way to get there.' Turning to look forward does not help one's momentum; such an action 'simply hinders the rowing one needs to do.'
Tanner concludes by stating that she is not seeking to offer an 'alternative model' for economics, as if Christian models of the future could merely be imitated in markets. Instead, she is 'applying to markets as a whole the Christian difference between present and future' as a means to resist the way that current practices of stock valuation and derivatives contracts serve to collapse the future into our all-too-human predictions.
Such 'application' of the Christian difference can motivate attempts now, attuned to the shifting demands of the present, to create 'realistic proximate futures.' Even so, Tanner maintains that the destination towards which one acts in the present remains another world even as it pressures the present system: 'the future that is present now remains disjunctive.' Only with such a remove, maintaining a 'never-filled gap between worlds,' can the present dynamics of capitalism be seen clearly enough to be repudiated.