Total Commitment: Lecture Three
Total Commitment: Lecture Three
In this post I will first offer a summary of Kathryn Tanner's third lecture, aiming to stay as close to her terms as possible. I will then open a critical line of inquiry on the discussion thread, asking how Tanner's promised 'Protestant anti-work ethic' succeeds given its continuing (albeit 'converted') use of terms such as 'project' and 'self-fashioning.' So read the summary (as well as our live Twitter feed at #GiffordsEd) with a view to commenting on how well you think Tanner destabilises the total commitment required of us in a world of finance-dominated capitalism. The lecture video is also now available at this link.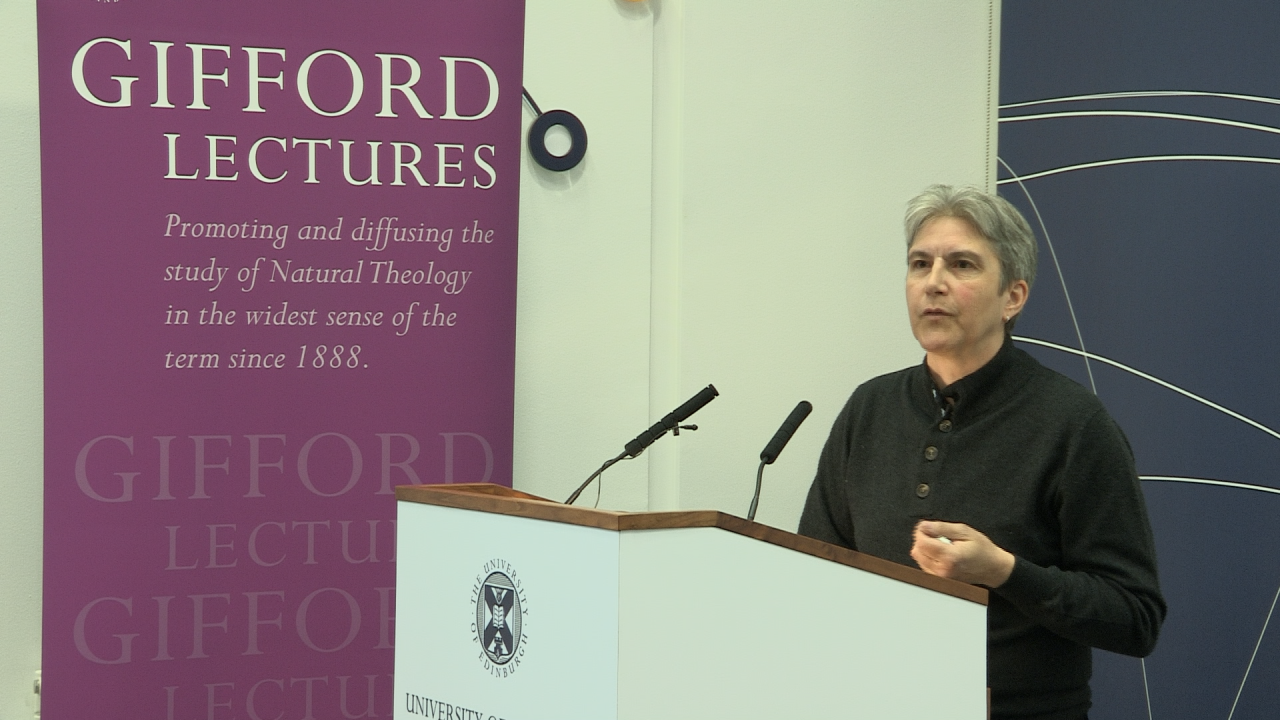 Kathryn Tanner begins by describing a corporation's problem with securing 'total commitment' from its workers. A company's controlling interest in maximising shareholder value means that each worker must provide constant, maximal intensity of effort in the pursuit of profit. It is so important to track, and motivate, such worker commitment that a company will even take on the costs of a surveillance system. Such monitoring can contribute to a worker's motivation in that one fears for the security of one's position or, alternately, hopes for an award of 'recognition.'
These attempts fall short of engendering a worker's entire commitment, however; 'total' compliance is required in order to maximise profit. Motivation through fear, or external reward, always leaves a space between the company's demands and the worker's commitment: one may prefer not to. The company could, then, try to 'evacuate' the will of the worker, creating machine-like responsiveness. Employees become a 'blank interface,' reacting only to the need of the moment (the call centre is a prime example of this). In such a scenario, the company pushes out 'not just thought of anything else, but thought per se.'
The displacement of a worker's will and capacity for thought is, astonishingly, still not enough; the most efficient method is to re-direct and animate the worker's desire in alignment with the company. This has the benefit of saving on costs: surveillance is not required when employees become self-monitoring. It is beneficial, in other words, to form the 'character' of employees such that their work ethic involves pleasure in following the lead of others. Moreover, the company appears to grant worker autonomy, with the assurance that the company's own ends are what the worker 'freely' desires. Needless to say, this suppresses dissent, for 'how can one criticise what is the desire of one's heart?'
This profit-maximising formation of character extends beyond company facilities to every sphere affected by finance-dominated capitalism. Whether at the store, online, or at home, one is similarly obliged to 'make the most of what one has.' The capitalist subject should constantly pursue more lucrative possibilities, maximising personal growth. In more financialised terms, Tanner states, one is to seek 'an ever-increasing GDP in one's person.' Here she acknowledges the importance of Michel Foucault's Birth of Biopolitics, with its account of how 'one's self is what one works on, what one perfects.' Tanner elaborates that 'one takes up a peculiar sort of business relationship with oneself;' whether cast in terms of sunk costs or entrepreneurial opportunity, one ever hopes to turn a profit.
Tanner then turns to show that the company does not ultimately control this process of subject formation; it is the market, in all its fluctuations, that 'manages' the corporation. This is why company managers likely do not feel that they are the agents disciplining employees, for they only act as those under authority. The corporation cannot, as a whole, 'self-realise' in its choice of employee dynamics or product lines, because it must follow the dictates of the market. This obviously affects the worker, who comes to feel that 'the market seems to be extending its own life within me.' The only arena of freedom that remains for an employee is the attitude one adopts towards work. This is difficult to 'master,' though, given the way in which one's fear, love, and self-evacuation converge to induce compliance.
Christianity, Tanner argues, drives a wedge into this total commitment. It does so by demanding a commitment to God that parallels that of the market; one is asked to bring one's life into alignment with God's will in everything. Nevertheless, there is a crucial difference: conversion involves 'repudiating' the sinner that I am but this need not translate into self-evacuation. It is not the displacement of my will but its reversal. In an account developed in Tanner's other work, such as her book Christ the Key, the human and the divine are in a 'non-competitive' relationship, which entails not the evacuation of the self but its redirection. The language of orientation is not quite enough, however, for Tanner also talks about a new 'malleability' to the subject whose 'end' is union with God.
The God-directed focus of the converted subject pervades every activity. At the same time, this does not erase other identities, but 'incorporates them instead in a relativising fashion.' Although one's identity is primarily 'in Christ,' this does not entail the collapse of difference between spheres as, for instance, in asset acquisition. Nor does any one social role 'hold a monopoly' on the turn towards God. As a result, the orientation to God is not ultimately dependent on the success or failure of a particular venture. In the effort to alleviate poverty, for instance, one's failure would lead to lament but also the abiding belief that 'God will make up the difference,' that is, God can be trusted to nevertheless bring in a kingdom without poverty.
Tanner's account of 'self-reformation,' carried out in Christ through the Spirit, frees the subject in a manner that cannot be envisioned by finance-dominated capitalism. The account seeks to release a person from the anxiety caused by 'over-investment' in daily tasks. Conversion is not, Tanner stresses, merely the start of a more intensive 'juridical form of self-examination.' Moreover, conversion allows a God-oriented detachment from the compliance demanded by a market-driven corporation; echoing the Apostle Paul, Tanner states that 'one can act as an employee as if one weren't.'
Tanner's account of the 'peculiar' self-project offered in Christianity marks her departure from Foucault. Although she has followed his diagnosis of how capitalism determines one's self-formation, she disagrees with his position (in her paraphrase) that 'all projects of self-fashioning make the self the object of the practice.' For Foucault, Stoicism promises mastery of the self in distinction to what he saw as the Christian claim to evacuate the self. For Tanner's theological account, however, the 'self is neither the ultimate object nor the motor for its attainment.' Rather, 'Christ and the Spirit provide the ever-available motor for making oneself over from sinner to saint.'
Having summarised Tanner's impressive lecture, I now turn to our opportunity for reply. In this thread I will be joined by my colleague Joanna Leidenhag, a fellow postgraduate student at New College. After we've started the discussion, we hope to hear from you. If you need a review, see my post on how to comment.