Chained to the Past: Lecture Two
Chained to the Past: Lecture Two
What follows is a summary paraphrase of Kathryn Tanner's second Gifford lecture (see also the night's live twitter feed at #GiffordsEd). It is necessarily brief, lacking many of the vivid examples Tanner uses, but I hope it will provide a refresher for those who attended the lecture as well as a preview (of the video that is, as of Thursday morning, available here) for those who could not be with us. Whichever group you find yourself in, I invite your comments and questions in the field below.
Kathryn Tanner outlines the way in which finance-dominated capitalism structures our sense of time. She details how the past comes to constrict both present and future, as exemplified in the psychological and social effects of debt. Whether in the form of student loans or mortgages, a thirty-year commitment to debt-service does not factor in future uncertainties in the job market, creating a pressured combination of unyielding demand and instability.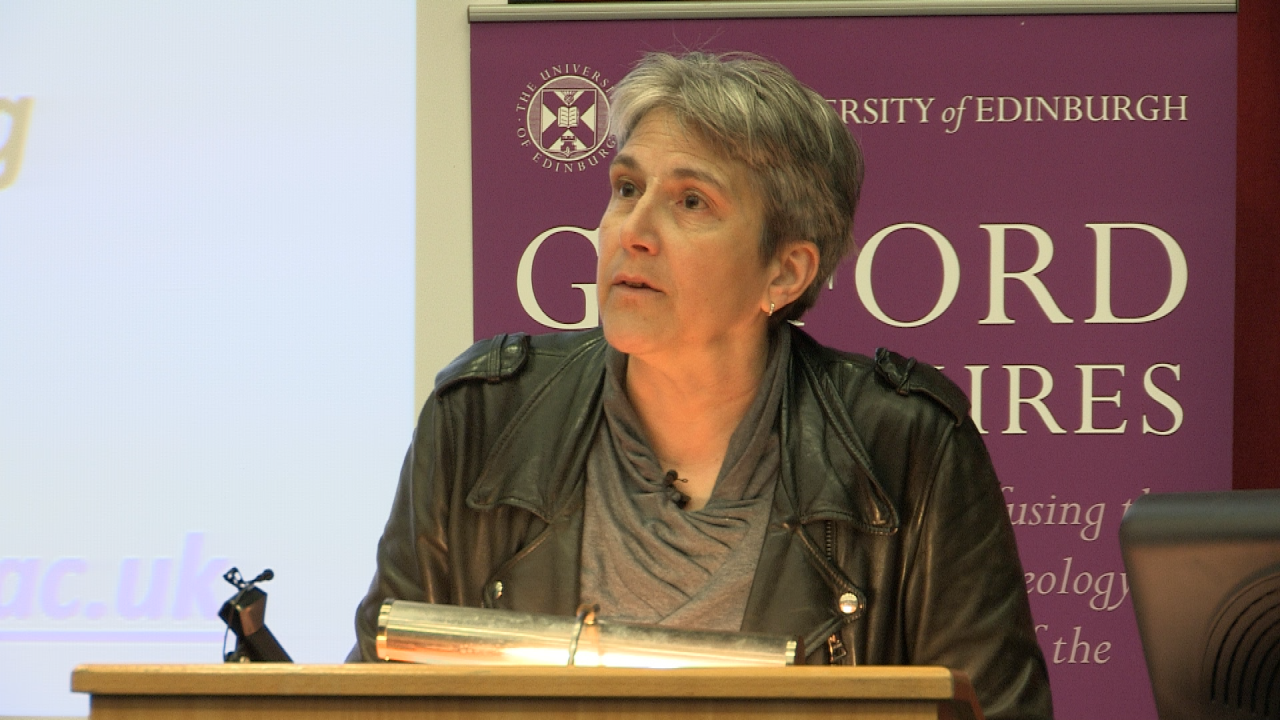 Tanner then shows the disturbing effects of a 'core-periphery' organisation of labour. Here, the corporation's more profitable 'core' (the design & marketing team, deal-makers) is retained as company employees while the so-called inessential services (data entry, janitorial and maintenance) are outsourced or made the responsibility of subcontractors. Under the target of maximising shareholder value, 'profits are forced ever lower as one proceeds down the nested chain of suppliers.'
Those workers at the bottom of the chain will often need to seek out supplementary loans. The constriction of debt is therefore added to the pressure exerted from the volatility of workers' contracts, forcing them into 'extremes of self-management.' Tanner observes that such patterns of forced debt have a 'disciplining effect on the whole of life, inclusive of both work and leisure.' A person's every present decision, or future plan, is bound to the choice for that past lending scheme, for which she is alone held responsible.
How, then, to disrupt this seemingly iron-clad temporal structure created by finance capitalism? Tanner locates her proposal with reference to Michel Foucault, who looked back to ancient philosophies of Stoicism and Cynicism for new methods of constructing the self. Tanner also wants to find an alternate structure, or anti-structure, for human subjectivities, with particular attention to their temporal dimension. She finds this in the manner Christian theologies have narrated the believer's relation to the past with respect to both one's own life (conversion testimony) and one's scripture (figural readings).
Tanner's Protestant account of conversion places strong emphasis on discontinuity.  Conversion is death to the old self and rebirth into a new form of existence. Because it is at the initiative of God in Christ, it is a breach with the productive self and, relatedly, the indebted self. If sin leads to a form of debt-slavery, Tanner memorably states, Christ becomes the 'strange currency' that breaks sin's unrelenting bondage.
The way in which Christians read their pre-conversion pasts can be compared to a figural, or typological, reading of Scripture. This mode of 'reading backwards,' with reference to Richard Hays' work, does not merely supersede the past; rather, it maintains the earlier meaning so as to preserve the disjunction with that which comes after. Every re-telling has an element of surprise.
Tanner is building the case that Christian construals of the past, exemplified in narratives of conversion and typology, have great potential for disrupting a subject's sense of being chained to the past. New subjectivities become possible, beyond those that have been disciplined by finance-dominated capitalism. This view of identity emphasises the breach created by Christ's intervention rather than the merely incremental change of one's work ethic. 'If Christians have a character,' Tanner states, 'it is a character-destroying character;' it both 'expects and promotes its deepest revision' through encounter with Christ.
As a result, Tanner argues against salvation theories of a new, perhaps more intensive, form of obligation. Citing New College's own Thomas Torrance, she argues that baptism does not create an anxious life of obligation to perform the perfection of God. Rather, the 'graced state' is such that 'what one is asked to achieve is already one's own in Christ.' This transfigured state of subjectivity, with its implications for a 'Protestant anti-work ethic,' will be further developed in lectures to come.
I will add a question of my own soon, but for now want to invite the contribution of my colleague Simeon Burke, a New College postgraduate student.