Introducing the New Spirit of Capitalism: Lecture One
Introducing the New Spirit of Capitalism: Lecture One
We had a lively opening Gifford lecture with Professor Tanner at the Business School tonight! If you missed it, you can review the 'live' rendition at the Twitter hashtag #GiffordsEd. Also, as of Wednesday, May 4th, the lecture video has been available at this link. For this and subsequent discussion threads, consider responding to the following questions:
Is there a technical term, from either economics or theology, that you'd like to hear clarified? Professor Tanner has already covered a lot of ground and this is a good place to define our terms.
How does finance-dominated capitalism, as Tanner described it and you experience it, differ from the industrial capitalism that was the subject of Weber's critique?
What element of Tanner's proposed 'Protestant anti-work ethic' would you like to hear elaborated in the lectures to come?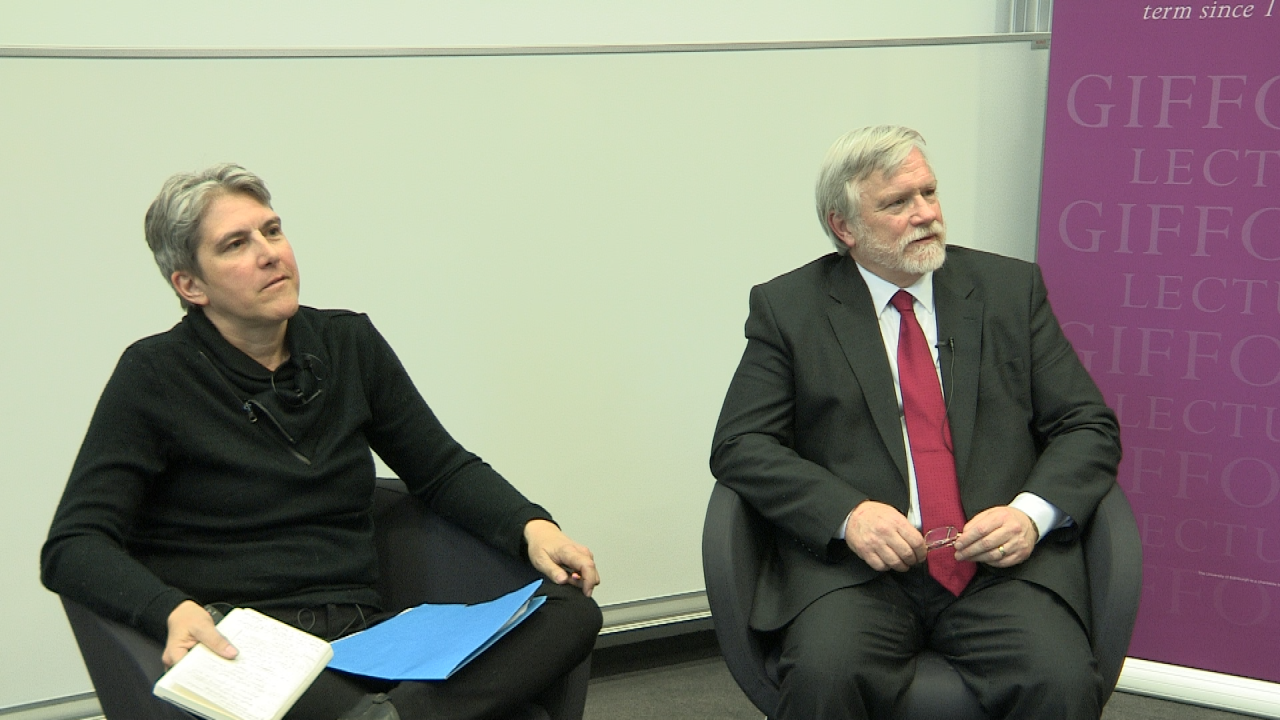 To get us started, Melanie McConnell, a postgraduate student from New College, has posted some thoughts in our reply section. I've also heard some interest about how capitalism shapes our current institutions of higher education, both in the final question of tonight's Q&A and through comments on social media. To join the thread, see my post on how to offer a comment.

For my part, I'm interested in whether and how motivations for the accumulation of wealth have changed since the early twentieth-century. Weber begins The Protestant Ethic and the Spirit of Capitalism by making clear that, contrary to the way many perceive capitalists then and now, 'unlimited greed for gain is not in the least identical with capitalism, and is still less its spirit,' saying that the naïve association of the two should be debunked in the 'kindergarten of cultural history.' In other words, we have to work harder than so many jeremiads against 'capitalist greed.'
It can be difficult to keep from assuming that greed lies behind the behaviour of corporate executives and traders, but it's important to give an accurate diagnosis if we're going to take up, much less 'reverse,' the project begun in Protestant Ethic. Listen to Weber's characterisation of the 'old' spirit of capitalism, in which those who embody the Protestant ethic cannot articulate the reason they carry on:
'If you ask [people filled with the spirit of capitalism to-day] what is the meaning of their restless activity, why they are never satisfied with what they have, thus appearing so senseless to any purely worldly view of life, they would perhaps give the answer, if they know any at all: "to provide for my children and my grandchildren." But more often and, since that motive is not peculiar to them, but was just as effective for the traditionalist, more correctly, simply: that business with its continuous work has become a necessary part of their lives.'
It would seem less noble to want 'to provide for my shareholders' than 'to provide for my family.' But these are the minority cases anyhow; the motive that fascinates Weber is the compulsion to sheer 'business with its continuous work.' As Tanner traced, he elaborates this by exploring the deep psychological and spiritual needs of different branches in Protestantism. But the point remains that the work becomes an end in itself.
What do you think lies at the motivational base of today's new capitalist spirit?  Is finance-dominated capitalism different enough from the industrial capitalism of Weber's day that we can now answer 'greed'? In other words, is there something to the detachment of money generation ('finance financing finance') from commodities and workers that makes it more susceptible to vice?
Or should we maintain that even today, well after anxieties about double predestination, the spirit of capitalism remains characterised by worldly asceticism–a drive to work for its own sake that cannot articulate any further 'reason'? If so, where do we locate vice? Who is the culpable actor when Tanner describes a process of workers being disciplined to desire along the same lines as their corporation and state?
As Tanner argued, the spirit of capitalism tends to hamper recognition of its own faults. A proper diagnosis of where the fault lies is crucial, therefore, to understanding the rupture entailed by 'conversion'–that powerful theological term Tanner introduced near the end of the lecture. Such a break won't occur if people (or should I say 'we'?) don't recognise themselves in a blanket condemnation of greed. So what can be said about motivation and its culpability?