Could MRI scans be the answer to understanding depression?
Could MRI scans be the answer to understanding depression?
My name is Heather, and I am a Reader in Neuroimaging – brain scanning – at the University of Edinburgh. I have always had a passion for finding out what our brains look like, and how something so grey, mushy, and innocuous-looking as the brain can make us human; formulate memories, guide decisions and behaviour, and of course importantly how it relates to our mental health. I didn't start off studying neuroscience at University though. I actually started off studying dentistry, but realised that my passions lay elsewhere, particularly in studying what happens in the brain in mental health conditions. I remember it being a hard decision, one that my parents certainly weren't happy about at the time, but I made the switch and have never looked back. (I can't speak for my parents though!)
In our research we use imaging methods called Magnetic Resonance Imaging (MRI), which uses strong magnets and radio waves rather than any injections or radiation. Due to a serendipitous fluke of nature, which I am constantly amazed at, the different constituents of the brain have different magnetic properties. This lets us see details of the brain without any invasive procedures like injections or X-rays. That means we can look at the structure of the brain, how regions connect with each other, and which regions are engaged when we are performing a variety of tasks. We have even just developed a brain imaging task to look at irritability in young people!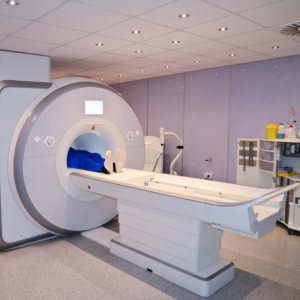 There have also been huge advances in computational approaches that are able to help analyse brain images. When I first started it was very much hand-guided drawing around brain regions on a computer It took a very long time (I listened to the radio a lot!), but I've always been thankful that it provided an excellent grounding in brain anatomy.  Now though, thanks to technology, we can analyse many more brain scans than back then. This enables us to look at much bigger samples and to ask many more important questions, particularly about mental health. We are very fortunate with today's technology, and the world of brain imaging is an exciting place to be!
At the moment, we are working on using these imaging methods, along with other biological approaches, to help us understand what is happening in the brain in individuals with depression, what the causes might be, and consequently, what the best treatments might be and for whom. We are using large volunteer datasets, like Generation Scotland, to look at how factors like inflammation and stress can affect the brain, and their roles in depression. This may help us think about new treatment approaches.
We are also working on young adolescent populations, which is an important stage in the development of these types of conditions, in order to find out more about the origins of the brain differences we see in adults with mental health conditions. We hope that this work will allow us to identify features of depression earlier on in development so that we can act early and mitigate consequences associated with long-standing mental illness.
As far as my own mental health goes, I am a firm believer in friends, family, pets, nature and keeping active. I can often be found 'running' – I use the term loosely and I'm rather slow! – in the Pentlands and around Edinburgh, or relaxing with my feline companions 😊.
(Image 1 Credit: Heather Whalley)
(Image 3 Credit: Heather Whalley)