Signing off and signing up
Signing off and signing up
This will be my last blog as Generation Scotland Principal Investigator. I have put the inevitable off for long enough. It is time for me to retire from academic life. As I sign off, responsibility for Generation Scotland passes on to my senior colleagues Cathie Sudlow, Riccardo Marioni, Caroline Hayward and Andrew McIntosh. They have been a huge support these past 2 years and are all set to take Generation Scotland forward.
They, in turn, will have the support of a brilliant team of young and seasoned researchers, Team Generation Scotland. They've have done a fantastic job over the last two years. They are itching to get going with the next exciting phase of Generation Scotland.
If you have read any of my blogs over the past 2 years, then you will be aware of how much effort the team has put into reporting on the health and well-being impact of the Covid-19 pandemic.
Now they are poised to get back to their original remit, to expand the cohort of our Generation Scotland volunteers. Without our Generation Scotland volunteers, we have nothing to offer. With their support, we can change our understanding of what matters most for our health and well-being.  We have done so in the past, but we can do much more in the future.
March 2020 feels like the distant past, and very different from March 2022. The pandemic is not over, but we are learning to live with it. Life is edging towards a new normal. After the long delay because of Covid-19, the team is almost ready to sign up new volunteers. Back in 2006, we only had permission to invite adults over 18 to join. We hope the next generation of young and older adults will join. But in 2022, we will be going an important step further. Children aged 12-15 can also join, as long as they have a parent or guardian who has already joined and gives their permission.
This move towards younger volunteers is really important, and we know from the pandemic that they are keen to help. Over 5,000 young people completed our TeenCovidLife surveys. We hope some will become full members of Generation Scotland. Of course, we would also be delighted if younger members of our existing families join too.
For me, this is a very important transition point. I had the idea for Generation Scotland back in 1999. The University of Edinburgh backed me to develop the idea. I went on a road trip around the Scottish Medical Schools to share the idea and get them on board. It took time to raise the money needed for pilot studies. There was a lot of thinking and planning to do. We got properly started in 2001, but it was another 5 years before we had everything in place – staff and resources – before opening our doors to volunteers in 2006.
This time around it is not so much a case of opening our doors, but for our volunteers to open up their PC, laptop or smartphone. Generation Scotland is moving online for registration and data collection. Instead of asking you to attend a clinic and donate a blood sample, we will be posting out a kit, to collect a saliva sample. This should make it much easier to join wherever you live, and without having to give up half a day of your time.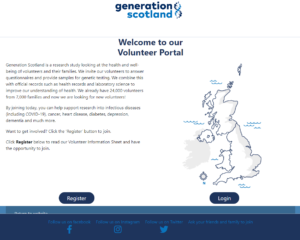 As my retirement beckons, I will be one of the first to sign-up as a Generation Scotland volunteer. I have been testing the volunteering process. It is now pretty slick and easy. So, although I will have retired from active involvement in Generation Scotland, as a volunteer I will still be able to keep a close eye on what Generation Scotland is up to and make a difference. The Generation Scotland website will keep me posted with all the latest developments, opportunities to volunteer for add-on studies, and reports on research findings as they emerge.
So, let me end by thanking everyone who joined back in 2006-2011 and are still with us. Let me also offer a big 'Thank you' in advance to all the new volunteers who will be joining me as Generation Scotland marches on.