Expanding Generation Scotland
Expanding Generation Scotland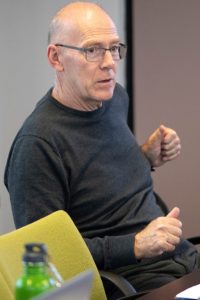 The worst of the Covid-19 pandemic feels like it might just be over. There are still large numbers of people catching Omicron, but most get only mild symptoms no worse than winter flu. There is a general feeling of fatigue, not so much from the virus itself but from living under Covid-19. We are being encouraged to go back to the workplace, or at least hybrid working. People will have mixed feelings. Caution is still the message, but it's been left up to each of us to decide.
Over the past two years, the Generation Scotland team has doubled up on two main fronts – responding to Covid-19 and preparing for a major push to recruit new volunteers to Generation Scotland.
In 2020/2021, we had over 50,000 responses to our CovidLife, TeenCovidLife and RuralCovidLife surveys. As part of that, 20,563 volunteers shared their email addresses with the team. Expect to hear again from us in the coming months for an update and what's next for Generation Scotland.
That update will be what Generation Scotland is all about – working with the people of Scotland, their friends and family to learn more about our health and well-being. To that end, behind the scenes, the team has also been working flat-out to put together all the bits and pieces needed to open our online doors to new volunteers.  We want to make it as easy as possible to join. We hope it will be an enjoyable and rewarding experience. The waiting time is nearly over. But, before we launch, the team has been testing all the component parts.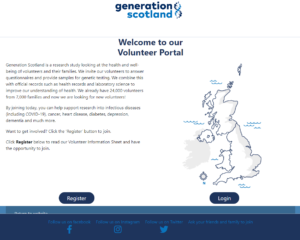 We have reworked our website and created a new dedicated space for volunteers. Each volunteer will have their own personal space. It is where you will register to join and complete the first questionnaire. There will be other questionnaires for you to complete in the future. They will be entirely voluntary, but hopefully interesting.
The team have been testing out all the procedures, me included. It's now pretty slick and simple. First, I registered online, read the volunteer information. I ticked all the boxes to confirm that I understood the purpose of the study and was happy to join. That took about 10 minutes, but for someone completely new to the study, they might take 15 minutes. Next, I answered the main questionnaire, a series of tick-box questions about my health and well-being. That took me about another 10 minutes, but I knew what to expect. It's organised so that if you say 'yes' to some questions, it asks you for a bit more information. Most new volunteers will want to set aside 15- 20 minutes to complete this bit.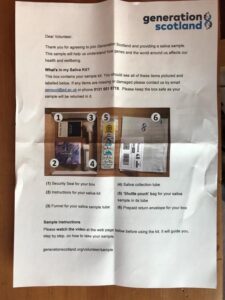 The last step was to add my home address. A few days later, a sample collection kit package landed on my doorstep. We will be collecting a sample of spit (saliva) from all new volunteers for genetic studies. When we first launched Generation Scotland, we collected a syringe full of blood at a clinic. This time, it will be much easier to donate. We just ask for some spit in a tube from the comfort of your own home.
The kit comes in the post through your letterbox. There's no need to be in for the delivery. There are simple, clear instructions inside.
I followed the instructions and spat into the tube a few times to get it to the required level. I would recommend having a small tumbler to hand to sit the sample tube in, just to avoid any risk of it being knocked over accidentally and spilling the contents. You then discard the cup for collecting the spit into the tube, screw the cap on, seal it in a bag and package it back up into the cardboard box. Then, seal the package in the postage-paid plastic envelope. All done and dusted in no more than 10 minutes. I dropped the package into my nearest post box and off it went to the lab.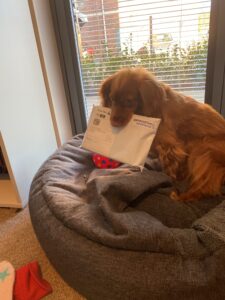 One of our team members has a very helpful dog, who picked up the box and brought it to her. That is not recommended, but no damage was done!
So, when will you get an invitation to join? You'll hear from us before the end of the year. We'll have a lot of invites to get through! We will be rolling things out slowly at first. If all goes well, we can ramp things up. We are aiming for 20,000 new volunteers. Every single volunteer matters. We want it to be an easy and rewarding experience. If you or a family member or friend has a problem, let us know. The sooner we know about any glitches or other issues, the sooner we can try to fix them.
So will you be signing up to get a spit-kit kit through the post? We would love to have you, your friends and your family join us in our efforts to improve the health and well-being of the people of Scotland, through cutting-edge research.