When George Robertson Nicoll begins his account of his Fifty Years' Travels, he does so with the following words:
'We left London on March 17th, 1848, in the good ship Royal Saxon, a 700-ton vessel with three hundred passengers' (page 1).
What George does not tell us is that his 24-year old wife, Sarah, travelled with him on that first journey, and remained his partner over the next 49 years until she died in Sydney in 1897, aged 74 years. There is, in truth, very little mention of Sarah in George's book or in his very detailed journal, The Life and Adventures of Mr. George Robertson Nicoll. She is, like so many women in history, an enigma, there but not there, sometimes a passing mention but more often, missing completely from the narrative. As early as 1929, Virginia Woolf wrote:
'The history [of England] is the history of the male line, not of the female. Of our fathers, we know always some fact, some distinction. They were soldiers or they were sailors; they filled that office or they made that law. But what of our mothers, our grandmothers, our great-grandmothers, what remains?'
Over the course of this and the next blog, I will try to pick up the gauntlet thrown down by Virginia Woolf and countless feminist historians ever since and ask: what of Sarah, or rather, who was Sarah Baird? I will set on record what is known about her from official sources, starting in this blog with her early life in Scotland, and moving on in the next blog to her life in New South Wales (NSW). In piecing together her story, I will draw widely on women's history from the UK and Australia. I will also, inevitably, make calculated speculations to fill in the gaping holes that are her own thoughts, feelings and experiences.
In attempting to shed light on Sarah's story, it needs to be acknowledged that I am not forgetting all those other women whose stories are erased in history (Weisner-Hanks, 2001): in the context of this story, that includes the poor, often Irish women who worked as spinners in the Dundee mills, and the Aboriginal women who were persecuted and displaced by the colonising settler women (and men) who took over their land. Their stories deserve to be heard in their own right, not as a postscript or 'add-on' to this story, but if it is at least possible to wave in their direction, I will do so.
Childhood in Perthshire
Sarah was born on 23rd June 1823 at Errol, a parish in the Carse of Gowrie, Perthshire, on the east of Scotland. The Carse of Gowrie is a low-lying, fertile plain between the River Tay to the south and the Sidlaw Hills to the north, and is about half-way between Perth and Dundee. Sarah's father, John Baird, was a mason. The work of stone-masons in the nineteenth century was highly variable. Sometimes, they would have been employed on prestigious building projects, and at other times, on more mundane work, carving, paving, fixing sinks and chimneys as well as doing 'memorial work' (building gravestones), as described in the diary of Arthur Peck, a stonemason in the 1850's and 1860's in Hertford, England.[1] Their work would have been physically hard and, at times, extremely dangerous, especially if they were carving stone inside poorly-ventilated buildings or working out-of-doors high up on scaffolding with the minimum of protection. And (as Arthur Peck tells us) the work was never well-paid, in spite of the skill it required.
John Baird had been born in Muiravon, Stirlingshire, the son of Alexander Baird (mason) and Heneretta (also spelt Henereta and Henrietta) Thorntown (sometimes spelt Thornton and Thomson); it is likely that he would have served his time working for his father at Muiravon. He probably travelled to Errol for reasons of work; in the early years of the nineteenth century, the village was growing, with the establishment of a brickworks at Inchcoonans to the north-west in the 1810's,[2] and the building of new houses and then a new parish church (known as 'the cathedral of the Carse'), completed in 1833.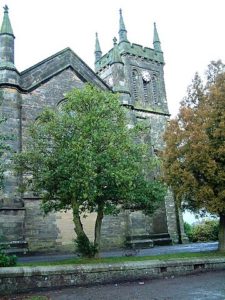 John Baird married Elizabeth Tait on 23rd September 1810, three months before the birth of their first child, William, as was common at the time.[3] Elizabeth had been born in Errol. Her father was William Tait, a handloom weaver; her mother was Isabel Baxter. William would have worked from home, assisted by his wife and children,  which means that Elizabeth would have been familiar with the weaving process (Turner, 1983). Humphries (1995) asserts:
'Women have always worked. What has changed historically has been the form their work has taken' (page 85).
Over the course of 20 years, Elizabeth gave birth to 12 children: seven boys and five girls (Sarah was her eighth child). Six of the seven boys died young: two aged 21 years and one aged 11 years; three more were drowned at sea (this information is gleaned from the Baird's gravestone at Errol church-yard).[4]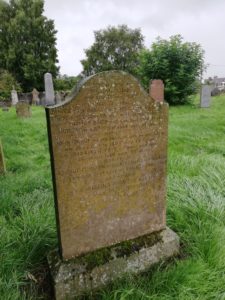 None of the children's deaths appear on the Old Parish Registers (OPR's), suggesting that John and Elizabeth may have been members of one of the dissenting churches. This suggestion may be significant, because George's mother, Margaret Ogilvie Robertson, also worshipped at a United Free Church until her death in 1832.
We have no way of knowing whether Elizabeth worked in an occupation other than as wife and mother, but it is very likely that she did. Whether she did needlework, took in a lodger, looked after other women's children or carried on her father's occupation of weaving on a small loom at home, she would have had to contribute to the family income in some way.
All John and Elizabeth's children would have attended the parish school in Errol. It was a feature of the Scottish education system at the time that although the school leaving age was 12 years, both boys and girls learned the basics of reading, writing and arithmetic, while girls were also taught housewifely activities such as needlework.[5] This meant that when Sarah and George travelled on the Royal Saxon in 1848, both were able to read and write, unlike their Irish and some of the English fellow assisted migrants.[6]
Working in Dundee
Whenever anyone mentions Dundee and the textile industry, it is usually in the context of the production of jute rather than linen, and spinning rather than weaving (Miskell and Whatley, 1999); this is clear in the name given to Dundee in the nineteenth century – 'Juteopolis'. But the experience of the Baird family reminds us that it was linen manufacture that preceded jute, and that powerloom weavers were as much part of Dundee's story as were the spinners and all the other textile occupations.
So, why did the family relocate to Dundee in the 1830's? Given that the parish church had been completed in 1833, John Baird may have also found himself without work, or at least without enough work to care for his large family. The children were growing up too; they needed to find work with they left school at 12 years of age. Dundee would have had far many more opportunities than the village of Errol. The family appears in the 1841 census, living in the Hilltown of Dundee, a place where a large number of handloom weavers lived, described in 1850 as 'one of the poorest and most populous quarters' (see Turner, 1983: 24). The census reports that Sarah and her sister, Elizabeth (aged 18 and 15 years), were now both working as powerloom weavers. Their sister Henrietta was away from home by then, married to a lapper[7] called James Robertson Nicoll (no obvious relation), and probably a powerloom weaver herself. No occupation is given for her mother, in common with recording practice (enumerators were instructed not to include married women's work in 1841).[8] The 1851 census records the family living at 12 Rosebank Road, by which time Sarah's father was a mason (journeyman) of 70 years of age, paid by the day for his work, while her sister, Mary, and brothers, Robert and Andrew, had joined the textile industry and were working as a powerloom weaver and starchers respectively.[9]
We have no way of knowing which mill (or mills) the young Bairds worked in. Were they employed at the Laing Works, about half-a-mile from home, or perhaps at W.G. Grants in Constitution Road? Wherever it was, it was likely to have been close to home; a 12 hour-day (with two breaks for breakfast and lunch) meant that most mill workers lived near their place of employment, and bells and whistles signalled that the working day was about to begin. The mechanisation of the linen industry had a major impact on Dundee; by the late 1830's, Dundee rivalled Leeds as the principle British linen town (Jackson 1991: 2) and in 1851, there were 43 spinning mills and eight powerloom factories in Dundee, as well as 10 finishing, calendaring and packing plants. The industry by then employed 11,382 workers and imported 40,000 tons of flax (Lenman et al., 1969), turning out coarse linen for sacks and bagging (for transporting cotton and other goods), osnaburg (for plantation slaves' clothing), and sailcloth and canvas (for the expanding merchant and naval fleets) (Turner, 1983).
We have already seen that Sarah and her sisters were powerloom weavers. Weaving had been a male occupation, and a skilled one at that – their grandfather had been a handloom weaver – but when machinery was introduced to the production process, powerloom weaving became a women's job, viewed as less skilled and meriting lower wages. The first powerloom fac­tory in Dundee was built by Messrs. Baxter in 1836 at their works in the Dens. Baxter's factory was 150 feet long, 75 feet wide, and, on one floor, lit from the roof (this was heralded as a progressive development).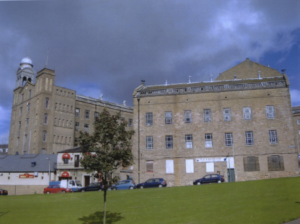 Dens Mills was followed soon after by Alexander Rowan at Dudhope, John Laing at Dens Road, and Messrs. Edward at Logie and for some years, these four works were the only powerloom factories in Dundee. Later, their numbers multiplied, to the extent that almost all the spinning works had weaving departments.[10] Wainwright (2002) draws attention to the rigid hierarchy that operated within the mills. Not only were there men's jobs (so-called 'skilled' tasks such as beaming and dressing, and supervisory and maintenance tasks), there was also a strict differentiation between women weavers (who were the aristocrats of the mills) and the lowly spinners (see also Cox, 2013). This is demonstrated vividly in a description of weavers and spinners in the Dundee Year Book for 1903:
'In at the same gates […] go the respectable, well-dressed industrious girl, and the frowsy-haired, bare armed, short petticoated, shawlied lassie of hard voice and rough manners.'[11]
The weavers, unlike the spinners, underwent a period of on-the-job training alongside an experienced weaver so that they could learn to operate their loom or looms. They were 'piece-workers'. This meant that their earnings depended on their own exertions and were therefore more variable. But it also meant that they had a measure of control over their work that was not available to the spinners who worked for set wages. Weavers experienced higher rates of industrial injuries than any of the other processes, because they were often tempted to do minor adjustments and repairs to machines themselves, sometimes ignoring the safety procedures that slowed down production and their affected earnings (Cox, 2013: 23). Their work environment was cleaner and less dusty than those of the spinners. But what the weavers suffered from most was the incessant din of the machines. They developed severe hearing loss because of their work, and were forced to use a kind of sign language and lip reading to communicate with one another on the factory floor.[12]
 Sarah meets George
How did Sarah meet George? It would have seemed, on the surface, more likely that she would have teamed up with a young man from the mill, as her sister had done. But Sarah married a young man aged 21 years, almost two years younger her junior, someone whose life was spent at the docks, not the mills. My guess is that they may have met at church, rather than the dancing or any other popular entertainment venue. Both were devout Protestants, and we know that in his journal, George expressed great antipathy towards alcohol. Putting two and two together, I suspect that they may have shared a religiosity, which may also explain Sarah's willingness to 'stand by her man' (as the song goes) over the many difficult years that followed. (We will find out more in the next blog.)
The decision to leave
By the time that George and Sarah discussed emigrating to NSW in early 1848, life must have been difficult for Sarah, as it was for George, whose wages in the warehouse at the Shore had just been cut, as recounted in his journal). George and Sarah were living with their baby in two rooms in the West Port in Dundee. It is very likely that Sarah would have returned to work soon after George Wallace was born on 13th May 1847, almost exactly nine months after they were married.[13] She probably fed him before leaving for work (her day would have started at 6am) and then returned at lunchtime for another feed, before the last feed after she got home in the evening. George Wallace was probably cared for through the day by her mother (who lived for another 19 years) or by one of her younger sisters, fed boiled water or gruel (powered milk was not available until 1923), and Sarah would have been permanently tired, hungry and thirsty. NSW must indeed have seemed like 'a land flowing with milk and honey', as George describes it in his journal (page 33). Estimates suggest 51,000 emigrants left Scotland in the 1830's, rising to 59,000 in the 1840's and 154,000 in the 1850's; the figures for the 1840's and 1850's include the very many Irish people who came to Scotland before travelling on when they had made enough money. Emigration, Cage (1985) argues, was 'becoming part of the consciousness of an increasing number of families' (page 7).
So who was Sarah Baird?
The picture that emerges from this story is one of an independent, self-reliant, family-oriented young woman, educated to a point, able to look after herself and others, brave and willing to take a risk for her young family. She had, George acknowledges, more to lose than him, as he writes in his journal:
'My wife had some good cries about parting with her people but I had no reason to cry as my home would now be where I could make my best living and enjoy good health' (page 34).
Lucky George!
Viviene Cree
10th October 2019
Acknowledgements
With thanks to all those on the Facebook group, Dundonian History for all, and staff from Verdant Works and Dundee City Archives – your insights were most helpful!
Primary Sources
Nicoll, George Robertson (1890). The Life and Adventures of Mr George Robertson Nicoll, unpublished journal.
Nicoll, George Robertson (1899.) Fifty Years' Travels in Australia, China, Japan, America Etc. London: self-published.
References
Anderson, Robert D. (1983). Education and Opportunity in Victorian Scotland. Schools & Universities. Oxford: Clarendon Press.
Cage, Robert A. (ed.) (1985). The Scots Abroad. Labour, Capital, Enterprise, 1750-1914. London: Croom Helm.
Cox, Anthony (2013). Empire, Industry and Class. The imperial nexus of jute, 1840-1940. London: Routledge.
Gleadie, Kathryn (2001). British Women in the Nineteenth Century. Basingstoke: Palgrave.
Humphries, Jane (1995). Women and paid work. In Purvis, Jane (ed.) Women's History in Britain, 1850-1945. An Introduction. London: UCL Press.
Jackson, Gordon with Kate Kinnear (1991). The Trade and Shipping of Dundee. Dundee: Abertay Historical Society Publication No. 31.
Lenman, Bruce, Lythe, Charlotte and Gauldie, Enid (1969). Dundee and its Textile Industry 1850-1914, Dundee: Abertay Historical Society Publication No. 14.
Miskell, Louise and Whatley, C.A. (1999). 'Juteopolis' in the making: Linen and the Inustrial Transformation of Dundee, c.1820-1850, Textile History 30(2): 176-198.
Turner, W.H.K. (1983). Flax weaving in Scotland in the early 19th century, Scottish Geographical Magazine 99(1): 16-30, doi: 10.1080/00369228308736540
Weisner-Hanks, Merry (2001). Gender in History. Oxford: Blackwell.
Woolf, Virginia (1929). Women and fiction, The Forum, March, reprinted in Virginia Woolf (1966). Collected Essays, volume 2, London: Hogarth Press, page 141.
Endnotes
[1] Peck's great grandson, Ian Fisher, has reproduced Arthur Peck's diary. See https://www.ourhertfordandware.org.uk/content/people/the-diary-of-a-nineteenth-century-stonemason, Accessed 4th September 2019.
[2] https://www.scottish-places.info/towns/townfirst1298.html
[3] Gleadie (2001) suggests that premarital sex was not only common amongst the rural working-class but was actually encouraged by the kirk in Scotland. I have not found any confirmation of this claim elsewhere.
[4] The gravestone in Errol churchyard records: William (born 28/12/1810, died 10th May 1832 aged 21); James Nichol (born 8/8/1821, died 19th October 1832 aged 11); Alexander (born 12/6/1814, drowned at sea); John (born 22/12/1819, drowned at sea); Thomas (born 21/4/1816, Captain, drowned at sea); Andrew (born 1831, died 1853 aged 21 years).
[5] The school leaving age was not raised to 14 years in Scotland until 1883.
[6] In 1855, 89% of Scottish men and 77% of Scottish women could sign their name compared with 70% of men and 59% of women in England and Wales. There were, of course, regional differences, so that Lowland counties did much better than some Highland counties such as Argyll. See Anderson (1983: 8).
[7] A lapper was a textile industry worker who transferred yarn between machines. See https://www.familyresearcher.co.uk/glossary/Dictionary-of-Old-Occupations-jobs-beginning-C5.html Accessed 4th September 2019.
[8]  Humphries (1995) argues that as a result, the 1841 census probably displays a gross under-remuneration of women workers (page 91).
[9] Starchers worked on machines for saturating cloth with hot starch, prior to the cloth going through an ironing machine.
[10] From 'The Staple Trade of Dundee'. From The 19th Century History of Dundee reproduced by FDCA. See https://www.fdca.org.uk/Staple_Trade.html, Accessed 1st October 2019.
[11] 'Women's Work and Wages in Dundee', Dundee Year Book for 1903, page 154, repeated in Wainwright (2002) page 188.
[12] Interview with Lily, former power loom weaver at the Verdant Works, Dundee, on 21st September 2019.
[13] Although the 1847 Factory Act had restricted the working hours of women and young persons (aged 13-18) in textile mills to 10 hours a day, it was not until 1850 that subsequent legislation established a legal working day, and this affected all workers.