This is the sixth in a series of blog posts about my forebears, George Robertson Nicoll and Sarah Baird, who travelled from Dundee with their infant son in 1848 as assisted migrants to make new lives in New South Wales (NSW). The blog asks three questions:
What was an 'assisted migrant'?
What does George and Sarah's story have to tell us about Australian immigration?
More broadly, what does this have to tell us about economic migration today?
In answering these questions, I will draw on different sources of evidence: contemporary records from New South Wales, research studies on Australian immigration and, of course, my ancestor's own journal and book (both are referenced at the end). I hope to show that the familiar binary – immigration/asylum, 'bad' economic migrant/'good' asylum seeker – what Anderson calls 'us and them' – is not only untenable in practical terms but unhelpful in political and economic terms too.
The assisted migration scheme
The term 'assisted immigrant' refers to those people whose passage to NSW was subsidised or paid for through one of the assisted immigration schemes that operated between 1837 and 1871;[i] many years later in 1945 a similar scheme was put in place, when adult migrants were charged £10 for their fares (they were called 'Ten Pound Poms').
To understand why these schemes were thought to be necessary, we need to look further back, to the establishment of NSW as a penal colony in 1788 – notwithstanding the existence of indigenous Aboriginal people for at least 40,000 years before this. Between 1788 and 1842, 80,000 convicts were transported to NSW: 85% men and 15% women.[ii] As a result, the majority of white inhabitants of the colony (which, at this time, included what later became Queensland, Victoria, South Australia and Tasmania) were, for many years, either convicts or former convicts, guards or soldiers. While there were also small (and growing) numbers of unassisted migrants ('free settlers' who were wealthy enough to pay for their own transport to the new world, and who tended to be either farmers, clergymen or work for the colonial administration), most voluntary emigration from the UK up to the 1840's had been to the United States, because the distances were much less and hence the passage much cheaper. The discovery of gold in NSW in 1851 exacerbated the problem of population imbalance in NSW, with an influx of huge numbers of single men. Within ten years, the population of Australia doubled, and gold fever was blamed for family breakdown, lawlessness and general disorder.[iii]
Assisted migration was introduced, in consequence, as a deliberate strategy of population management; its purpose was to rectify the gender and the social imbalance of the colony, by bringing in women and children and hard-working, non-drinking, God-fearing men who were neither convicts nor gold diggers.[iv]  What began as a British Government-sponsored activity was later handed over in 1840 to the newly-created Colonial Land and Emigration Commission; commissioners acted as agents for the colonial governments which sold land and used the proceeds to assist passages to Australia, as well as to New Zealand and the Cape (Macintyre, 2009).
George and Sarah's story
George Robertson Nicoll and Sarah Baird were married in Dundee on 17th August 1846. He was a 21 year-old blockmaker (ship's carpenter); she was a 23 year-old linen power loom weaver. Life was not easy for them. George had been forced to leave Perth in 1842 when his father's blockmaking business contracted, and he had subsequently worked for his brothers in the Dundee Iron Company before their partnership collapsed in 1846. He tried working for himself, but didn't enjoy being in competition with his father. Meanwhile, Sarah worked for long hours in an incredibly noisy, unhealthy flax mill; the Ten Hours Act that restricted women (and children's) work to ten hours a day was not passed until 1848. Sarah had a child in May 1847, and George struggled to make enough money to support his young family.
In his journal, George tells us that what made up his mind to apply for assisted passage to NSW was a story in the Chambers's Journal, written by Dr Lang;[v] George was a devout Presbyterian and would have been taken Dr Lang's account of life in the colony seriously. He says he was 'smitten with a desire to go there and try my fortune, as it was described as a land flowing with milk and honey' (page 33). In truth, it is likely that George had been thinking about emigration for some time. In the 1830's and 40's, emigration stories were common-place, in newspapers and in books; there were advertisements for emigration on billboards on the sides of city-centre buildings, and when the Dundee Iron Company was dissolved, the story immediately next to this in the Dundee Courier and Argus on 1st September 1846 was an advertisement for assisted passages to NSW. The first Scottish ship with a full complement of emigrants, the John Barry, had sailed from Dundee in 1837 with a cargo of 323 specially-selected shepherds and farmers, masons, joiners and engineers. Over the next three years, more than 5000 emigrants travelled to NSW from Dundee (Macmillan, 1967: 275).
By the time George and Sarah decided to 'try their fortune', Dundee sailings of emigrant ships had ended, and they were forced to leave from London. First they had to apply to the emigration agents, supplying references from clergymen and magistrates, and paying a fee of £1 each.[vi]  Then two months later, they had to take a paddle steamer to Leith, where they met up with the rest of the Scottish contingent before travelling, again, by steamer, to London. This journey took three weeks. In London, they underwent health and paper checks, while waiting for a week at the Emigration Depot at Deptford for their ship to be ready to sail.  In his journal, George admits that he and Sarah had serious second thoughts at this time about whether the decision to leave was the right one; they were confronted with 'a perfect babel of tongues and noise by people from all parts of Britain, Welsh, Irish, Scotch, Cornish, English, Highlanders etc.' (page 34).
George begins the book about his travels with the following words:
'We left London on March 17th 1848, in the good ship Royal Saxon, a 700-ton vessel with three hundred passengers. Called at Plymouth on our way, took in some stores etc., passed the Eddystone Lighthouse with a fair wind, all in good spirits and in hopes of a pleasant passage to our new home in the Antipodes' (page 1).

This is adapted from a larger image of The Duke of Lancaster merchant ship in 1842, with the Royal Saxon (pictured here) off her starboard bow. The image appears on the website http://www.australianbrickhills.com/412022519
The Royal Saxon landed at Port Jackson near Sydney on 19th July 1848. The journey, on a three-masted sailing ship, had covered over 13,000 nautical miles and taken four months and two days. It had seen fair weather and foul, calm and storm, as well as the flogging of seamen and a ship's carpenter placed in irons for refusing to work on a Sunday. It had also seen the births of eight children, three of whom had died, and the deaths of two adults: a young Glasgow passenger, Samuel White, who had been travelling with his family, and the ship's surgeon, George Grant, another Scotsman. When the ship finally anchored off Farm Cove, and the health checks had been completed, the passengers disembarked and went off 'to their friends, some to the up-country parts and some settling in the city' (page 3).
Remarkably, there are detailed records of the passengers on this and other migrant ships, providing information about the name, age, gender, occupation, birthplace and county, religion and literacy of passengers (this is expressed in the final column of the ship's log as 'read, write or both').[vii] (This was particularly the case for assisted migrants; records for unassisted migrants are much more patchy, because there was no government insistence that ship-masters kept such records.)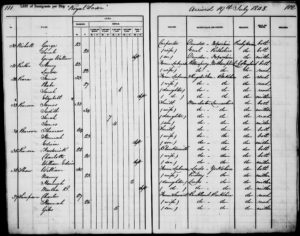 There is also additional information available in a supplement in the Government Gazette,[viii] reported in the local press so that potential employers would know who to look out for:
| | | |
| --- | --- | --- |
| Males | Married | Unmarried |
| Smiths | 41 | 1 |
| Agricultural labourers | 26 | 35 |
| Ploughmen and labourers | 6 | 2 |
| Shepherds | 2 | 3 |
| Carpenters | 2 | 0 |
| Coopers | 0 | 1 |
| House-painter | 1 | 0 |
| Harness-maker | 1 | 0 |
| Total | 79 | 42 |
| Females | Married | Unmarried |
| Cooks | | 1 |
| House-maids | | 17 |
| Nursery-maids | | 7 |
| General housekeepers | | 16 |
| Dairy women | | 3 |
| Total | 79 | 44 |
What this shows is that there were almost equal numbers of women and men on the Royal Saxon, clearly demonstrating the colony's desire to redress the gender imbalance. Nearly all of the women passengers who were travelling alone had been in domestic service, working as servants, cooks and maids. The greatest majority of the male passengers, whether travelling alone or in families, had been farm labourers; only a handful were bricklayers, tailors, stablemen, coopers, or, like George, carpenters. Oxley and Richards (1995) point out that domestic servants and agricultural labourers were exactly what NSW needed at this time. Unsurprisingly given that the Royal Saxon left from London, the greatest number of passengers were from England: 58%, as compared with 30% Irish and only 12% Scots. The 28 Scots had come from across Scotland: Dundee and Errol (George, Sarah and infant George Wallace), Glasgow and Dumfries-shire, and the Highlands and Islands, with one Scottish family having travelled from as far away as Shetland. The Scots passengers were overwhelmingly Protestant (including a family of Baptists and another of Wesleyans), and all could read and write, with the exception of one Catholic woman aged 25 years from Glasgow who was said to 'read only'. Most of the Irish people were Catholics, and few could both read and write.
We don't know what happened to the 241 people on the Royal Saxon. A reasonable number will have made a success of their lives, but for a considerable number, life in the new world may have been little better than the poverty they had left behind. Some will have returned home, and return migration will be a topic of a future blog. Few, like George, will have kept journals and published written accounts of their experiences; the next blog will explore the absence of women's emigration stories.
Lessons to be learned
What comes across loud and clear from George and Sarah's story is that they, like their fellow passengers, had a range of reasons for finding themselves on board the Royal Saxon, and that these reasons were not simply individual ones. When we think about economic migration today, we often do so assuming that the migrants at the centre are self-actualising individuals who are capable of rational choice, who weigh up competing factors and make deliberate choices that are theirs and theirs alone. But many of those on the Royal Saxon were not self-interested actors: they were desperate people fleeing famine and destitution in Ireland and in the Highlands (and indeed Lowlands) of Scotland, as land reform had uprooted families and individuals and traditional systems of support had broken down. For their part, George and Sarah left Dundee because they felt they had little to lose; their journey to the new world can be understood as the next stage on a journey that had begun much earlier, as their fathers and grandfathers had moved from the countryside of Perthshire and Angus into the city of Dundee in search of work. They were, in that sense, the next generation to experience the incremental impact of the agrarian and industrial revolutions.
This is important, because it forces us to think differently about economic migrants today, by placing social, economic and political considerations alongside personal and individual ones. It also challenges the idea that we can easily separate out 'us and them' (Anderson, 2013): that is, 'good' asylum seekers from 'bad' economic migrants; 'innocent' victims of people traffickers from 'corrupt' people who give money to people smugglers. On the contrary, all need to be understood as people on the move. As the Word Migration Report (2018) states:
'Migration […] encompasses a wide variety of movements and situations involving people of all walks of life and backgrounds. More than ever before, migration touches all States and people in an era of deepening globalization. Migration is intertwined with geopolitics, trade and cultural exchange, and provides opportunities for States, businesses and communities to benefit enormously. Migration has helped improve people's lives in both origin and destination countries and has offered opportunities for millions of people worldwide to forge safe and meaningful lives abroad. Not all migration occurs in positive circumstances, however. We have in recent years seen an increase in migration and displacement occurring due to conflict, persecution, environmental degradation and change, and a profound lack of human security and opportunity' (page 1).[ix]
Viviene Cree
25th September 2019
Primary Sources
Nicoll, George Robertson (1890). The Life and Adventures of Mr George Robertson Nicoll, unpublished journal.
Nicoll, George Robertson (1899.) Fifty Years' Travels in Australia, China, Japan, America Etc. London: self-published.
 References
Anderson, Bridget (2013). Us and Them? The Dangerous Politics of Immigration Control. Oxford: Oxford University Press.
Macintyre, Stuart (2009). A Concise History of Australia. 3rd edition. Cambridge: Cambridge University Press.
Macmillan, David S. (1967). Scotland and Australia 1788-1850. Emigration, Commerce and Investment. Oxford: Clarendon Press.
Oxley, Deborah and Richards, Eric (1995). Convict women and assisted female immigrants compared, 1841 – a turning point? In Richards, Eric (ed.) Visible Women. Female immigrants in Colonial Australia, Visible Immigrants: Four. Canberra: Centre for Immigration and Multicultural Studies, Australian National University: 1—58.
Endnotes
[i] https://www.records.nsw.gov.au/archives/collections-and-research/guides-and-indexes/assisted-immigrants-index/ Accessed 12th September 2019.
[ii] https://www.records.nsw.gov.au › archives › guides-and-indexes › convicts/ Accessed 14th September 2019.
[iii] https://www.historytoday.com/archive/months-past/australian-gold-rush-begins/ Accessed 25th September 2019.
[iv] http://www.historic-shipping.co.uk/Emigration/theemigrationdepot.html/ Accessed 12th August 2019.
[v] Rev. John Dunmore Lang arrived on the Andromeda in May 1823. He was the colony's first Presbyterian Minister and served as a Member of Parliament.
[vi] Oxley and Richards (1995) point out that while shippers were paid a bounty for the immigrants they delivered to the colony, they were allowed to charge the immigrants for their journeys.
[vii] http://indexes.records.nsw.gov.au/ebook/list.aspx?Page=NRS5316/4_4786/Royal%20Saxon_19%20Jul%201848/4_478600061.jpg&No=8. Accessed 12th September 2019.
[viii] Sydney Morning Herald, Thursday 20th July 1848 page 2.
[ix] International Organization for Migration (IOM) (2018). Word Migration Report 2018, https://publications.iom.int/system/files/pdf/wmr_2018_en.pdf Accessed 25th September 2019.
(https://www.google.com/url?sa=i&rct=j&q=&esrc=s&source=images&cd=&cad=rja&uact=8&ved=2ahUKEwii18DukenhAhUB3xoKHX5yDBoQjhx6BAgBEAM&url=http%3A%2F%2Fwww.australianbrickhills.com%2F412022519&psig=AOvVaw26SifkSXOWBRJUUQuq_HGB&ust=1556209384029225)