Reading Time:
3
minutes
Embedding Digital Citizenship into the University Community
Tomorrow, 11 February, is Safer Internet Day and here at the University of Edinburgh, the Digital Skills and Training team are launching #DigitalCitizen: an online campaign aimed at raising awareness about digital safety and the responsible use of technology. It is my hope that this campaign will start a conversation about how we can use the tenets of digital citizenship to support one another and strengthen our University community.
Since I started researching digital safety last November, it's become increasingly apparent that while we live in a digital age and are expected to interact with a number of different technologies on a day-to-day basis, we don't always stop and think about the implications of this kind of engagement. It also occurs to me that I was never actively taught to do this at University.
Maybe because I did three degrees in English Literature, I never really had to interrogate my own relationship with digital engagement. Due in no small part to my current job, however, I now find myself thinking constantly about digital safety. Every time I sit down to Tweet something, I stop and think about what kind of engagement I'm inviting. Twitter is, after all, much more than a platform through which to voice my complaints as a frustrated commuter, which is how I used it for many years before discovering the joys (and woes) of Academic Twitter. I have also, unfortunately, witnessed a lot of what I would term online harassment, trolling and cyberbullying happening on Twitter in recent months, even in supposedly well regarded academic spaces. It's this kind of behaviour that I don't want to see normalised — and this is partly why I think the #DigitalCitizen campaign is so important.
I know that a lot of university students out there feel under-supported when it comes to their digital safety. I've heard numerous stories about people who have been the victims of social engineering, online fraud, phishing scams and malware, and I know there are many out there who have had to contend with the dark side of social media, the side where people resort to personal attacks that often threaten not only someone's reputation but also their physical safety. I hope that the #DigitalCitizen campaign will at least point students towards some helpful resources with which they can troubleshoot these issues. More importantly, however, I hope that this campaign will go some way towards embedding a sense of digital citizenship that will inform the ways in which our students engage with technology throughout their time at the University and beyond. 
Creating a safer online community for everyone
Digital safety is, I believe, very much an equality, diversity and inclusion issue. It should come as no surprise that instances of online abuse disproportionately affect those with protected characteristics. Furthermore, as a University that prides itself on its diverse and international student body, we cannot assume that everyone will start their journeys here with the same baseline knowledge of digital safety. Educating our students — and our staff — about the various digital threats they might encounter and embedding a sense of digital citizenship and civility thus becomes paramount. 
Beyond updating our own devices and checking our own privacy settings, however, I'd like to see all members of the University of Edinburgh community looking out for one another. Just as it's important to challenge unconscious bias when we encounter this in our face-to-face interactions, we can support our friends, classmates and colleagues online, too. After all, treating each other with dignity and respect doesn't just apply to physical spaces.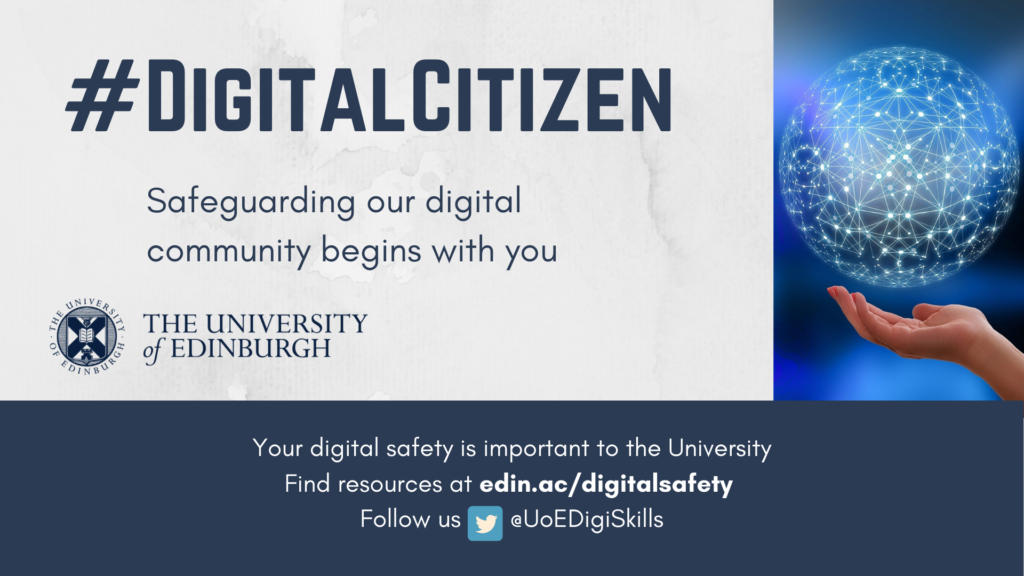 Help support our #DigitalCitizen campaign
Please help us spread the word about our campaign by retweeting messages posted from the @UoEDigiSkills account from Tuesday, 11 February onwards. All campaign Tweets will use the hashtag #DigitalCitizen and reshares on other social media accounts (i.e. Facebook and Instagram) are also most welcome. Please also help us spread the word about our new Digital Safety and Citizenship Webpages. 
I know there's still so much more work left to be done, but I want our students to know: we hear your concerns and we're working on making our online spaces safer for our diverse community members. Over the coming months, we'll be running a series of focus groups, workshops and events aimed at addressing digital safety and furthering ideas of digital citizenship within our community. Please come along to these and join the conversation on social media by using the hashtag #DigitalCitizen. Let's all work together to create an online community that leaves no one behind.
Share