Reading Time:
3
minutes
Highlighting women's experiences online
To mark International Women's Day (8 March) 2021, the Digital Skills team have created a Resource List (no login required, also available as a PDF download: IWD 2021 Reading List) comprising books, articles and essays seeking to empower women in the digital age and shed light on women's online experiences. Over the past year, the Covid-19 pandemic has exposed the heavily gendered nature of online abuse and harassment. The texts included on this list illustrate this year's IWD theme #ChoosetoChallenge while drawing attention to online equity.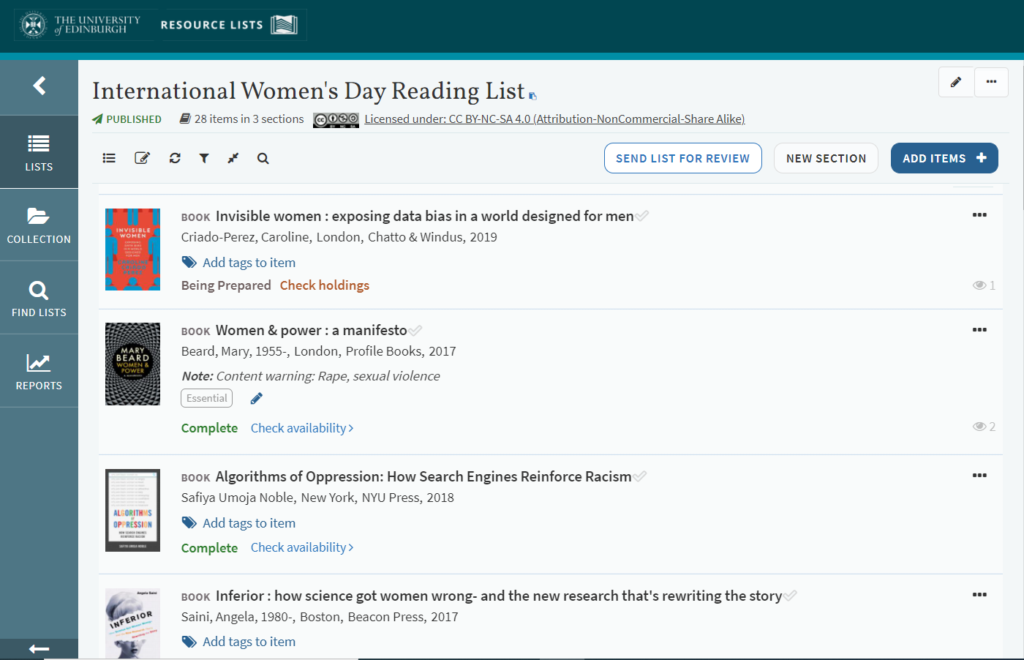 The fact that I felt it necessary to include a content warning for sexism, racism, and violence should tell you enough about the kinds of abuse women experience online. As a woman of colour working on digital wellbeing in higher education, the topic of online harassment is one of particular concern for me.
I've witnessed countless friends and colleagues suffer online abuse on social media and seen first-hand how marginalised identities have endured trolling, cyberbullying, dogpiling, cyber mob attacks, hate speech and Zoombombing, just to name a few widespread internet phenomena. It's also been particularly distressing to see abuse targeted towards multiple aspects of a woman's identity (e.g. racism, transphobia, etc.). Gendered online harassment has also been covered extensively in recent news, including attacks on female politicians, journalists, public figures like Meghan Markle, and young people.
It is my hope that this crowd-sourced Resource List might be used as a learning resource for those wishing to learn more about gendered online harassment and how we as a community might come together to take back some power and support our most vulnerable. Though, it should be pointed out that this list isn't perfect. Comparatively, online harassment is still a relatively new phenomenon, despite being widespread. Research is still in its early stages and scholars are continually finding more inclusive and intersectional ways to address this topic.
Where to start
At 28 items, I realise the Resource List might be overwhelming for some so I've broken down the texts into three categories: Books & Book Chapters, Journal Articles, and Web Articles & Publications. A colleague asked if there were any particular texts that stood out to me as I was compiling the list and I do think that there a few that offer a way into what can be an extremely taxing and triggering topic. PEN America's Online Harassment Field Manual and Victoria Vilk's article "You're Not Powerless in the Face of Online Harassment" are texts that I've found particularly helpful. If, like me, you also struggle with longer texts, I would also draw your attention to two chapters in Jacqueline Ryan Vickery and Tracy Everbach's edited collection Mediating Misogyny: Gender, Technology and Harassment: "Limitations of 'Just Gender': The Need for an Intersectional Reframing of Online Harassment Discourse and Research" and "Mediated Misogynoir: Intersecting Race and Gender in Online Harassment." These were two of the first texts I read on the subject of gendered online harassment and I found them extremely enlightening. 
Members of our University community might also want to check out the Empower Project, an Edinburgh-based charity supporting communities to end gender based violence and leads numerous workshops on the topic of tech abuse and online harassment.
#ChoosetoChallenge
As this year's International Women's Day theme is #ChoosetoChallenge, it is my hope that our community will challenge those who seek to put women down, both online and off, and rally together to support women, as the University's Womxn of Colour Network, BAME Staff Network and the Edinburgh Race Equality Network (EREN) have done following the abhorrent racist online attacks against our new Lord Rector, Debora Kayembe.
The Womxn of Colour Network, @UoEBAME, & @UoEREN would like to share this statement of support and solidarity for our Lord Rector, @DKAYEMBE, following the abhorrent online racist abuse recently reported in the media.
We are honoured to have Debora as Lord Rector @EdinburghUni. pic.twitter.com/AY0PcnmtDD

— Staff BAME Network (@UoEBAME) March 3, 2021
Happy International Women's Day, all, and keep fighting the good fight!
Share