Reading Time:
8
minutes
what can we learn from techno-thrillers like Black Mirror and You?

"Nosedive," Black Mirror, Netflix (image via Giphy)
Popular media often paints an alarming picture of digital technology. Shows such as Black Mirror (2011-present) and Westworld (2016-present) have become synonymous with a dystopian vision of automation run amok in a world where artificial intelligence has outpaced human control. USA Network's Mr. Robot (2015-2019), meanwhile, raises several interesting questions about the ethics of hacking and surveillance while highlighting economic inequalities produced through capitalism. Recently, Netflix's You (2018-present) tapped into anxieties concerning the dark side of social media ahead of its season two premiere by teasing, "Set your accounts to private. Joe's back" on the show's Twitter profile. More and more, it seems, popular cultural texts are choosing to emphasise the negative consequences of an increasingly interconnected world, resulting in the rise of a new subgenre of fiction that I like to refer to as the "technogothic."
Of course, portraying the flipside of technological innovation is nothing new. Humans have arguably always maintained an uneasy relationship with modern technology, highlighted through early science fiction texts such as Mary Shelley's Frankenstein (1818) and H.G. Wells's The Time Machine (1895). Rod Serling's original Twilight Zone (1959-1964) series and ABC's science fiction series The Outer Limits (1963-1965), both ostensibly products of mid-century American anxieties concerning atomic war and "foreign" enemies, have also proved eerily prescient in their depictions of robotic advancements and the dread these developing technologies generate for mankind.
a black mirror to the real world
As a spiritual successor to The Twilight Zone, Black Mirror, which creator Charlie Brooker describes as speaking directly to "the way we live now — and the way we might be living in 10 minutes' time if we're clumsy," evokes precisely this sense of dread. Considering a "black mirror," in the most traditionally gothic sense, refers not to the multiple darkened screens that surround us on a daily basis, but to a reflective black surface used in the practice of scrying to divine what is yet to come, Black Mirror predicts a dark future indeed: a dystopian eventuality in which our use of technology has resulted in dire consequences for human relationships and personal wellbeing.
A profound sense of pessimism underlies most entries in Brooker's anthology series (see season 3's standout episode "San Junipero" for a notable counterexample to this current), suggesting that even if these visions are a product of dark fantasy, humanity's current relationship with technology remains rooted in mistrust. Given the sheer number of episodes that revolve around the dangers of social media use (see episode 1.1 "The National Anthem," 3.1 "Nosedive," 3.6 "Hated in the Nation" and 5.2 "Smithereens"), you'd be forgiven for getting scared off Twitter and Instagram forever.

"Hated in the Nation," copyright Netflix (image via Giphy)
Hated in the Nation
"Hated in the Nation," in particular, underscores the dangers of cyber mob mentality, in which "a large group…comes together to collectively shame, harass, or discredit a target" (Sarkeesian). The episode depicts a scenario in which public figures are selected for execution via the Twitter hashtag "#DeathTo" after posting offensive comments online; in a final twist (spoiler alert!), every single person who utilised the hashtag is then murdered via tiny drones. Partially inspired by Jon Ronson's nonfictional book So You've Been Publicly Shamed (2015), "Hated in the Nation" lambastes the notion of putting people on trial through social media and alerts viewers to the consequences of online shaming.
While such popular cultural texts appear to exaggerate the effects of modern technologies for the sake of entertainment, however, the Internet does often prove to be a harsh and frightening space in the real world, particularly for marginalised groups. In So You've Been Publicly Shamed, Ronson specifically points to Jonah Lehrer, Justine Sacco, and Lindsey Stone as examples of people whose lives have been irreparably damaged through online shaming culture. People on the Internet collectively decided that these individuals had each acted in ways or posted things online that were punishable and went after them in droves. As a result, they lost work and credibility. When you google any of these names now, what you find is a chronicle of the exact moment their reputations were destroyed.
But what of the people who passed this sentence? Sure, people should be called out for bad behaviour, but what happens when members of the public take it upon themselves to flip the executioners' switch for moral infractions? Did Lehrer, Sacco and Stone deserve the deluge of harassment that followed? While tiny drones programmed to murder people may be a thing of fiction, mob mentality and cyber bullying certainly aren't, and having your personal details doxxed and your physical safety threatened is, as Ronson suggests, "profoundly traumatising." I guess the lesson here is thus twofold: think twice before you post things online, and think twice before you go after someone for posting something stupid online.

You, Netflix (image via Giphy)
"Hello, You"
While "Hated in the Nation" centres on digital citizenship and Internet groupthink, Netflix's stalker series You offers a more intimate take on social media's role in the conflation of public and private domains. While the show has been criticised for victim-blaming and romanticising abusive relationships, among other problematic issues, it nonetheless offers a few insights into digital safety concerns that are worth considering.
The most obvious point is just how easily the show's central character, Joe Goldberg (Penn Badgley), a Bluebeardian serial killer who has still somehow managed to accrue a huge social media fanbase, cyberstalks his object of obsession, Guinevere Beck (Elizabeth Lail). In the show's pilot, Joe meets Beck in the bookshop where he works and becomes instantly smitten. Armed with only her first and last name, he proceeds to Google her, claiming, "A guy has to protect himself. I had to be sure you were safe," invoking #metoo era concerns in a most disquieting way. "And there you were!" Joe exclaims, his search triumphant, "Every account set to public! You want to be seen." This is perhaps a point where the show creeps into victim-blaming territory: just because your social media accounts are public does not mean you are inviting people to stalk you online. But the ease with which Joe is able to find out exactly where Beck lives through a reverse-image search ("The next thing our little friend the Internet gave me was your address") highlights an important point about how much personal information we give away willingly over platforms like Instagram.
You, Netflix (image via Giphy)
It's not hard to believe that a determined stranger could find out exactly where you lived and pose a threat to your physical safety. In fact, they wouldn't even have to try that hard. In a recent workshop on digital identity and wellbeing that I attended, another participant and I were tasked with investigating each other's digital footprints and we were able to find out a lot about each other from just our names. She was able to dig up my husband's name, where and when we'd gotten married, and which city my parents lived in. I found where she gets her hair cut, her home address and the names of everyone else in her household. We had less than ten minutes, so imagine what someone could find out with a little more time and effort?
None of this is to say that your Instagram has to be set to private. What it does indicate, however, is that we could all probably stand to be a little more cautious about what we post online. For example, posting a photo of your keys is just about the most dangerous thing you can do on social media, yet I see smart, respectable people doing this all the time. For those that don't know, there are apps out there that allow you to copy a set of keys just from a photograph. In You, Joe Goldberg had to result to more nefarious means to break into Beck's apartment, but if someone can find your address on 192.com and they can make a copy of your keys, it would be almost too easy for them to gain access to your residence. Better to err on the side of caution, anyway.

You, Netflix (image via Giphy)
So "You're not on the socials…"
Series two of You sees Joe moving to L.A. to turn over a "new leaf," if you can believe that. Having stolen the identity of a man named Will Bettelheim, he ends up renting an apartment from investigative reporter Delilah Alves, who immediately notes, "Your credit came back sparkling, Will, but I looked you up—you're not on the socials. Thought you might be some kind of freak." While Joe's lack of social media presence here is clearly linked to his desire to bury his true identity, Delilah's reaction to it is telling: indeed, modern society exerts a lot of pressure on individuals, and especially young people, to be online.
Again, that's not say that you need to be on social media if you don't want to be on social media, but Delilah inadvertently raises another issue that relates to online identity: whether you're conscious of it or not, you'll likely have some kind of digital footprint already, even if you're not "on the socials," as Joe finds out later in the series when (spoilers again!) his ex-girlfriend, Candace, tracks him down to L.A. after a celebrity gossip website posts a video that inadvertently captures Joe in the background. While I hope that few people are actually trying to avoid an ex-girlfriend they once tried to murder, this situation does have implications for the real world, especially in situations where someone's identity might be under protection. Joe's complete lack of an online presence as Will also means it's a miracle he was interviewing for a job under TV-land rules, since apparently 77% of employers will Google a candidate to see what they find before hiring. Given that statistic, it's important to at least consider taking ownership of your digital footprint, which doesn't even have to entail posting any photos of yourself.
As in the case of Joe's season two obsession, Love Quinn, you have the power to set your social media channels to private. You also have the option of posting photos of your work (in Love's case, the mouth-watering dishes she creates) on your Facebook page instead of photos of yourself or the people you know. It's worth noting, too, that Love's privacy settings made it a lot harder for Joe to cyberstalk her, although, as previously noted, your digital footprint isn't just made up of what you post, but also what others post about you.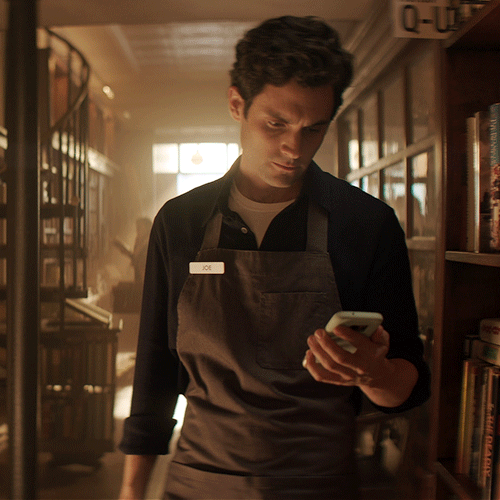 You, Netflix (image via Giphy)
Closing Thoughts
The two examples mentioned above form just the tip of the iceberg when it comes to the vast amount of technogothic pop culture texts currently in circulation. The last ten years have seen several films, television shows and novels that tackle similar concerns to varying degrees of success. Off the top of my head, Disconnect (2012), The Den (2013), Unfriended (2014), Friend Request (2016), The Circle (2017) have all touched upon issues such as online shaming, loss of privacy, and cyberbullying and harassment. While such texts paint a bleak picture of our relationship with the Internet and social media, in particular, it's important that we take the lessons they offer into consideration so that our own future might be brighter.
Share