Group 4 👗✨
This is our first group blog post for Textiles 2C.
This will be a place for us to share ideas and work to collaborate over the duration of the course.
My name is Emily, I am a second year Textile design Student, studying at the ECA for the last year. I have moved from Devon up to Edinburgh for University to study Textiles, but also love living here as it is such a great city and obviously for the fantastic sport at the uni. I am really excited to start the new academic year, albeit from home.
Mostly I am wearing something comfy for lectures or my pyjamas. It depends entirely on the plans for the day, which recently have been pretty bare. This morning I also had my porridge ready to go!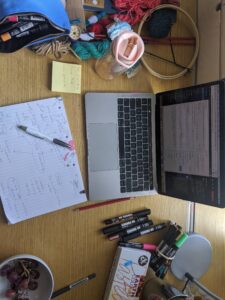 Personally, I take a lot of inspiration from the designer Iris Van Herpen. I love how she uses alternative materials and unconventional methods to produce her garments.  Her designs are unusual and sometimes unnerving, but overall I really appreciate her adventurous stance within Textiles and Fashion.
https://www.irisvanherpen.com/haute-couture/wilderness-embodied
My favourite thing about Textiles at the moment is using disperse dye colour as well as the illustrative aspect to print. I love illustration and drawing to create meaningful textiles, however I am really looking forward to experimenting with the more tactile elements of Textiles this Semester in Project 1, and developing my skills in knit, weave and stitch. I also have been researching a lot about botanical inks recently and sustainable fibres, mordants and modifiers. This is something I would personally like to continue to develop as well as trying to include this in my Textile Work.
I remember last year hating the smell of some of the binders from my elective course, Tools of the Trade. I think it was the smell of Indalca binder? I have definently spelt that wrong! But it smelt like old seaweed so that would have to be something within Textiles that I wasn't keen on. Apart from that though the Tools of the Trade course was brill!
My name is Ashleigh Barnes, I'm from Glasgow and have progressed from a HND in Textiles at Glasgow Clyde College to 2nd year Textiles at Edinburgh College of Art. I'm looking forward to new experiences and exploring textile design further.
I mostly wear my pyjamas when studying from home but occasionally get up and wear comfy clothes like joggies, it all is depending on what day it is.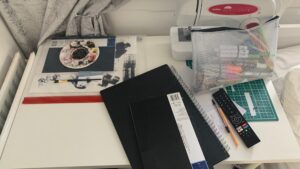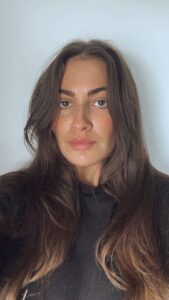 Nick Cave is one of my favourite textile artists. After attending his most recent exhibition "UNTIL" at tramway in Glasgow, I felt his use of unorthodox materials created such expressive pieces. His work inspired me to be more expressive in developing my own textile designs.
https://www.tramway.org/events/pages/event-details.aspx?event=1/nick-cave-until&fbclid=IwAR3tUPjqYvo9hhoatB-uAcT_EbHPrN_V9h1GwJuFe5g-92kfAogHn_-rrNE
My favourite thing in Textiles is printing, I enjoy working with the variety of printing techniques and developing my own repeats and designs. My least favourite thing about Textiles is recording my process into a sketchbook. I feel it can be difficult to always put my thought process down on paper in a way that would make sense
Hi everyone, I am Vanessa from Hong Kong. I'm a second year product design student and I'm taking Textiles as one of my electives. Personally, I love crafting and hand making stuff. I think this course allows to explore different techniques in textile and also learning more about different kinds of materials as well as how it's used.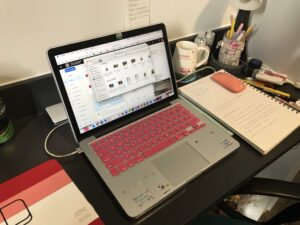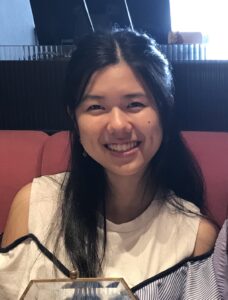 I've got inspiration from Sheena Liam, who does embroidery art pieces. Her artwork are often done in single colour and simple looking, yet she has great skills in embroidering the details, especially different hairstyles in each of her pieces and making them 3D. She also express women's strength in her work.
What I like about textiles is that it is not only about making clothes or designing for fashion. As a product student, I am interested in how the product is formed and what materials it's made from. There are also a lot of knitting, sewing and embroidering methods that I would like to explore in this course.