Sophie millan intro!!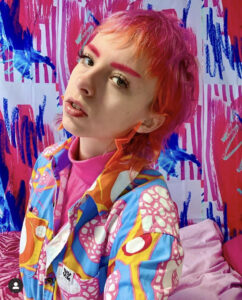 Hiya! im Sophie Millan a textile student at Eca!! The picture above is me in my flat that is covered head to toe in my own print! The picture explains me really well, I usually am dressed in full print, bright hair and always colourful. I am a HND textile design graduate from Glasgow Clyde college, this is were I found my love for textile design.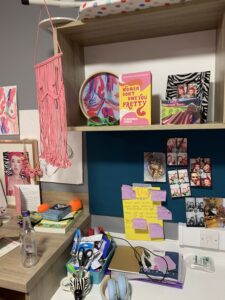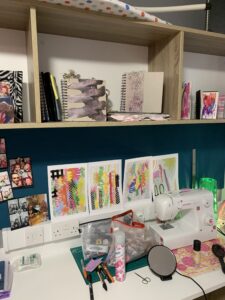 Currently my workspace is an explosion of notes and inspiration. I feel its essential to surround myself with inspiration not just with print but macrame and sketchbooks also. I am a super erratic worker meaning everything is usually everywhere, but I like to call it an organised mess.
My favourite textile has to be some of Elizabeth Whibleys work! she has been a massive inspiration to me. Her work embodies personality, super bright colours and its super authentic. Elizabeth looks at maximalism in print, choosing to layer different prints on top of each other. She has been a huge inspiration for a number of years now and I would love to create fun, sassy and interesting prints like her! below is her modelling her prints in her collection.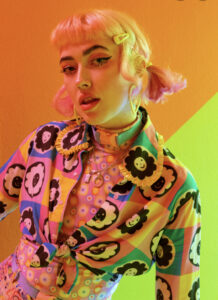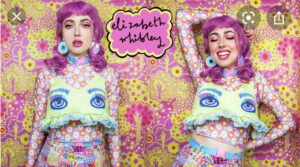 For my tactile fear it has to be acrylic wool, I'm not a fan of the texture, its scratchy and just horrible!
When doing textiles at home I'm either in my jammies or in a cow print outfit with a bright pink turtle neck, theres really no in between. I find being in an outfit boosts my motivation and allows me to feel inspired meaning it positively influences my work!! So I try be in full print when I can!!