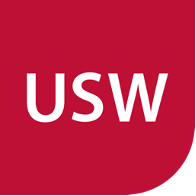 We are delighted to announce that a total of £4,418 has been awarded to Rob Wilks by the University of South Wales' Faculty of Creative Industries Early Career Researchers Pump Prime Funding scheme, which aims to support faculty researchers across career stages and across a range of the Faculty's (inter)disciplinary areas.  The funds will cover the costs for phase 2 of the Deaf Education in Scotland and Wales research project: Deaf Education and the British Sign Language (Scotland) Act 2015: comparisons with the Welsh approach.
In November 2021, Rachel O'Neill and Rob Wilks published the first independent impact study of the BSL (Scotland) Act, The impact of the British Sign Language (Scotland) Act 2015 on deaf education, to act as a discussion point for parents, teachers, organisations and deaf young people themselves about what changes the Act has so far made in relation to their education.  The report made 14 recommendations for key stakeholders involved in the implementation of the Act including a public debate regarding language acquisition and binary attitudes, engagement with families of deaf children and young deaf people, transparency in relation to the funding of third sector organisations, an increase in the availability of BSL courses and an improvement in providing BSL content on websites.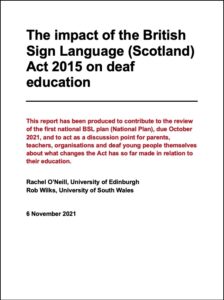 A number of themes were identified that require further examination during the production of this report:
The conceptualisation of BSL as a language;
The extent to which attitudes towards deaf children as being either 'BSL pupils,' 'other deaf children' and/or disabled persist;
Internal and external factors in how the first BSL plans were drawn up; and
The role of the third sector in implementing the BSL Act and how they are funded.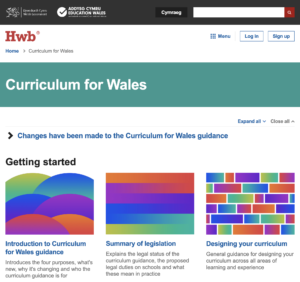 Phase 2 aims to explore these themes in further depth in order to provide more context and understanding of the issues affecting the implementation of the Act's first national BSL plan in relation to deaf education.  In the process, comparisons of the Scottish approach will be undertaken with Wales.  Of interest is the contrast between the two nations and particularly the role of the respective education systems in supporting BSL. In Scotland, the push has been to explore how hearing children can be encouraged to learn BSL (as opposed to deaf children learning BSL). In contrast, without a BSL Act in Wales, the focus has been to include BSL in the national curriculum which includes deaf children.
For the Welsh element, a literature review will initially be undertaken.  25 interviews will then be carried out with Scottish and Welsh Government civil servants, national public body representatives, council officials, college and university representatives, families of deaf children, young deaf people, Teachers of the Deaf and third sector employees.  We then plan to produce a report and a report summary translated into BSL and Welsh, which will be made available on this website.