Sharon Cant, Employer Engagement Adviser, on why Day 3 is special…
With three days of Careers Fair coming up this week, we are excited about the number and range of organisations we are welcoming onto campus.  We are sometimes asked by students which day is best to attend.  Our advice would be to try and go along each day so that you can meet as many different organisations as possible – there is a different line-up each day.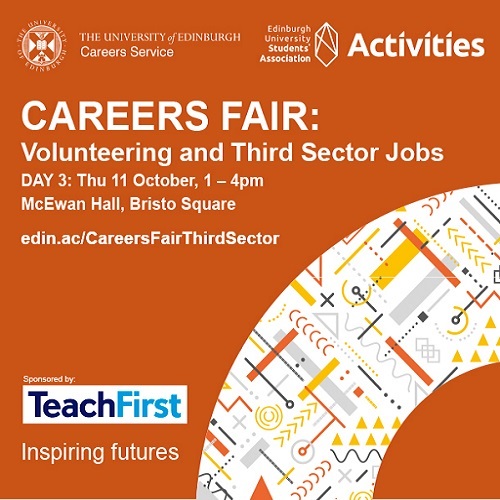 If you are planning to attend each day, you will notice that Day 3, when we have a focus on volunteering and third sector jobs, has quite a different feel.  We thought it would be useful to explain a bit about why that is.  So, what is different about Careers Fair Day 3?
There are fewer Graduate Scheme options, compared to Day 1 and Day 2.
This is simply because there are far fewer formal Graduate Schemes in the third sector.  However, we are delighted to be able to offer you the chance to meet with some of the main Graduate Scheme providers such as Cancer Research UK, Charityworks, Frontline, Teach First, Unlocked Graduates, Worthwhile and Think Ahead.
Organisations may not be actively recruiting right now
Not all of the organisations will have opportunities you can apply for now.  Some are coming to raise awareness of opportunities they may have in the future, and talk about how they normally advertise their roles so you can be better informed and have a better chance of finding these roles when they come up.
Not all organisations are recruiting for paid work
We have a mixture of organisations booked to attend – some to talk about volunteering, some to talk about paid work, and some who have opportunities in both areas.    It may seem that there is a strong emphasis on volunteering – this is because volunteering is a common feature of third sector career paths and this reflects the reality of the labour market – many organisations who are attending to talk about paid work will also talk about volunteering.  Volunteering is valuable and worthwhile in its own right, and also as a way to build towards a third sector career.
It is about promoting the third sector as a whole
Hopefully, you will find that the people you speak with at the event are strong advocates for the benefits of getting involved in the third sector.  People on the stands will generally be keen to talk to you about their own organisation and the opportunities they came to promote, but also willing to talk in more general terms about third sector careers.  Use this opportunity to ask them about their own career paths and gain some real insight and make connections that may help you in the future.
Finally, it is worth noting that Careers Fair Day 3 is a slightly shorter event, running from 1pm – 4pm on Thursday 11th October.
If you would like some support with how to get the most out of Day 3, register now for our Prepare for the Careers Fair Day 3 online session on Tuesday 9th October at 5.15pm: https://mycareerhub.ed.ac.uk/students/events/Detail/549852/prepare-for-careers-fair-day-t
Find out more about Careers Fair Day 3: Volunteering & Third Sector Jobs here: https://www.ed.ac.uk/careers/about-us/what-we-do/events/our-flagship-events/careers-fair-volunteering-third-sector-2018
Share