Thanks to Sharon Cant, Employer Engagement Adviser, for this insight.
As Careers Fair Day 3: Volunteering & Third Sector approaches, I thought it would be useful to highlight a fantastic resource produced by SCVO – the Scottish Council for Voluntary Organisations.   
Their Guide to Working and Volunteering in Scotland's Voluntary Sector is fantastic background reading for anyone planning on coming along to Day 3 of the Careers Fair. 
One of the most interesting sections for me was the breakdown of number of jobs by sector, which clearly shows how prevalent jobs are in Social Care and related areas like working with people with disabilities, housing and childcare.  We put a lot of effort into trying to attract a range of organisations to attend Careers Fair Day 3 – but this has to be balanced against where the jobs are.  So yes, you will find that we have a higher number of organisations coming to talk about roles related to social care and housing – but this is a reflection of the labour market.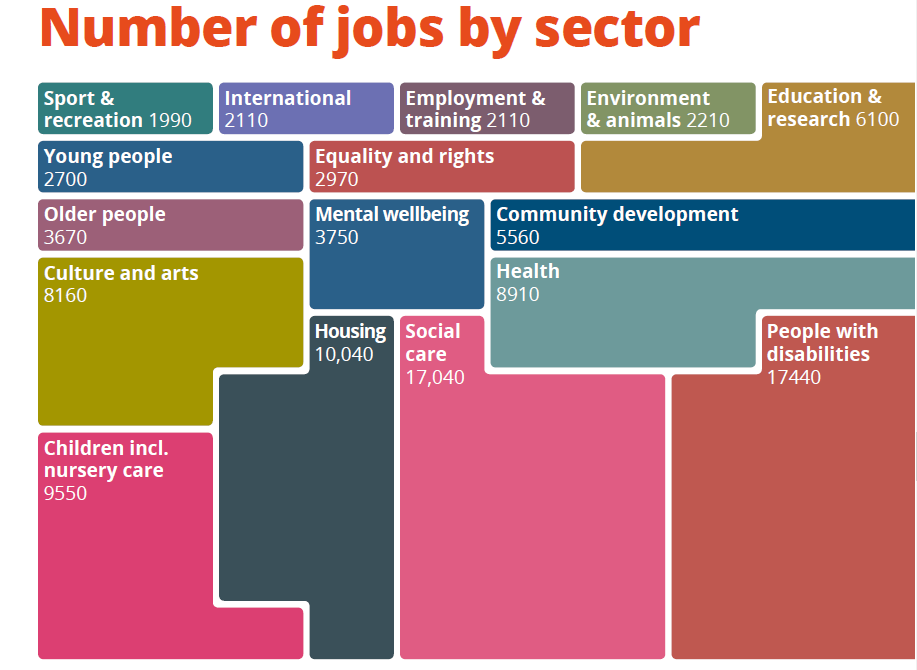 I also liked the reminder that, of course, the third sector is very much values led.  Identifying where an organisation's values and interests align with your own is a great way to approach third sector job-hunting. The section from SVCO's Guide below is useful as a prompt to think about the link between values and the UN Sustainable Development Goals.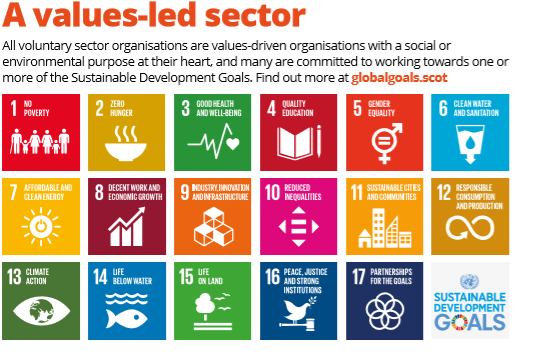 In terms of framing the conversations you have with organisations at the fair, linking their mission and values back to the Sustainable Development Goals might alter how you view some of the roles on offer.  For example, if you view an administrative role with a housing association as contributing to Sustainable Development Goals 1 and 3: Ending Poverty and Ensuring Good Health & Wellbeing, does it change how you feel about it? 
If you would like to hear more about some of the topics in SCVO's Guide, Ilse Mackinnon, Research Officer from SCVO will be at the Fair to provide an Introduction to the Third Sector in Scotland.  Her talk is at 1.15pm and we'd love to see some of you there.
Further Information:  Careers Fair Day 3: Volunteering and Third Sector Jobs
Share