We have invited selected students to take part in the Insights Programme this June!
Have you received an email on Wednesday, 18th January, from the University's Insight Programme inviting you to take part Monday, 5th June – Friday, 9th June 2023? If you're not sure what you want to do after University, this is a perfect opportunity to start discovering what's out there in the world of work and exploring your career options.
As part of a group, grab this opportunity to meet former Edinburgh students [alumni] in person, who are working in an exciting range of jobs in either Scotland, London or the United States. Build new connections as well as your personal confidence, all with the full support of the Careers Service to get you prepped and ready to connect.
To find out more about what the Insights Programme is like, let's hear from Charles and Olivia who have taken part in the programme previously.
Olivia, third year Sociology – one week in New York visiting former Edinburgh students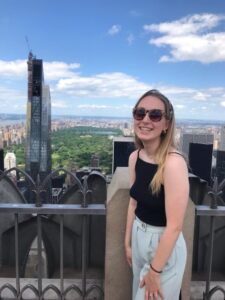 Why did you sign up for the Insights Programme?
As soon as I saw the email advertising the opportunity, I knew that I had to apply for the Insights Programme. I have always hoped to work internationally but I had no concept of working life or experience abroad, so this programme seemed like a perfect option. I also applied for the programme because I wanted to step out of my comfort zone and work on my personal and professional skills, which would help me feel more confident about life after uni. With no clear career path, I felt overwhelmed thinking about what I would do after graduation, but now having completed the Insights Programme, I feel excited about all the options I have.
Tell us about your Insights experience.
We spent one week in New York City visiting alumni hosts and attending networking events; across five days, we participated in 12 events. These included meetings at organisations such as Thomson Reuter's, The Wall Street Journal and The University of Edinburgh's North America Office, which included many opportunities for us to ask questions to the alumni hosts. We were also given a tour of the offices and informal presentations from the hosts about their roles. We visited a range of sectors, from finance, to journalism, to marketing and HR, to international development and a law firm. All of the hosts were extremely welcoming and gave us lots of careers advice, so it was particularly nice to get advice from those working in sectors I had never previously considered.
How have you benefited from this experience and what did you learn?
I learned a lot both in the lead up to the trip and on the Insights week itself, particularly in regards to resilience and confidence when entering the world of work. One of my favourite quotes about being confident to develop your career from an alumni host working as a freelance journalist and author was, "If everyone's constantly saying yes to you, then you're not asking for enough".
I have benefited massively from my visit to New York, as I have not only improved my CV significantly, but I have also developed really positive networks, which I hope will be useful further along my career path. Meeting the alumni hosts was really inspirational.
Charles, second year Geography – five day visit to the Secretary of State for Scotland office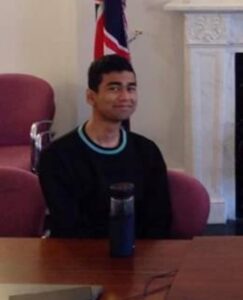 Why did you sign up for the Insights Programme?
To develop my skills and to have a chance to work in a professional corporate setting.
Tell us about your Insights experience.
I went to the Secretary of State for Scotland's office with two other students for five days. Our 'guides' showed us the different functions of the office, and guided us on our tasks. They were never more than a quick walk away and were always graciously able to help us.
Our team had to walk through a proposal from the initial conception all the way until completion and we had to visit various parts of the organisation to get guidance and support from the relevant departments. We even went to a conference, which was very enjoyable.  The entire experience was an eye-opener especially for me as I did not know much about the Scotland Office.
How have you benefited from this experience and what did you learn?
I have learned many new skills such as networking with the staff and working independently or as part of a group during my Insights visits. Outside the visits, during the Insights Programme, I learned how to better prepare myself before an interview as well as tips on attire and presentation.
I have learned to come out of my comfort zone and to try new things however challenging they may seem. I have also learned new ways of approaching a challenge such as different viewpoints and I am very grateful as I have a more diverse perspective.
How has this experience influenced you/your choices in the future?
I have more of an understanding of the workplace as well as being better equipped to handle job interviews.  I have gained confidence, as well as improving my CV writing skills. I also have a better idea of the different fields in the public sector I want to explore after I graduate as well as how to apply to a job at the workplace where I undertook my Insights experience.
What advice would you give to future participants?
I would tell future applicants to apply to this programme regardless of their existing skills or experience and to try something new as the Insights Programme will help you gain skills and new friends as well as an overall good time.
Thanks Olivia and Charles.
If you'd like to take part in the Insights Programme running 5th – 9th June 2023, sign up by 12pm, Monday, 13th February. You can find how to do so in your email invitation sent from the University's Insights Programme on 18th January. 
Please also visit our website for more information or email the Insights team (insights.programme@ed.ac.uk) with any questions about taking part. 
Share