Jennifer Findlay, Geology and Physical Geography 2016, is now a Petroleum Geologist with CGG.

Growing up in Scotland I was lucky enough to be surrounded by fantastic geology.  Fascinated by the world around me, I knew I wanted to pursue a career in geology.  I graduated from the University of Edinburgh in 2016 with a MEarthSci in Geology & Physical Geography.  After leaving Edinburgh I went onto gain an MSc in Integrated Petroleum Geoscience in 2017.  I joined CGG in 2018 as a Petroleum Geologist where I am based out of the North Wales office in Llandudno. CGG is an integrated geoscience company providing geological, geophysical and reservoir capabilities for clients primarily working in the oil and gas industry.
What does my job as a Petroleum Geologist involve?
A petroleum geologist is a scientist who studies the Earth's subsurface to assess its potential for hydrocarbon resources.  From working in the field studying outcrops and collecting samples to using the latest technology and software to analyse large datasets, the work is varied.
We work in multi-disciplinary teams alongside other geological specialists such as structural geologists, sedimentologists and geochemists to generate and interpret geological and geophysical data.
My role involves working on the Basins & Plays tool.  Basins & Plays is a play fairway and petroleum systems database designed to help companies with exploration by providing an understanding of petroleum geology across the globe.
The thing I love most about my job is that no two days are the same.  When I first joined, I was working on Norwegian basins looking at their geology and carrying out reservoir mapping and basin modelling.  Now I am working on the other side of the world in the West Philippines producing chronostratigraphic charts and understanding its tectonic evolution.
What opportunities have I had since joining CGG?
As a petroleum geologist you never stop learning as new technology, ideas and theories are developed.  New thinking and challenging ideas are encouraged, you are given lots of fantastic opportunities to support this from day one.
I have been exposed to a variety of different disciplines while taking part in a range of both technical and soft skill courses.  One of the things I love most is the opportunity to shape your own learning and development.
CGG places a big emphasis on training, expanding your knowledge and learning from others.  Tech talks regularly form part of team meetings and the training sessions I have attended, many of which are practical, include core interpretation, geochemical modelling and seismic interpretation.  The wide range of specialists working here means there is something for everyone.
A month after starting, I had a fantastic opportunity to attend a conference in Ireland focusing on petroleum exploration in the Atlantic Margin.  Not only was this a fantastic opportunity to hear about status of exploration, but it's also great to hear about new theories and ideas that are being developed in the region.
Our clients often require training in our products and I was given the opportunity to go out to Kuala Lumpur and shadow a senior geologist to learn the skills and techniques required to provide excellent technical training to industry.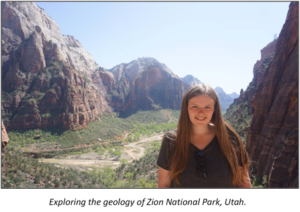 Advice to anyone wanting to join the oil and gas industry!
The most important thing I believe is to always be yourself and let your love of geology shine through.
Try and gain as much experience as possible.  Whether it be through internships or volunteering, this is what will set you apart from other candidates during the interview process.
If you are a creative and intuitive person, are passionate about petroleum geology and the world around you and enjoy using the latest technology to solve complex problems, then I can't recommend this job enough.
Love what you do and you'll never work a day in your life!
(Image Jennifer Findlay)
(Image Jennifer Findlay)
Share