Thanks to Kerrie Craig, University of Edinburgh Alumnus and Environmental Consultant with Royal HaskoningDHV, for this inspiring #EdEcoCareers blog post.
I have always had an interest in the world around us so I knew I wanted to work in the environmental sector, but whilst frantically writing my dissertation, doing coursework and preparing for exams I was at a bit of a loss of where to start looking for jobs. This post will hopefully boost your enthusiasm and confidence into beginning a job search with some insights into my background, what being an Environmental Consultant entails and some top tips of how you can step onto your own career path!
I graduated from the University of Edinburgh with a BSc (Hons) Geography in 2015 and after being awarded a scholarship from the ScottishPower Foundation, I graduated with an MSc in Sustainable Resource Management also from the University of Edinburgh in 2016.
My childhood dream job was to be a weather woman and I was very lucky to secure a placement with the Met office in the summer between my undergraduate and masters degree. Whilst I thoroughly enjoyed this, I ultimately decided I wanted to focus my career path along the consultancy route; but I gained extremely valuable transferable skills which undoubtably helped with job applications going forward. Whilst writing my masters dissertation I undertook a placement with ScottishPower Renewables. I then landed my first 'real' full time job as a Planning and Renewables graduate at Scottish Natural Heritage. I gained some really good technical skills and experience from both of these roles, importantly understanding projects from both a stakeholders and developers' perspective which I knew was important to understand as I worked my way towards a role as an Environmental Consultant.
I joined Royal HaskoningDHV in 2017 and haven't looked back since. Royal HaskoningDHV is an independent international engineering and project management consultancy. We have 6,000 colleagues, offices in over 30 countries, projects in 150 countries and work in various industries from aviation, buildings, energy, industry, infrastructure, maritime, transport, urban and rural development and water.
As an Environmental Consultant I work across multiple projects in different sectors. I have had the opportunity to work on five Nationally Significant Infrastructure Projects in the offshore wind sector in both the consenting and post consent stages. I have also led site selection / feasibility studies, contributed to Environmental Impact Assessments and Habitat Regulations Assessment. I have worked with a variety of people including different clients, technical experts, stakeholders, decision makers and members of the public. I love being an Environmental Consultant, not just because of the company I work for and the team I work with, but because:
No day is the same
I work on a multitude of projects with many different people and different clients/stakeholders
There is the opportunity for travel
The work I do is extremely rewarding
There are very good career progression opportunities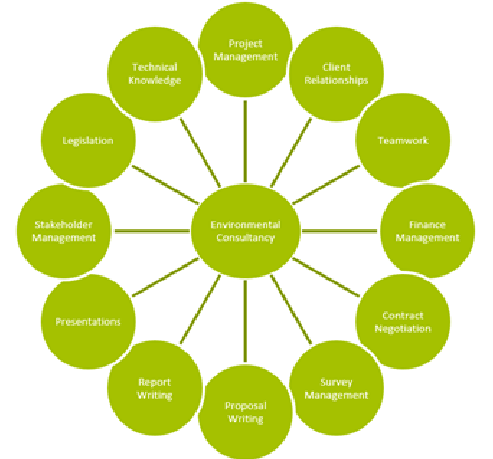 My top tips for anyone considering a career in the environmental sector and beginning the job application process are:
Careers paths are not linear so don't panic if you don't know what you want to do straight away.
Work experience is important, and all work experience is relevant; it's how to present this within your CV. Apply for placements, internships or voluntary roles; all of these really make your CV stand out.
Membership of a professional body shows your commitment to your career (such as IEMA, CIWEM, CIEEM) and also allows you to keep up to date on key issues.
Networking is key. Attend conferences (they often have good rates for students) and take note of people's names and job titles.
Research different environmental groups and forums. In Scotland the Climate 2050 Group is a fantastic opportunity to learn and meet like-minded people.
Use the Careers Service (they didn't ask me to put this in here!). They are an invaluable resource which I used to help review applications, CVs and practice interviews all of which really helped with my preparation.
Interested in finding out more?
Royal HaskoningDHV are attending the Environmental Careers Mini Fair on Wednesday 4th March 2020 – sign up via MyCareerHub or please get in touch with me directly through my LinkedIn if you have any questions.
(Images credit: Kerrie Craig)
Share