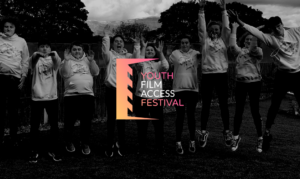 Last weekend, the fourth edition of the Youth Film Access Festival took place in Glasgow. The festival focuses on young people aged 14-25 by not only providing a platform for aspiring filmmakers to showcase their films but also, to network with industry professionals and be exposed to a variety of films. Events included film programmes, filmmaking workshops, and discussion panels, all tailored to a young audience.
On the 9th of April, festival events included a programme of short films entitled Earthly Explorations: AHRC's Research in Film. The short films shown were linked by the theme of climate change yet each film discussed this issue through a unique lens. The programme began with Kii Nche Ndutsa (Time and the Seashell) which, in its opening frames, seemed to be about a young boy's love of nature but developed into a moving reflection on the environmental damage of the climate crisis. INSECURE told the story of Winchestersea, a town in England being destroyed by coastal erosion through the poetry and photography of local GCSE students. To Be a Marma was a sensitive documentary short following the Marma people of Bangladesh and their daily lives coping with climate change and displacement. A Stork's Journey and The Promise both used animation and metaphor to examine the impact of human development on the natural world. Each film was striking and memorable.
After the programme, there was a Q&A session with the filmmakers which explored their process and motives. The following event was a discussion panel, Behind the Scenes @ The Scottish TV Industry featuring a film director, a screenwriter and casting director. It was inspiring to hear an aspiring child actor in the audience ask a casting director for career advice. Youth Film Access Festival appears to be achieving what it aims to do and what, ultimately, film festivals are all about – providing access to film. This permeates each aspect of the festival from the Youth Team (a group of seventeen 16-25 year olds) that design, develop and deliver the festival to the sliding scale of ticket prices ranging from free events to a £6 ticket. With this level of accessibility, you are never too young to actualise a love for film.
Written for The Film Dispatch by Niamh Carey-Furness.